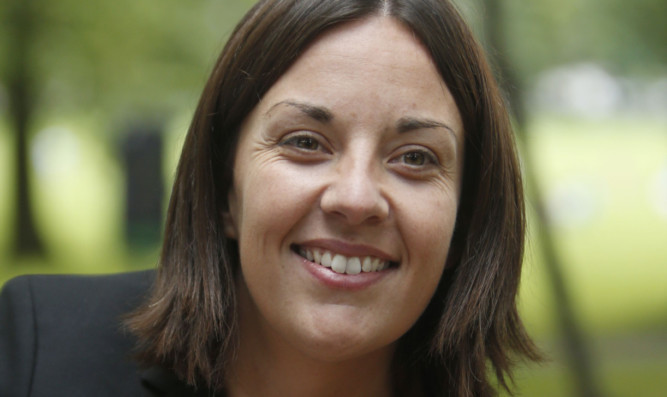 It's "Kez v Jez" screamed one newspaper.
The headline meant that Labour's leader in Scotland, Kezia Dugdale ("Kez") had launched an attack on UK leadership candidate Jeremy Corbyn ("Jez").
In my time as First Minister there were no less than four leaders of the Labour Party in Scotland Jack McConnell, Wendy Alexander, Iain Gray and Johann Lamont.
After a mere nine months Nicola Sturgeon is already on her second the "abominable No Man" Jim Murphy, and now his former deputy, Kezia Dugdale.
In total, that is six leaders in exactly eight years. I do not think it will be long before there is a seventh.
Two weeks ago, Kezia Dugdale made that fatal mistake of attacking Jeremy Corbyn, despite at that stage never even having met him. Corbyn has since emerged as a runaway favourite for Labour's top job.
Kez said that Jez's election would result in Labour "just carping from the sidelines" which she didn't want to "spend her life doing".
This seemed like a pretty strange comment given that during her time as deputy leader of the Labour Party she has done a fair share of carping from the sidelines of the Scottish Parliament.
In addition, Corbyn has already spent a lifetime as an MP, carping certainly but sometimes to good effect.
However, Dugdale's attack on Corbyn did not stop there. Warming to her theme, she continued: "Here is a guy that's broken the Labour whip 500 times. So how can the leader of the party enforce discipline with that record?"
Given that the last time Corbyn rebelled was on Monday July 20, when the Labour front bench ordered an abstention on the Tory Welfare Bill, this was another bizarre observation.
Ironically, it was this disastrous abstention decision by the Labour establishment which, probably more than any other factor, has put the petrol into the Corbyn engine in the leadership race.
In the last few days, with Jez closing in on the leadership, Kez has rapidly adjusted her position and now says she could work with any of the leadership candidates.
She even went to hear Jez speak for the first time last Friday.
Whatever she says now, it is clear that what she believes is that Jeremy Corbyn is unelectable and not Prime Ministerial material. This is far from ideal when he is on the cusp of being elected Labour leader.
However, the problems Dugdale faces from a Corbyn victory are more profound. The real difficulty is the record on issues not insults.
Corbyn has gained ground because he is standing on an anti-austerity ticket. In contrast, Dugdale was Murphy's loyal deputy and therefore just as culpable for Labour's election disaster fighting on what Corbyn dismisses as an "austerity lite" ticket.
Now with Jez as leader, Kez faces having to recant again.
And then there is Trident.
Labour's leadership in Scotland have for years swallowed the nonsense of the necessity of a Trident replacement because that was the instruction from their London leadership. Now they face the prospect of having a London leader who is anti-Trident, more words will require to be eaten and more political credibility will be lost.
Kezia Dugdale has never grasped the essential truth of Labour's Scottish predicament. They are not trusted because when all's said and done people know they are but a "branch office" of their London operation, to use former leader Johann Lamont's devastating words.
And for the manager of the "branch office" to attack the boss back at head office is a recipe for disaster. Indeed, it is an untenable position.
Unlike Dugdale, I have always regarded Corbyn a serious politician. I have known him for the best part of 30 years, and for the greater number of his 500 rebellions have been in the lobbies with him.
He has been right on more issues than he has been wrong, particularly on international affairs including the Iraq war.
I don't agree with Corbyn on a range of things. For a start, he cheerfully admits he knows next to nothing about Scotland.
His position in supporting Irish republicanism, even when it was pursued by violence, contrasts very starkly with this inability to support the peaceful and democratic pursuit of Scottish independence.
However, his main problem if he becomes Labour leader will not be the baying hordes of the old establishment media determined to bring him down. It will come from the Labour right wing who have always refused to accept any other writ but their own.
The result of a Corbyn victory will be a long period of Labour civil war and thus inevitable electoral defeat.
That will not be because Corbyn doesn't "look like a Prime Minister" but because houses divided against themselves can never stand.
The "Kez v Jez" headline is brief and witty but above all illustrates that stark reality.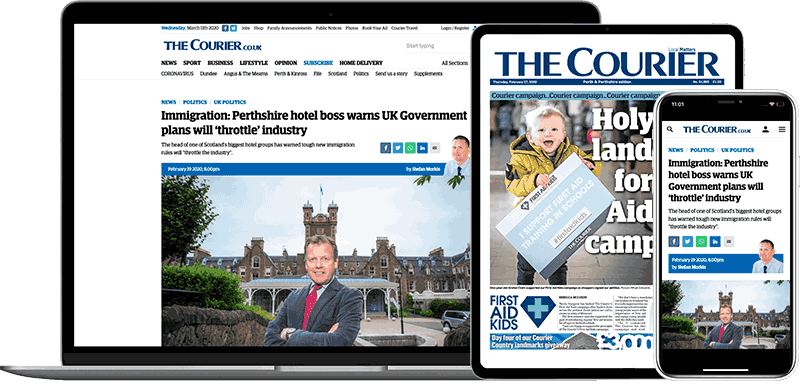 Support The Courier today.
The Courier is committed to delivering quality content to our communities and right now that's more important than ever — which is why our key content is free. However, you can support us and access premium content by subscribing to The Courier from just £5.99 a month. Because Local Matters.
Subscribe