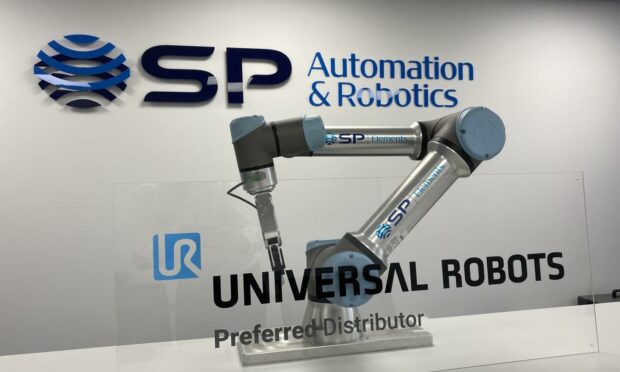 A Dundee automation specialist is hoping to boost its sales by at least £1 million a year after becoming the only Scottish distribution partner for Danish firm Universal Robots.
Universal Robots specialise in producing cobots – robots intended to interact with humans in the same apace.
Upon winning the deal Dryburgh Industrial Estate firm SP Technology has rebranded as SP Automation & Robotics while also expanding with the creation of a new division.
SP Elements will spearhead the cobot offering, with a view to creating cost-effective, flexible, and safe automation for a wide range of production tasks that impact SME's productivity.
The city firm believes the distribution licence and increased scope of business will lead to a 20% rise in turnover.
Director Roy Henderson said: "Cobots can be adapted and easily programmed to complete an incredibly wide variety of tasks – everything from packaging and assembly to quality inspection and machine tending.
"Anyone with no previous robot experience can have one operational and functioning out of the box within two to three hours."
SP said it expects to sell around 30 cobot units, with associated end effect arm tooling accessories, in its first year of trading.
Andrew Clouston, sales engineer of SP Elements, said cobots can solve the problem of monotonous tasks that business can struggle to staff.
He said: "They streamline repetitive industrial processes allowing employees to move from repetitive, low-value tasks to higher-value activities that increase productivity and working conditions.
"The SP Elements approach will allow customers, who would normally see the cost prohibitive to embrace automation by integrating cost-effective solutions by themselves.
"It also allows effective upscaling as the increase in capacity and productivity levels means they can fulfil larger orders and complete more tasks in the same timeframe."
Along with four different cobot arms for varying tasks and weights the SP Elements team will be able to advise on and supply end effect tooling such as electric grippers and vacuums as well as deliver full onsite support.
Further standard automation platforms such as palletising and welding system will be added to the portfolio as the brand progresses.
Director Lee Nixon added: "We have removed the word technology from our name, but with a remarkable team; including mechanical, electrical, software and manufacturing engineers, our solutions will continue to embrace the latest in innovation and invention ensuring our clients have the best fit for purpose solution possible.
"We've been designing and manufacturing bespoke, special purpose automation and robotic systems for over 35 years for an array of industries including medical device, pharmacy and automotive for clients across the UK and Europe."
rmclaren@thecourier.co.uk