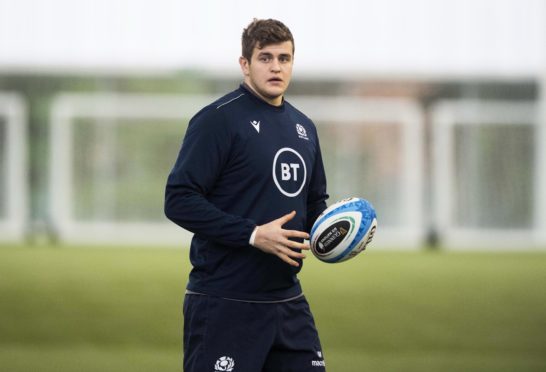 Scott Cumming didn't have a cap and was at best a fringe consideration for Scotland when the Guinness Six Nations finished last year – now he's the leader in the engine room going into a crucial test against Italy in Rome.
It's been quite a ten months for the Glasgow lock, who only turned 23 in December. Quite a few thought he had the potential to be a Scotland regular, but few expected it to happen this early.
And with Jonny Gray now absent from the rest of the championship with a hand injury, Cummings will have the lead role as primary lineout caller and enforcer for the Scots against a hyped-up Italy playing their first home game of this championship.
Yet Cummings wasn't even included in the original squad for the Rugby World Cup in Japan, earning one of the wildcard selections late in the season as he helped the Warriors reach the PRO14 final. He's played in all 10 Scotland games since then, starting in half of them, including both games this year against Ireland and England. He's no longer the fresh face.
"I feel that I'm starting to be less of that," he said this week. "Going into the World Cup it felt a bit like I was in there as the new guy, but now that I'm starting games I feel more embedded in the squad.
"What happened last summer was great. It's been 10 games now involved and I'm really chuffed with that. Coming into this Six Nations, I was looking to push for a least a spot on the bench, so to get starts in the first two games, I'm really happy with that.
"For me, I'm just looking to push on, and with Jonny now injured, it's for me to develop myself as much as I can."
That means taking added responsibility for strategic elements of the Scotland gameplan, not just being the willing worker.
"Calling the lineouts is something I've been doing at Glasgow for a while so if I get the opportunity at the weekend then that would be great," he said.
"I think I called my first pro game at Glasgow almost as soon as I made my debut. I've always loved calling; it's a part of the game I've always enjoyed. This season at Glasgow I've done that and if I get the opportunity now that would be great as well.
"It's a joint effort. At the time I might decide on flash calls that are changing, but at Glasgow we have such a good group of second rows with a lot of experience that it would be stupid not to use Grant (Gilchrist) and Ben (Toolis), who have different experiences to us. It's about all of us getting together and working out what's best for the team."
The lineout didn't go so well against England, but while weather conditions were a mitigating factor, they were no excuse, believes Cummings.
"The weather did come into play with it, but as a team we knew we could have prepared for that better," he said. "We could have done more beforehand to make sure we had a couple more wet weather options.
"It's something we've worked on a lot this week and we've changed a couple of things, a couple of processes that didn't work for us. We're just looking to make sure we're better prepared this week.
"It has been about stripping it back and having a bit of pace in the lineout. Also it's about backing yourselves and trusting that the processes will be better than the opposition's.
"It's hard to defend lineouts, but if you do a lot of complex stuff it can become easier because you get messed up. Backing yourselves and backing the calls is the important thing we have to do this week."
Cummings is excited for his chance in Rome and particularly getting away from the constant rain following them about.
"If it's sunny and 18 degrees as forecast that will be great," he said. "It will be good for both teams as we are both playing a great style of rugby.
"You could see from how Italy played against France that they love chucking the ball about. They have a new style under their new coach so they definitely have a new identity and are excited to play.
"They've got some good second rows, Dean Budd came in at the last minute against France and played really well. They've also got strong back row options in the lineout like Bram Steyn."
But there should be no surprises from the Italians, most of whom Cummings has come across in his short time with the Warriors.
"We've played everyone in the PRO14 and that was one of the things going into Ireland, it's a massive game but you take confidence from the fact that you've played all of these guys before in all the club games. It's just the same guys in a different jersey, playing a slightly different way.
"We've played most of Italy's guys before and we know what they're going to do. They're going to bring a great attacking style of rugby and we'll be ready for that."