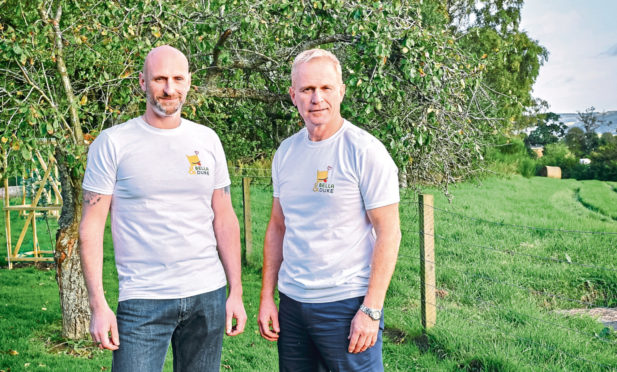 A Perthshire dog food company that specialises in raw and natural products has secured £3.5 million of investment as it targets new markets.
Blairgowrie-based Bella and Duke was formed four years ago by Mark Scott and Tony Ottley after they lost pets to terminal illness.
They were convinced an alternative to processed pet foods would have benefited the health of their dogs and developed a range of raw meat and natural ingredients.
The products are frozen within 30 minutes of being made and delivered to customers on a subscription basis.
Bella and Duke, which attracted £1m of private sector funding in 2017, currently supplies 11 million meals a year from its Perth distribution centre, which opened last year at the North Muirton industrial estate.
The company also operates a customer service centre in Blairgowrie and employs around 40 staff.
The latest round of investment has come from venture capitalist firm Mobeus, with additional support from several of the firm's initial private backers.
Mr Scott said it would allow the firm to develop a cat food range.
He said: "Mobeus target their support at small to medium enterprises with strong potential for growth.
"We have our sights set on moving into the cat food market and driving Bella and Duke sales across the country.
"We now have 45,000 dogs on our database and demand has been spiralling.
"We are committed to our mission of getting raw pet food into the mainstream."
The firm said it had taken measures to safeguard its production and distribution network in response to the coronavirus outbreak.
Mr Scott said the firm's customers had noticed their pets health improve after switching to their product.
"We consult regularly with ground-breaking scientists and vets, scrutinise the clinical feedback and listen to our customers," he added.
"We know our meals are making a huge contribution in helping dogs achieve optimum health and pet owners share that belief, with 91% of those surveyed confirming they noticed an improvement in the health of their dogs within eight weeks.
"We are set to deliver 105% year-on-year growth and the latest round of investment will allow us to press ahead with our plans for phased growth, expand our freezer capacity and extend our range of raw food meals."
rmclaren@thecourier.co.uk