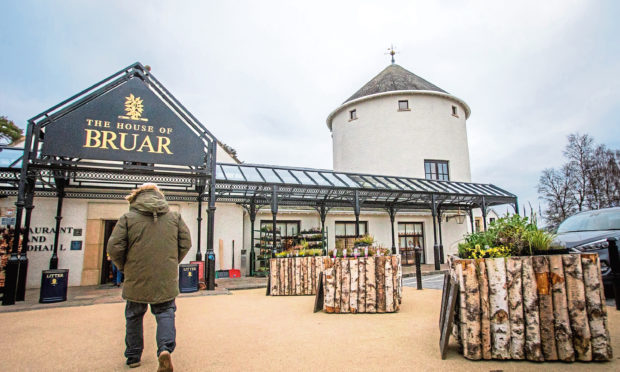 Perthshire country fashion retailer The House of Bruar's latest accounts have shown a 9.5% increase in sales to £29 million.
The Blair Atholl retailing destination's pre-tax profits for the financial year ending January 31 2018 increased from £3.8m in 2017 to £4m.
Average staffing levels rose by 8% to 255 during the financial year.
Managing director Patrick Birkbeck attributed the rise in sales to a 25% increase in mail order business.
He said sales at the 'Harrods of the North' had increased further in the 2018/19 financial year, which ended last month.
"In a year of national poor performance for retail, the sales achieved on site increased again," he said.
"This was despite the Beast from the East and the extraordinarily hot summer, which affected textile sales hugely.
"The summer heat also obliterated the grouse stocks in Scotland and further compounded the poor textile sales in the country and sporting sector.
"However the visitor numbers grew by 3.9% and the restaurant and food hall experienced double digit growth in turnover."
Mr Birkbeck said the sale of garments unique to The House of Bruar were key sales drivers last year.
"The printed catalogue remains the catalyst for orders, but targeted digital marketing is becoming more significant for the company and the customers," he added.
The House of Bruar is currently extending its restaurant facilities. It will open in early Spring with a barista coffee operation supplied by Brodies of Scotland.
The firm is also constructing new offices at the company's distribution centre and is looking to add to staff numbers in its direct shopping and buying operations.
However, Mr Birkbeck warned of headwinds approaching this year with lower grouse numbers, Brexit and roadworks among his concerns.
"The heat from 2018 will continue to affect the ability for the grouse to build up their population and estates have already made the cautious and financially hurtful decision to miss another season in order to protect the longevity of the population," he said.
"The uncertainty attached to leaving the EU continues to be very concerning for the supply chain.
"European suppliers are worried about duties being applied to orders due for delivery this autumn and how that will affect the desirability of products.
"Work to the south of Bruar has commenced on the A9 dualling project, which will affect the ease of travelling to the north of Scotland.
"However, the performance of the digital aspects of direct shopping attached to unique products and designs with British heritage creates a strong opportunity for 2019."
rmclaren@thecourier.co.uk