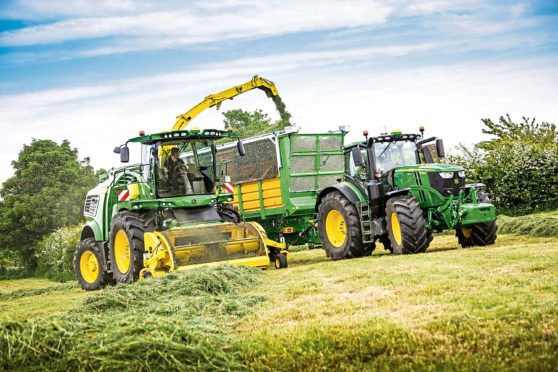 Sales of new tractors in Scotland during the first half of the year bucked the national trend.
Figures from the Agricultural Engineers Association (AEA) reveal 782 new tractors, over 50 horsepower (hp), were registered in Scotland between January and June.
This is up 2.2% on the same period in 2018 when 765 tractors were registered, and contrary to the UK-wide picture.
Figures for the UK as a whole reveal a 5.1% decline in tractor sales during the six-month period to 6,198, from 6,529 previously.
The AEA said although the UK-wide figure was down on 2018, it was still at its highest level, with the exception of last year, since 2014.
The biggest regional decline in sales took place in the East Midlands, with registrations down 32.6% to 262.
---
Courier Farming is now on Facebook. Click below for news, photos and videos
---
The only other regions, in addition to Scotland, to experience an increase in sales were the Home Counties and England, Eastern England, and Northern Ireland where registrations were up 6.5%, 1.9% and 11.2% respectively.
"In terms of power, the bulk of the decline in registrations came in the 121-160hp range, where numbers were down by over 200 machines (-11%), compared with January to June 2018," said AEA agricultural economist, Stephen Howarth.
"This accounted for around two-thirds of the total fall. The number of high-powered machines (over 240hp) also fell by 11%, and tractors over 280hp fell by more than a quarter.
"Sales of the larger tractors bounced back in the second quarter, though, having been down by even more in the first three months of the year.
"In other power ranges, changes in the number of machines registered were relatively small."