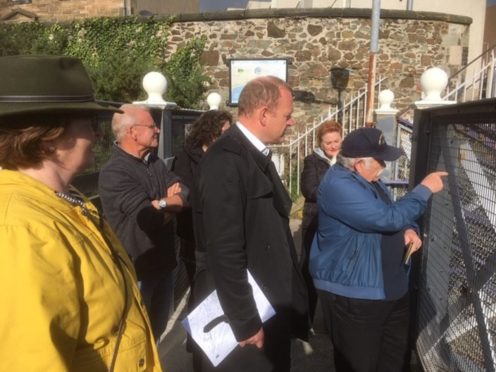 Rail bosses have signalled their support for a long-running bid to make a Fife railway station accessible for all.
Scotrail said industry experts would gather to explore potential solutions at Burntisland, where wheelchair users and people with buggies cannot access the northbound platform.
The pledge follows a visit to the station by rail boss Alex Hynes amid a decades-long campaign for action by townspeople and politicians.
While a ramp has been installed for those travelling south, the only way to get to the north side is via 17 steps.
People with mobility problems are advised to stay on the train to Kirkcaldy, where they can cross to the other side using a lift and subway before travelling back up the line to Buntisland.
Those who qualify are provided with a free taxi.
While the station missed out on crucial funding to make it more accessible in April, Scotrail said it was committed to making the railway open and accessible to all.
A fresh bid for funding has also been submitted.
The comments have been hailed as positive by a number of campaigners, although Labour MSP Claire Baker urged caution after previously being told nothing could be done.
"It all sounds very positive but I'll wait to see what concrete ideas they come up with," she said.
"Every time I've approached them I've had 'computer says no' but if there's a change in attitude that's to be welcomed."
Mr Hynds was invited to Burntisland by SNP councillor Lesley Backhouse, who was keen to highlight a number of improvements needed, including work to make it accessible.
"It's a beautiful Victorian building but accessibility is a big issue," she said.
"Because he is managing director of Scotrail and Network Rail he has his eye on both budgets and we are hopeful we can move forward and get the issue with the northbound platform sorted out."
SNP MSP David Torrance added: "This has been ongoing for a long number of years but they are starting to take notice, which is welcome news."
A Scotrail spokesperson said: "We are committed to making the railway open and accessible to all and, following last week's visit, we will get together with industry experts to explore potential solutions at Burntisland station."
A spokesperson for Transport Scotland confirmed an application for Access for All funding had been received and expressed support for improved accessibility at Burntisland.
"The ultimate decision rests with the Department for Transport," she added.