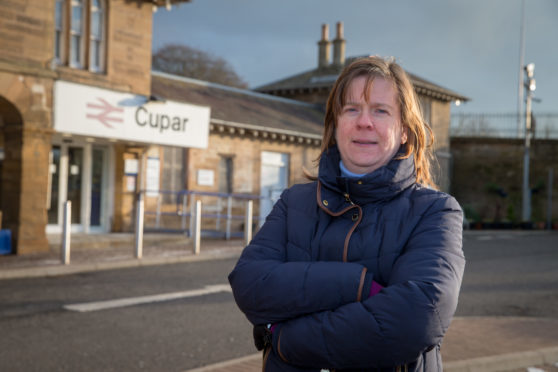 Residents in the centre of Cupar have been warned to prepare for potentially restless nights over the coming weeks as work to renew track at the town's railway station gathers pace.
Preparation works have been ongoing for Network Rail's planned maintenance at Cupar train station since January, but the organisation has written to householders living near the transport hub saying work to renew railway components and track is to be stepped up from this weekend.
And that could mean locals may have a noise nuisance to contend with throughout the early hours of the morning – spanning several weekends.
Evelyn Brown, community relations manager at Network Rail Scotland, which owns and maintains the track at Cupar, apologised for any inconvenience.
"Unfortunately, the equipment we use – in this case engineering trains, rail mounted cranes and tampers – means that some noise is unavoidable but we will do all we can to minimise it," she said.
"We have also asked those working on site to work with consideration for the local community.
"We understand that working at night and at weekends is far from ideal, but we are legally obliged to work on the railway at times that cause least disruption to trains.
"Unfortunately this means carrying out a lot of our work at weekends or overnight."
The main works will be carried out this weekend, which will include the use of large plant, trains, generators and manpower overnight between 12.30am and 8am on Sunday and Monday morning.
The same will again be true next weekend, weather permitting, before follow-up works are due to take place over the following five weekends.
Residents have been told to expect noise from tampers, generators and workers from 12.30am to 8am on Sunday March 11; and noise from generators, on track machines and manpower from 12.35am to 8am on Sunday March 18.
Similar follow-up works will then be held between roughly the same hours on Sunday March 25, Sunday April 1 and Sunday April 8.
Cupar Lib Dem councillor Margaret Kennedy has highlighted her concerns about the work to constituents and urged anyone affected by excess noise not to sit in silence.
"Whilst I recognise the ease of access presented by night time working, it is also the case that noise travels considerably further during night time hours," she said.
"I hope that residents will not be unduly disturbed and would encourage anyone who feels they are, as the works are underway, to report their concerns to Network Rail.
"Hopefully, the works will be completed with the minimum of intrusion."
Anyone with concerns or queries can contact Network Rail's dedicated hotline on 03457 114141.