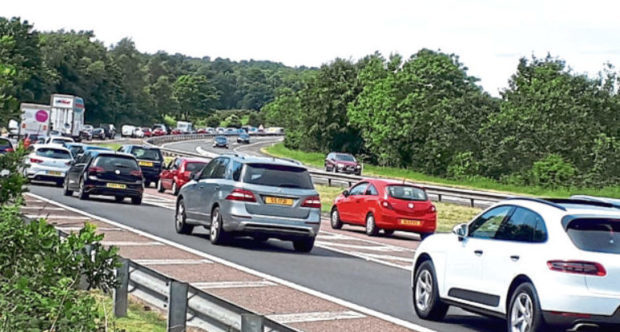 A dramatic U-turn over weekend roadworks at Perth's Broxden roundabout has been described as a "victory for common sense."
BEAR Scotland has postponed the scheduled work following mayhem on Saturday and Sunday on roads surrounding Perth. Traffic came to a complete standstill on the by-pass from Craigend to the Broxden roundabout.
Vehicles were backed up on the M90 slip roads from the Friarton Bridge and the northbound motorway.
Thousands of motorists were caught up in the weekend chaos and it is this, combined with concerns it could be even worse this weekend due to the Scottish Game Fair taking place at Scone Palace, that has prompted the change of heart.
BEAR Scotland has been carrying out the expansive £900,000 roadworks project at the Broxden roundabout over the past month and had been set to proceed with another phase of weekend work, with warnings delays would be "inevitable".
A spokesperson for BEAR Scotland said: "As we always work to minimise disruption wherever possible, the contraflow system planned over this weekend is being re-programmed to take place later this year.
"This follows a review of the delays noted from the past weekend and also takes account of anticipated traffic movements over this weekend."
She continued: "This week teams will continue to carry out overnight works on the A9 Broxden roundabout, as well as an overnight closure on Thursday of the southbound M90 between Broxden and Craigend from 7.30pm to 6.30am."
The announcement was warmly welcomed by politicians and motorists.
Councillor Andy Heer, a Scottish Conservative representative for the Howe of Fife and Tay Coast ward, described the U-turn by BEAR Scotland as "a victory for common sense."
"The prospect of a repeat of last weekend's chaos compounded by the traffic generated by the Game Fair was too horrible to contemplate," he commented.
And Liz Smith, Scottish Conservative MSP for Mid Scotland and Fife, added: "This is welcome news from BEAR Scotland considering the chaos caused by roadworks last weekend.
"Perth will be bustling with people as a result of the Game Fair and it is only right that these roadworks have been delayed, it's just a pity that this common sense approach wasn't taken last week.
"Everyone recognises that these roadworks are important, but it's also important that congestion and disruption is kept to a minimum for travellers."
The roadworks taking place at the Broxden roundabout have been carried out to repair damaged carriageways following the winter 'beast from the east."