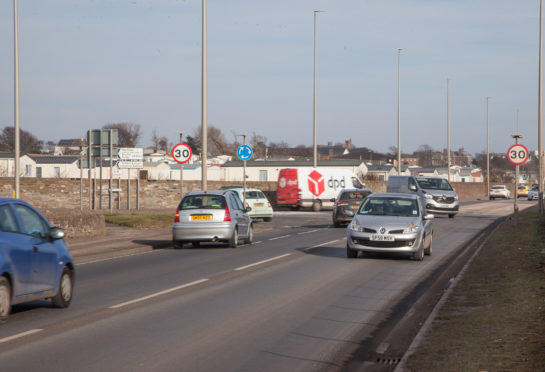 Rural road rat runners have been slammed for their speed on a stretch outside Arbroath being used to dodge delays caused by roadworks aimed at delivering safety improvements at a busy town junction.
The route through the village of Arbirlot has become clogged with commuter traffic since the recent start of a project to improve the A92 at its junction with the Westway.
Drivers have reported daily hold ups of more than half an hour on approaches to the busy mini-roundabout beside the Westway retail park, with tea-time queues stretching back beyond the Elliot roundabout and onto the dual carriageway.
Their frustrations have seen an increasing number of vehicles take to the unlit single track road between Arbirlot and the A92, with locals worried a serious accident on the stretch is almost inevitable.
Those fears have been echoed by Police Scotland in a warning for drivers to be on their guard against the increased risk of tricky road conditions on the shortcut.
A spokesman said: "Police Scotland would like to remind drivers to take precautions whilst driving on rural roads.
"The current road works at the A92 at Westway and Dundee Road, Arbroath has resulted in an increase of vehicular traffic using rural single track roads as drivers are seeking alternative routes.
"We would like to remind drivers possibly unaccustomed to such narrow roads, to adjust their speed accordingly to the road conditions and to be aware of additional hazards such as leaves/mud on the roads in order to prevent an increase in incidents."
There have already been reports of minor accidents on the narrow road but in a flurry of social media reaction to the police warning, one local said: "It will only be a matter of time before someone is killed or seriously injured, especially as there is a lot of farm machinery moving around at dusk and dawn.
"I would have thought the works would be 24 hours to get the project finished as soon as possible. It is incredible that it would be left until the nights were drawn in to start making travelling much more hazardous."
Queue-jumping drivers using the right turn lane at the Elliot roundabout to take the turn off to Arbroath have also come under fire.
The Westway junction roadworks are scheduled to be completed at the beginning of next month, but have already prompted bus firm Stagecoach East Scotland to apologise to customers over delays to services as far apart at Perth and Aberdeen.
Three-way traffic lights are in operation on the approaches as part of the £239,000 programme, which will see lanes widened on the A92 and new pedestrian islands installed.