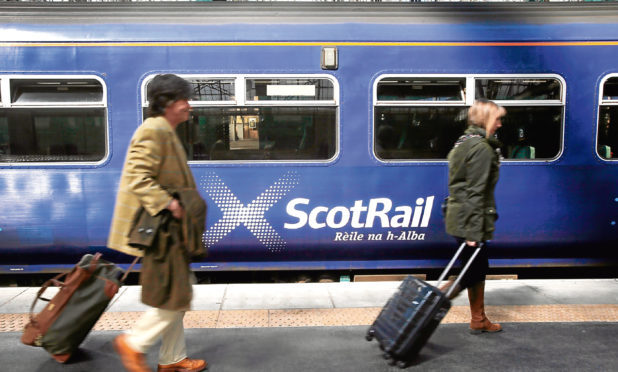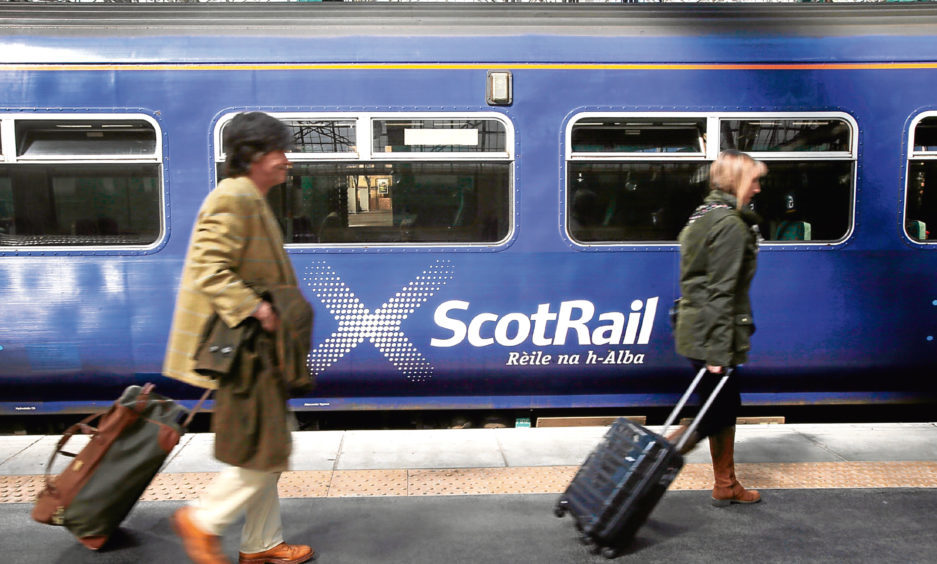 Rail travellers have endured another day of major disruption as more than 70 train services were cancelled across Scotland on Monday.
A signalling fault at Perth caused chaos for commuters early on Monday morning, with services to Aberdeen, Edinburgh, Glasgow and Inverness all affected.
However as of noon on Monday, 48 of the day's 57 listed cancellations were put down to a "shortage of train crew".
Of this number, 18 services to stations in Courier country have been affected by staffing issues.
These are:
11:52am Edinburgh to Dunblane
12:20pm Edinburgh to Cowdenbeath
12:21pm Glenrothes to Edinburgh
12.42pm Montrose to Aberdeen
12.53pm Glenrothes to Edinburgh
12.53pm Edinburgh to Dunblane
1.23pm Cowdenbeath to Edinburgh
1.28pm Dunblane to Edinburgh
1.57pm Aberdeen to Edinburgh
2.28pm Dunblane to Edinburgh
2.37pm Edinburgh to Perth
3.58pm Edinburgh to Arbroath
4.27pm Edinburgh to Aberdeen
4.51pm Glenrothes to Tweedbank
6.18pm Arbroath to Edinburgh
6.37pm Aberdeen to Glasgow
8.48pm Edinburgh to Glenrothes
10.05pm Glenrothes to Edinburgh
An early tweet from Scotrail stated: "@NetworkRailSCOT have informed us of a fault with the signalling system at #Perth.
"Services between Glasgow Queen Street & Perth, Aberdeen, Inverness and Edinburgh will be cancelled, delayed or revised."
In Fife, services were cancelled and suffered reduced numbers of carriages and delays as the Circle faced "major disruption".
Maintenance issues have also led to further cancellations to services.
Many took to Twitter to vent their anger at ScotRail.
@ScotRail 1323 Haymarket to Cowdenbeath, cancelled with 5 mins notice. Why?

— ? Gingerbread-Rhon ? (@mezicant) December 17, 2018
First class cattle train at peak morning commute time. Markinch to Edinburgh. Thanks @ScotRail. The usual incompetence pic.twitter.com/Ia2EjgZKCi

— john hill (@123johnhill) December 17, 2018
@ScotRail Complete shambles this morning -7.13 from Rosyth shown as cancelled all morning, board advises train not stopping, 7.13 just stopped, reasonably empty & passengers got on – WTF? #Scotrail pic.twitter.com/FmwBUF9XUL

— Lindsay Robertson (@linzirob) December 17, 2018
@ScotRail @ScotRailWTF @DalgetyBayNews – what on earth is going on with our train services from Fife? So many cancellations today! Surely this fictitious training is over now. It's an absolute disgrace!! What are you doing about it?

— Ian Brettell (@IBrettell) December 17, 2018
Managing Director of the ScotRail Alliance Alex Hynes said: "We're sorry to customers for the disruption to services in recent weeks. We know the impact this has on your day, and are working flat out to get things back to normal.
"The disruption has been caused by two key factors: 1. Late delivery of new trains by Hitachi and Wabtec means the training that is required for our traincrew, on new trains and new routes, has had to be compressed into a very short space of time.
"Day-to-day services have had to be cancelled to allow our people to take part in training.
"2. RMT industrial action meant there was an overtime ban for some of our people, which lasted for several weeks.
"This is now resolved but made the problem of train crew training worse.
"Training is ongoing so that we can get services back to normal and we can expect an improvement in the coming weeks.
"But while we continue to train our conductors and drivers some disruption will remain.
"We know this isn't acceptable, and are sorry to customers about this. Every single person at the ScotRail Alliance is working hard to improve things for our customers as soon as possible.
"Customers should check @ScotRail on Twitter and visit JourneyCheck.com/scotrail before travelling."
The firm said the signalling fault at Perth affected 12 services to Aberdeen and Inverness from Glasgow and Edinburgh.
ScotRail apologised for the signalling problems, and said it acted swiftly to arrange for rail tickets to be valid for Stagecoach bus services.
The latest delays follow a week of disruption linked to the introduction of a new "enhanced" timetable.
The changes, which included 100 new services, refurbished Intercity high speed trains and the introduction of brand new Hitachi class 385 electric trains, were meant to deliver the "best railway Scotland has ever had".
But the early days of the new timetable have been marred by staff shortages, with many workers not ready for implementation of the new services.
Many trains have been cancelled as a result, and carriages have been cut on some existing services, resulting in overcrowding.