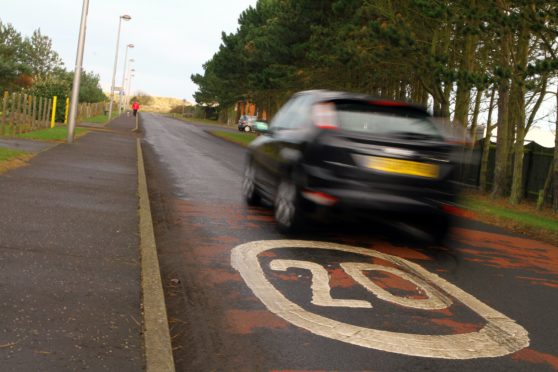 Speed humps could be laid on Montrose's busy beachfront boulevard after shock statistics revealed more than eight in ten drivers are breaking the limit there by more than 50%.
The Traill Drive radar survey showed 85% of motorists hit 31 miles per hour or more on the 20mph stretch, but calls for speed cushions have set local councillors on a collision course over the cost of bringing in extra safety measures.
The looping road is used by around 900 vehicles daily and while there has been only one slight injury recorded there in the past three years, a local councillor branded it an anti-social driving hotspot.
Independent Tommy Stewart also told the area's communities committee problems were not being exclusively caused by so-called boy racers.
He said: "I've received numerous complaints over speeding and anti-social driving.
"It's the main route round the beach area, busy with walkers and families at the Seafront Splash and the golf courses.
"We're not talking here about isolated incidents and the stereotypical young lads, it's adults and women drivers.
"There are 900 drivers using that road every day and that's busy for a small town beach.
"Travelling at more than 30 in an area that's got a 20 limit is just unacceptable."
Officials have said the preferred option is a series of 75 millimetre high speed humps but Montrose SNP councillor Bill Duff challenged the need for the outlay.
He said: "I'm quite passionate about road safety and I think there are a number of obvious road safety targets we should be addressing in Angus.
"My concern is the budget. We know how much budgets are under pressure and I want to see them used in the most appropriate way.
"This road has a number of engineering measures already on it and the data doesn't indicate that there is a major problem.
"This looks quite costly but we haven't been told what it will cost.
"Let's not set hares running on this unless we can afford to do the job."
Committee convener and fellow town councillor, Independent Mark Salmond said: "I'm disappointed as a Montrose councillor you have chosen not to support proceeding with this.
"I am more than happy to go to the public and see what their views are."
Carnoustie Independent David Cheape said: "I don't remember us requiring costings in other consultations for this sort of thing.
"I imagine the public will either be for or against speed bumps, regardless of the cost involved."
Councillors voted 9-4 to put the plan out to consultation.