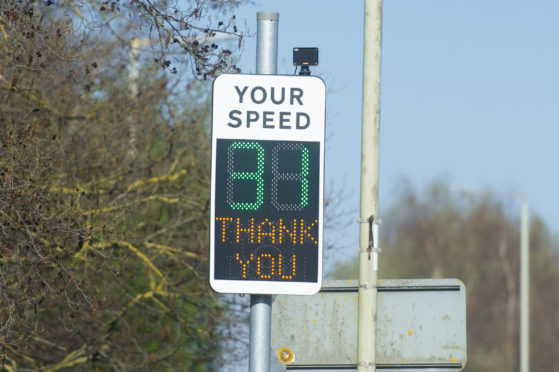 More flashing speed signs could be added to the Angus road safety armoury in a bid to slow down drivers in towns and villages.
As a move to set up a special road safety working group were welcomed, a leading councillor said he would like to see the authority replicate neighbours Perth and Kinross in fitting the flashing warnings at community gateways across the district.
The new member/officer working group will develop Angus road safety priorities aimed at meeting new national road casualty reduction targets.
Recent figures revealed Angus had missed three out of four key targets, including fatality and serious injury rates.
Angus Provost Ronnie Proctor said: "I have been strongly lobbying for road safety improvements in our towns and villages.
"For example, we managed to get new speed limits for Kirriemuir and that's been replicated elsewhere.
"One thing I hope the working group can look closely at is the implementation of flashing signs in areas where there's a need for motorists to be reminded that they should slow down," added the Kirriemuir Conservative councillor.
Angus has a stock of less than 20 vehicle activated warning signs which are positioned on a rota basis around the county for around four months at a time.
The village of Maryton of the outskirts of Kirriemuir has a permanent sign of the type Mr Proctor said he would like to see installed more widely.
He added: "Perth and Kinross Council have seemed to manage to get them through all their places of habitation and I feel that these really do make a difference.
"It may be that we won't be able to do the same number as Perth and Kinross, but I'd certainly like to see more than we have got at the moment.
"I do feel motorists respond to these when they see their speed flashing above them," he said.
Montrose SNP councillor Bill Duff repeated a call for special focus on motorcyclists, who he had previously highlighted as an at risk group.
"I know it's not an easy one to deal with, but the statistics suggest it is one of the big things we should be looking at in terms of casualty reduction," he said.
Montrose Independent Mark Salmond, who heads the working group said biker organisations could be among those who might feed into the safety strategy.
"The group can call on special interest groups for input and we have already received contact from one individual keen to do that," he said.