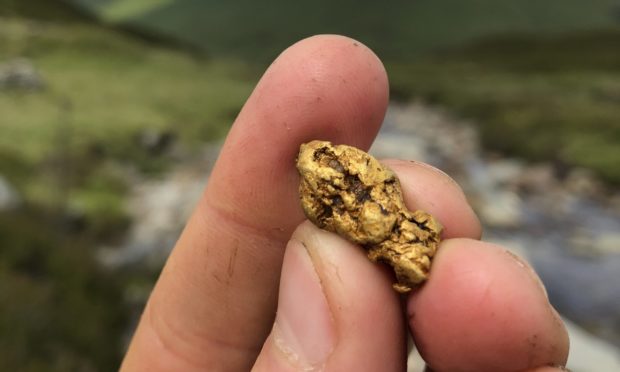 Shares in a mineral exploration firm soared on Monday after an activity update and sample analysis continued to yield promising results against a backdrop of high gold prices.
Erris Resources and Green Ore plc entered into an option agreement in December last year to explore for gold across a licence area of more than 237 square kilometres in Loch Tay.
It followed the discovery of a 10-gram gold nugget by a Leeds University team in the area last July.
Since then, the firm has seen consistently promising results from its activities, which continued on Monday when it announced 53 rocks samples received with additional gold mineralisation identified at Lead Trial area.
First metallic screen analysis at its Lead Trial confirmed coarse gold in 8.5kg mine waste sample – giving a weighted average of 7.22g/t Au.
Samples from western lower mine waste in Corrie Buidhe area returned up to 6.98g/t Au and high silver.
The firm said fieldwork at the project continues to upgrade the Lead Trial Prospect and other new targets including the Corrie Buidhe silver mine area where gold has been sampled in the lower dump west of the old mine.
Erris Resources chief executive, David Hall, said: "With the gold price currently beyond $2,000/oz we are pleased with the progress being made at the Loch Tay Project and look forward to updating shareholders on future developments."
The firm plans to continue mapping and sampling operations at Lead Trial in parallel with the soil survey which is now underway.
The company plans to trial a ground magnetic survey across the Lead Trial prospect to determine if the contacts of the felsite sills and structures can be mapped.
If the results are positive, then the survey can be expanded to cover the entire +3km trend, with the combination of geophysics, detailed mapping and soil and rock geochemistry used to identify future drill targets at Lead Trial.
The other targets within the licence area will be investigated to determine if they have economic potential.