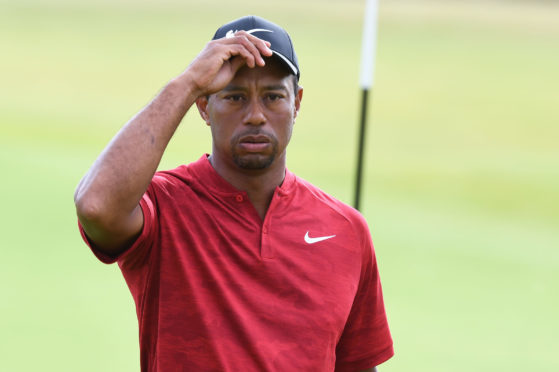 Even if he doesn't hit another ball, Tiger Woods has already done better in his latest comeback than I thought possible.
But I'm still not ready to revise my opinion that he won't win another major.
A lot of people are viewing Carnoustie as a big stepping stone on the road to picking up one of the four big titles, but I think it's more likely to be a missed opportunity.
A lot of things were in his favour last week, including the course and the form of some of the big names in the game. The world number one and two both went home on Friday night, Justin Rose left himself with too much to do, Rory McIlroy is still unconvincing with his putter and Jordan Spieth looked like he was fighting his game.
Having players without one major to their name as his main competitors on the back nine on Sunday was a golden chance.
And, you have to ask, how long will he stay healthy?
He'll be 43 by the time of the next Open and, even though there were no big injury dramas last week, when you saw him close-up you could tell by the way he was waking and bending to pick up his ball that the back is still very much an issue.
What he does have in his favour is that the public are 100% behind him. I've followed him round at an Open before but this was something else. Everybody wanted to watch him – it didn't matter who was playing with him, or in the groups before and after. It was all about Tiger.
It reinforced that, like Federer in tennis, he is the biggest star of his time and possibly ever.
Also, working in the media last week gave me an idea of how big a deal a Woods major would be news-wise.
It's still more likely that he won't be able to do it, though.
* It came as a bit of a surprise to hear the day after the Open that Sam Locke had decided to turn pro.
He did brilliantly to make the cut and win the Silver Medal but at 19, he's still very young.
He couldn't ask for a better mentor than Paul Lawrie, though, so I'm sure they have weighed up the pros and cons.
I really hope he does well but the professional game is a pretty unforgiving place.
* There's a real golf buzz in Scotland just now off the back of a great Open at Carnoustie.
I'm heading to St Andrews with my dad to watch the Seniors Open.
It's nothing like the scale of an Open but you see much more and the average player can relate much better to the length the over-50s hit the ball, than the guys last week.
I have to say that it's really disappointing that it is scheduled the same week as the Ladies Scottish Open at Gullane.
I'm sure there are plenty of people who would like to watch both.
The ladies' game needs all the publicity it can get in this country and our national open deserves to have the spotlight to itself.
Hopefully this clash doesn't happen again.