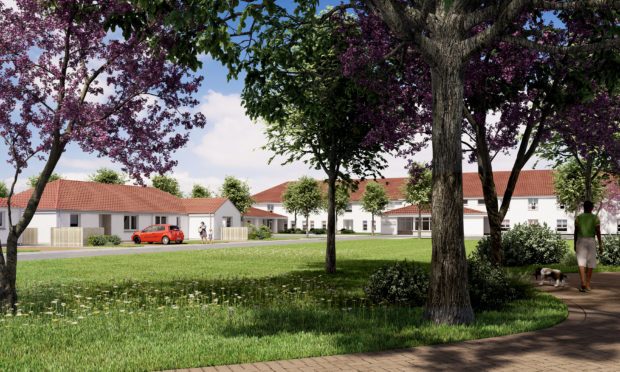 An innovative care village in Fife bringing together the youngest and oldest in society has been given the green light.
The new care home in Methil will be in the same building as a children's nursery and will include a community café where the youngsters and elderly residents can mix.
The £10.5 million development of the former Kirkland High School site is thought to be the first local authority project of its kind in Scotland.
It will also involve the construction of 35 extra-care bungalows where older people can live independently but benefit from the home's facilities.
Fife's first care village opened at Ostlers Way, Kirkcaldy, in 2014.
As the Methil scheme was approved by Fife Council's central and west committee, SNP councillor Rosemary Liewald said: "We have already seen the concept in action at Ostlers Way but we don't have an early years facility up there.
"I'm really delighted that we have this here."
Planner Martin Patrick said the inter-generational provision was a "very powerful proposition" for the development's approval.
The consent was welcomed by the council's health and social care spokesman David Graham, also the local Labour councillor.
He said: "This will allow the council to move forward with our excellent care home replacement programme creating facilities which are fit for purpose in the 21st Century.
"The care village replaces Methilhaven Residential Care Home which has provided an outstanding service to our community for decades.
"The new facility will continue to provide this service while improving the offering we have available to residents, introducing new technologies and systems which we have now and didn't have when Methilhaven was originally built.
"It is an outstanding project and I can't wait to see the doors open to the public."
The 36-bed residential home and 39-place nursery will have separate entrances but will be connected by a community drop-in area with café.
Opportunities will be provided for the residents and children to enjoy each other's company. It is expected they will take part in activities together, including singing, storytelling and physical activities.
A two-storey building will house the care home, with a single storey annexe and playground for the nursery.
Detached and semi-detached bungalows will be erected around a village green and heated from the home's gas-fired boiler to save energy.
A condition attached to the consent requires the community drop-in centre to be operated as part of the care home and only for the care of the elderly or others in need of specialist care linked to the home.