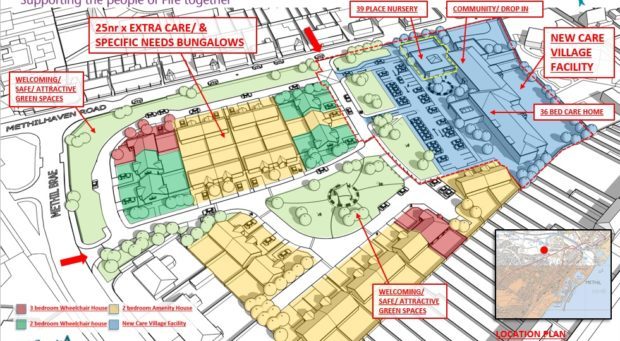 Fife Council is aiming to bridge the generation gap with a groundbreaking plan for a care home and nursery on the same site.
Older people will mix regularly with young children when the 36-bed residential home and early years centre opens in Methil in a little more than two years' time.
Fife is thought to be the first local authority in Scotland, and possibly the UK, to introduce the innovative approach to education and care which has already been linked to a range of health benefits for pensioners in places like Japan and the Netherlands.
The £10.6 million development will be built on the site previously occupied by Kirkland High School and will  include 25 extra care and specific needs bungalows for those who want to live independently but make use of the home's facilities.
While the care home and nursery will have separate entrances, they will be joined through a shared space containing a cafe, an activity room and meeting and conference rooms.
It is anticipated the elderly residents and pre-school youngsters will take part in pastimes together, including singing, story-telling and physical activity.
It has been emphasised however, that members of each generation will be able to choose whether to mix with the other and no-one will be forced to take part.
The Methil care village, to replace the ageing Methilhaven Home, is the first in the second phase of Fife Council's care home replacement programme, which also includes new facilities for Anstruther and Cupar.
Three new homes have already opened in Kirkcaldy, Glenrothes and Lumphinnans.
The Methil one will be the first to include a nursery, a move hailed as "really exciting" by council co-leader David Alexander.
"It will provide some essentials – a much-needed care home replacement, a contribution to our target of 3,500 more affordable homes and increased nursery capacity to meet the Scottish Government's commitment to 1,140 hours of early learning and childcare entitlement," he said.
Councillor David Graham, the council's health and social care spokesperson, said he is delighted with the concept and added: "It will be part of a movement to nurture and develop contact between young and older people.
"In today's world, this has never been more important."
A similar concept was opened by a charity in London last year and was hailed as the first of its type in the UK, but Fife Council is believed to be the first local authority in the country to introduce combined nursery and care home facilities.
The idea of intergenerational care began in Tokyo in 1976 and there have since been successful schemes in Europe, Australia and the USA.
A trial by the Bristol-based St Monica Trust and highlighted in Channel 4's Old People's Homes for 4-Year-Olds documentary found residents had improved moods, mobility and memory after spending six weeks with children.
Youngsters also benefited by playing and learning alongside older people.