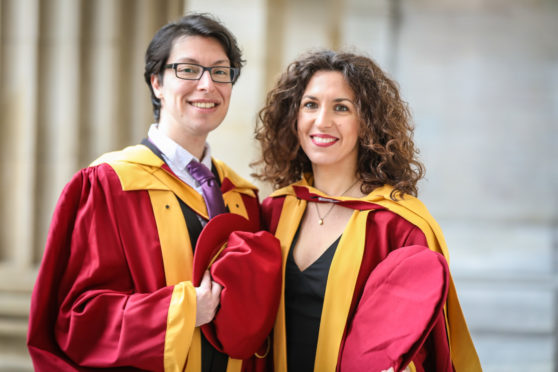 Hundreds of students at Abertay University were recognised for their hard work at glittering graduation ceremony at the Caird Hall.
Students who completed undergraduate and postgraduate qualifications in courses such as forensic science, accounting and computer arts donned gowns to collect their diplomas.
Cameron Moody, who achieved a BA (Hons) in Game Design and Production, was one of the students to receive a degree certificate.
The university's industry connections have helped Cameron to enhance his creative potential.
He said: "Like most people on this course, I've loved games for longer than I can remember and I've been creatively inclined for years.
"I chose Abertay in particular because of its reputation, industry connections, and the way the course was set up – I liked the modules and the variety they covered."
Stephanie Crowe's efforts in achieving a MSc Psychology were celebrated at the bash.
She is working to achieve her goal of developing her own User Experience business.
Her goal could be realised, thanks to the opportunity to work with the university's Bell Street Ventures enterprise centre.
She said: "I'm very happy an excited for the next steps in my life.
"It'll be a great day, and a lot of people in my family are coming along to celebrate.
"I'm the first person in my family to get a Masters, so I'll get a second photo on my gran's wall."
The graduation ceremony also welcomed the university's first ever female Chancellor, Professor Alice Brown.
In her first address to grandaunts, she said taking over from Lord Cullen as Chancellor left her feeling "honoured and humbled."
The ceremony draws Abertay's anniversary celebrations to a close – as university status was first awarded to the institution in 1994.