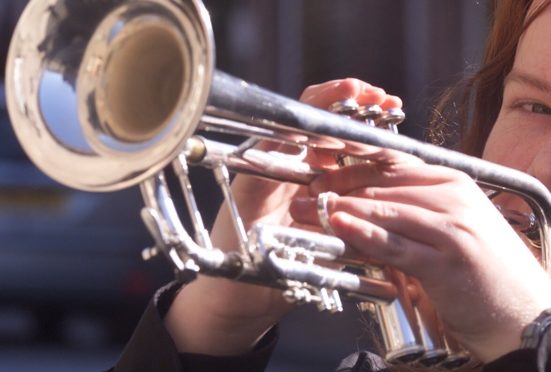 Children from across Courier country will be able to trumpet their musical talents alongside international experts thanks to a new scheme at St Andrews University.
Sixty youngsters have been offered online lessons and the chance to take part in a summer brass camp in July, organised by StAMP (St Andrews Music Participation).
The virtual camp will welcome participants of all ages and abilities from around the world to play with The Wallace Collection, the university's ensemble in residence.
A range of experts and acclaimed soloists will also take part.
As part of the camp, children in Fife, Tayside and Clackmannanshire were given the chance to apply to learn the trumpet at home.
The successful youngsters will receive a polycarbonate trumpet and will begin learning with Discovering Brass, a pioneering teaching method developed by The Wallace Collection.
Anyone who wishes to continue lessons after the brass camp will be able to free of charge.
The initiative has been described as a fantastic opportunity for children to take their first step into music.
Ellen Thomson, head of outreach at the university's Laidlaw Music Centre, said: "By receiving an instrument and lessons completely free of charge, we hope that StAMP will help young people focus on something positive during their challenging period.
"It's a perfect time to learn an instrument and develop a new skill in a supportive and nurturing digital environment."
The camp will include sessions from renowned brass experts Trevor Herbert of the Royal College of Music, Arnold Myers of the Royal Conservatoire of Scotland and Peter Holmes of the European Archaeology Project.
Ian Bousfield, former principal trombone of the London Symphony Orchestra and Vienna Philharmonic, will also play.
Participants will have the chance to ask questions and interact with each other.
Dr Bede Williams, head of instrumental studies at the university, said: "There is so much that we have all learnt recently about how online music-making can be fun and rewarding.
"It's going to be so exciting to have participants from around the world learning together and I am absolutely certain that, although it won't be anything like playing together in person, we will all find it is something that is an altogether different experience and thrill."