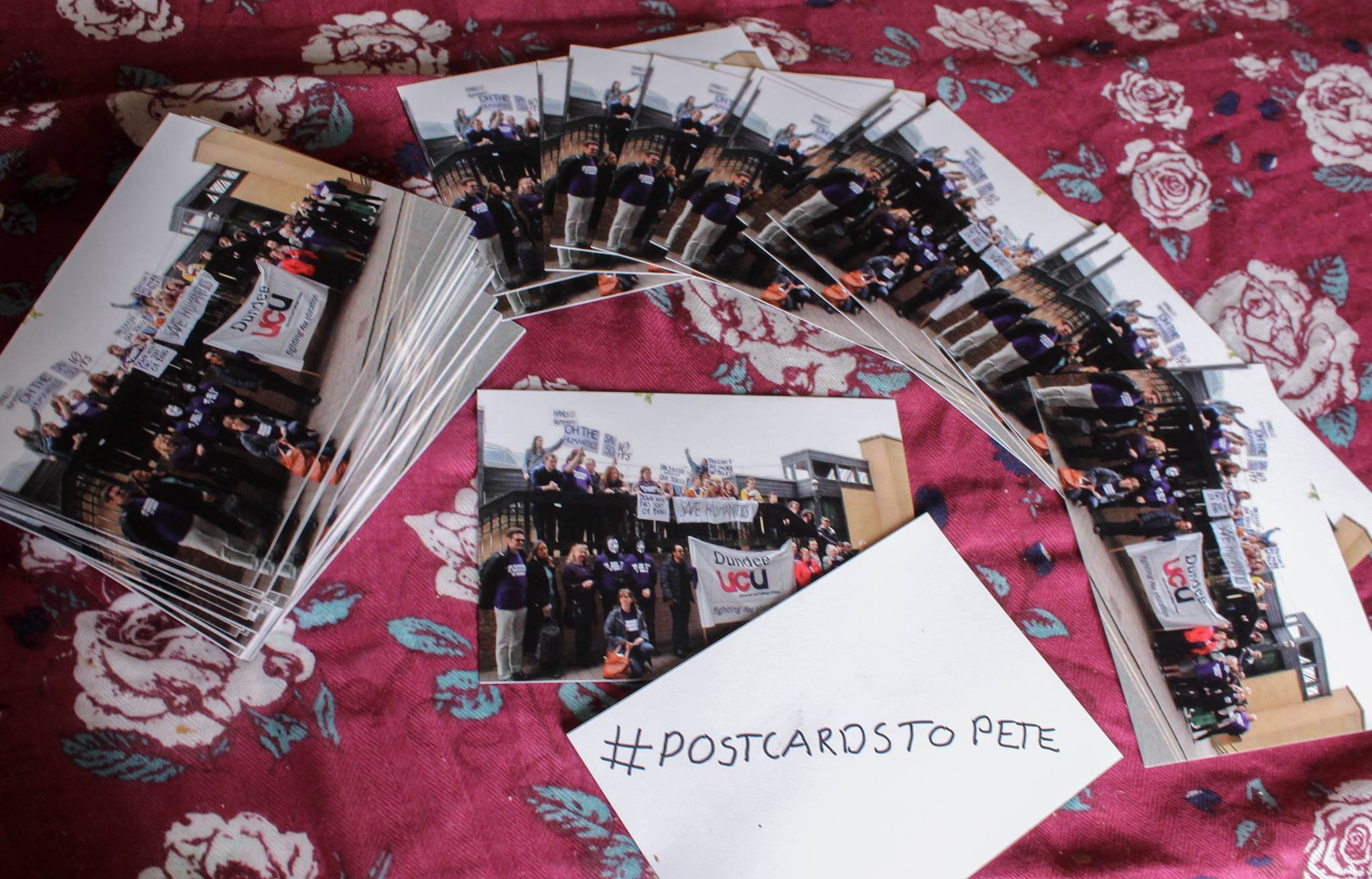 Dundee University students have delivered hand-written messages to their principal in response to compulsory redundancies in the School of Humanities.
The Postcards2Pete initiative was part of the wider Save Humanities campaign, which aims to fight the proposed £250,000 cuts to the school.
Activists delivered the postcards, on which students had written responses to Professor Sir Pete Downes, as well as a petition signed by over 1,500 people, on June 29.
It is understood that at least three members of lecturing staff face losing their job after a redundancy committee was given the go ahead to be established.
A spokesperson from the Save Humanities campaign said: "Humanities students received an email from our Principal, Pete Downes.
"This email informed us that the decision had been approved in court to establish a redundancy committee, in regards to the compulsory redundancies of three members of lecturing staff within the School of Humanities.
"As these decisions are made whilst students are home for summer, this student response is guaranteed to make a huge impact.
"The comments on the petition are incredibly heart-warming and all express one common sentiment: these redundancies should not go ahead."
The £250,000 cuts are part of a university-wide drive to save £5 million.
Meanwhile, it has been claimed that some of the university's management team have received pay raises of up to 15%.
The spokesperson confirmed that  one senior member of staff has already taken a voluntary severance, explaining that up to 15 students will need to either take a new module or get a different advisor.
She added: "Our lecturers are still fighting back.
"I feel safe in saying that they are immensely proud and grateful to students for everything that has been done so far, and we in turn are a testament to the education we have received from them.
"To imply that the number of staff faced with redundancy is 3 in 3000 has not only left humanities staff feeling insignificant and undervalued. It is also disingenuous.
"These figures must be considered proportionally and Humanities is a small school – we do not employ 3,000 people.
A Dundee University spokesman said the School of Humanities is not under threat.
He said: "The principal and vice-principal (learning and teaching) welcomed students from humanities for a meeting last week.
"Throughout the current process we have made every effort to ensure students are well informed.
"We are aware of the students' concerns, particularly in relation to the delivery of the curriculum.
"We have assured them that quality of teaching and the student experience are a priority for the university, and we have detailed plans in place to ensure continued, high quality delivery of the curriculum.
"We have emphasised again that a `Save Humanities' campaign is misleading, in that Humanities as a discipline is not under threat.
"The university has a long-term growth plan to make Humanities at Dundee stronger and more sustainable.
"Efforts are ongoing to meet savings targets in the School of Humanities without the need for redundancies."