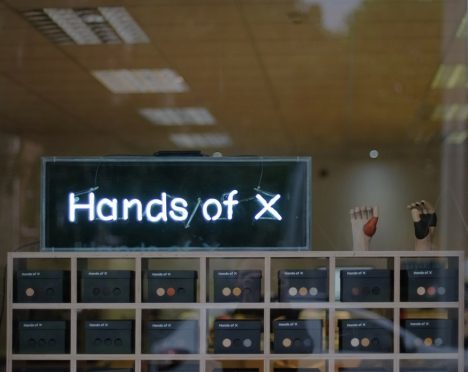 A project that makes bespoke prosthetic hands was among the inaugural winners of The Stephen Fry Awards for Excellence in Public Engagement with Research at Dundee University.
The awards, named after the former university rector, recognise work carried out by researchers at Dundee and to share their findings with the wider community.
The award for Public Engagement Project of the Year 2018 was given to the collaborative team behind Hands of X, a project designing bespoke prosthetic hands, available in a variety of materials and colours.
The team includes Dr Graham Pullin, Dr Andrew Cook and Eddie Small from the university, as well as colleagues from other organisations.
The prototype hands designed by the team can be found in The Cooper Hewitt Smithsonian Museum in New York where they will be on display until September 2018.
Mr Fry said: "I couldn't be more proud to lend my name to this award.
"I think it so crucial at this time when a great chasm seems to have opened up in our culture and in our society, between what is considered the elitism of those who are in education, who have received education, believe in education and those for whom education is a mark of some sort of snobbery."
The actor, comedian and writer added: "The most important thing is to engage with the public and show them that research, truth, empiricism – all the values that a great university like Dundee represents – matter and that they involve everybody."
Dr Daniel Cook of the university's English department was named Engaged Researcher of the Year for his work bringing literary classics to life through a series of hands-on activities and immersive events.
This led to Dundee's participation in the Being Human Festival in 2016 and 2017, and the recognition of the city as creative and literary hub.
The winners were announced at the university's annual Discovery Days event at the Dalhousie Building.