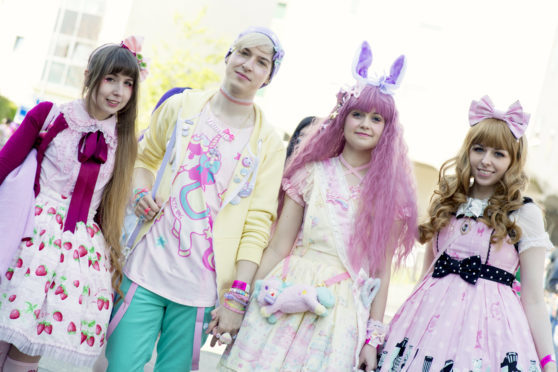 One of the country's largest animation, gaming and cosplay conventions will take place at Dundee University next month as thousands of fans gather for the city's biggest geek-off.
Anime characters, stormtroopers, supervillains and video game stars will bring a splash of colour to the city when DeeCon 2018 launches on April 7.
This year's event will feature talks by industry professionals and gamers, a dedicated video gaming hub with virtual reality tournaments and a Kids' cosplay masquerade with prizes for under 12s.
One of the members of the organising committee is student artist 'Sharkie'.
She said: "We are extremely excited to be hosting DeeCon 2018.
"A lot of people missed out on some of the bigger events like Rai Con and Dunfermline Comic Con because of the Beast from the East this year so we would urge them to come to Dundee as it's the perfect place to come geek out."
Major Scottish gamers such as Marleythirteen and Batchy, as well as Sam Rowan, the concept sculptor who has worked on titles such as Fantastic Beasts and Where to Find Them  and Nikki Christie, the CG artist who has worked on Horizon Zero Dawn and 'Halo 5', will head to the city of Discovery for the day's event.
Sharkie added: "A significant amount of DeeCon 2018 is dedicated to high-fantasy and gaming this year, with a gaming hub and an entire level dedicated to Dungeons and Dragons.
"We still have the usual cosplay masquerades, film screenings and exhibitions, speed-pitching and artists' valley, as well as special guest John Ferguson, of Saltire Comics, who will be launching his latest comic Mean City right here on the day."
DeeCon is organised by animation students at the University's Duncan of Jordanstone College of Art and Design.
It is a fundraising event with proceeds spilt between the animation degree show in May and nationwide charity SpecialEffect, which helps people with physical disabilities to play video games.
DeeCon 2018 will take place across Dundee University's Students' Association (DUSA), the University Chaplaincy Centre and Queen Mother Building from 11.30am on Saturday, April 7 until 3pm on Sunday, April 8.
All children must be accompanied by an adult.
More information about DeeCon 2018 and tickets can be found at http://uod.ac.uk/2GuYmBt