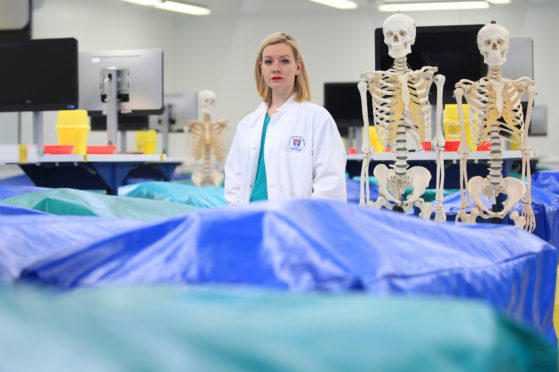 A Dundee University expert is taking a starring role in a new true crime series exploring some of the most challenging murder cases in the  UK and USA.
How I Caught the Killer premiered on Sky Witness last week.
Produced by Woodcut Media, the series is narrated by former police officer and Crimewatch presenter Rav Wilding and takes an in-depth look at what it is like to be a police officer working on murder cases.
Dr Helen Meadows, an expert in hand identification and vein pattern analysis, will be on screen in a number of the hour long episodes talking about the forensic investigation involved in the cases and discussing points of interest in the investigations.
She said: "What appealed to me about this series is the holistic approach the production team wanted to take, looking at all individuals and teams involved in solving a crime and the fact that I was able to carry out my own research.
"I was given eight cases to work on and I had access to some of the case notes from the original investigation teams. My task was to clarify certain points in the case and answer specific questions ranging from basic queries about sampling to what interested me from a forensic point of view in a case."
Dr Meadows added: "Forensic science isn't the sole focus of the series. The production team have really gone beneath the surface of these investigations and looked at the different people who are involved in solving them.
"They talk to family liaison officers, the original investigation teams and the families and it is that all-inclusive approach that makes it really interesting."
Dr Meadows said the series includes a number of landmark cases including that of Colin Pitchfork, sentenced to life imprisonment for the rape and murder of two teenage girls in the 1980s and the first person convicted of murder based on DNA fingerprinting evidence.
Another episode focuses on Daniel Rosenthal, who was convicted of murdering his mother despite the body never being found.
"The cases are all unusual in some way and very interesting," said Dr Meadows.
Dr Meadows, a former post-doctoral researcher at the Centre for Anatomy and Human Identification at the university, led its highly successful and hugely popular Massive Open Online Course Identifying the Dead.
She is now working on developing new online courses for the university.