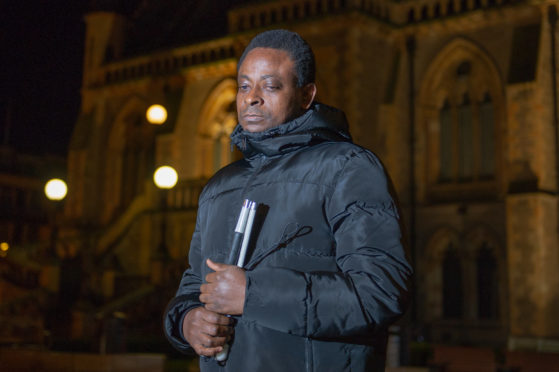 A blind international student at Dundee University has been told he must leave the UK with his four children in a matter of weeks amid a row over discrimination and a reported lack of support for his PhD studies.
Bamidele Chika Agbakuribe was instructed to leave the country after having his student status torn up by education bosses but his case is now the subject of a major campaign by the president of the University and College Union, Dr Carlo Morelli.
Dr Morelli, who is also a senior lecturer at the university, claimed changing Mr Agbakuribe's supervisors and leaving him without supervision or appropriate equipment to complete his studies amounted to "disability and racial discrimination".
The union chief claimed delays in Mr Agbakuribe's progress had been caused by issues introduced or inadequately addressed by the university, which had "then been used as an excuse to terminate his studies".
He said: "Bamidele's four children are in school in Dundee and now his eldest is about to sit for his SQA examinations but faces uncertainty and disruption, while his wife is seeking to cope with supporting both Bamidele's studies and their young children."
Dundee University strongly refuted any suggestion of disability or racial discrimination.
However, disability campaigner Paul Brown, the institution's first blind graduate, also hit out at the level of support given to Mr Agbakuribe, and called for his student status to be returned so that he and his family are not forced to leave.
Mr Brown said: "I campaigned for better access for disabled students 30 years ago and it's heartbreaking that this man and his whole family face deportation because of the lack of support available to a blind student in the 21st century."
Mr Agbakuribe said he believed he had "definitely" been discriminated against and claimed the academic process which led to his studies being terminated had been "stage managed" to push him out after he complained about a lack of supervision and support.
He said: "The situation we are in now is quite excruciating. I can't sleep. What will I tell the sponsors who sent me here? Either I come back with a certificate or I have to refund the money – no other university will take me now.
"My children have lost coordination, they are unhappy. My son in primary one cries every day. The way they have treated me is dehumanising but I tell my children not everyone in Dundee, not everyone in Scotland, is like this."
Mr Agbakuribe's visa has been extended by 10 weeks following intervention by Dundee MPs Chris Law and Joe FitzPatrick. He is also now in touch with the Scottish Public Services Ombudsman with a view to having his appeal reviewed.
A Dundee University spokesman said: "With regards to the case in question, one of our international students had not satisfactorily met the academic requirements of their studies, and this led to the termination of their studies in September 2018.
"The University provided extensive support academically, financially and pastorally over an extended period, from before the student's arrival in the United Kingdom and up to the end of their studies in September 2018.
"We recognise the student had encountered significant challenges and every effort was made to support them throughout their time at the University.
"The University granted several extensions to study deadlines and every encouragement was given to the student to assist them in progressing their academic work."