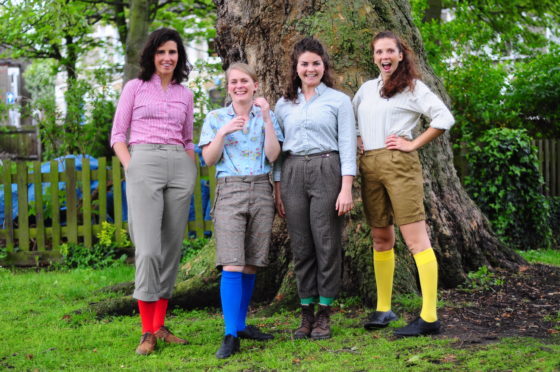 The HandleBards are a troupe of cycling actors who perform Shakespeare plays as you've never seen them before. Caroline Lindsay finds out more.
Shakespeare on bikes? Yes, you heard right – the HandleBards are the world's first cycling theatre company and they're pedalling into Dundee next week.
Explaining the method behind the madness, Paul Moss, the show's producer, says: "The HandleBards began because adventures are fun. Some friends and I all graduated from university in various fields, not really wanting to go into those fields but unsure what we actually did want to do.
"We had all done plays and musicals at schools and university and knew we are all right at Shakespeare so this led us to wondering how we could do it differently. And that's when we came up with the idea of doing Shakespeare on bikes, even though I hadn't been on a bike since I was about 12," he laughs.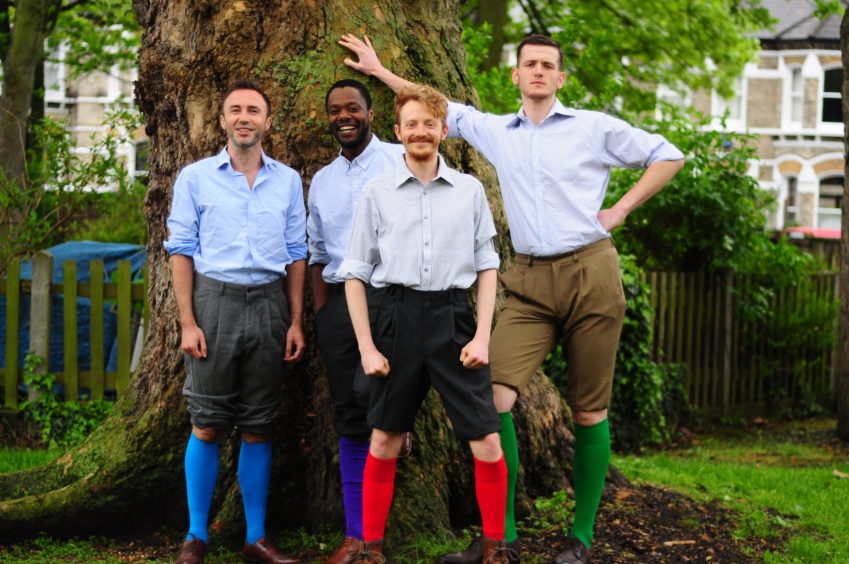 The four-strong troupe of cycling actors – there's a girls' troupe and a boys' troupe – carry with them all  the necessary sets, props and costumes to perform what they describe as "extremely energetic, charmingly chaotic and environmentally sustainable Shakespeare plays across the globe."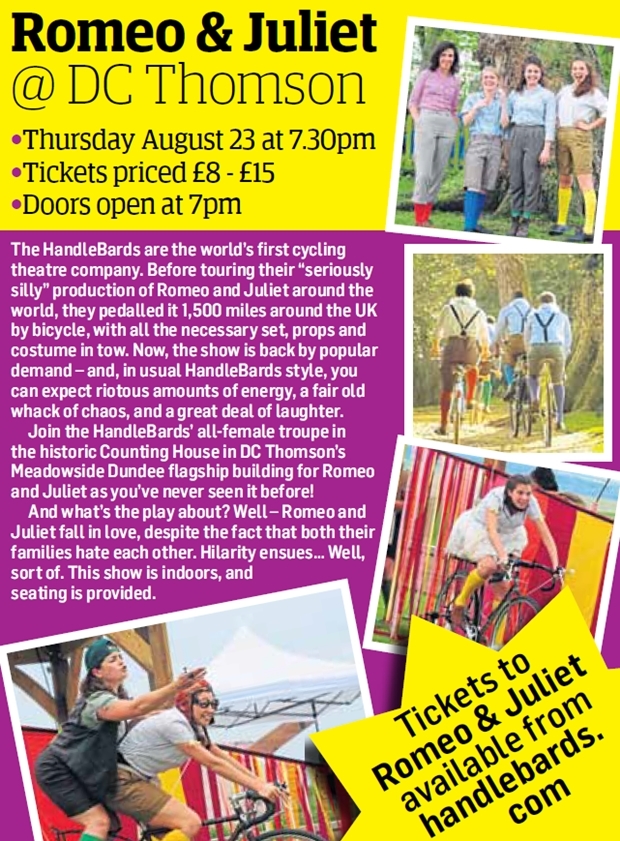 Since 2013, the HandleBards have clocked up more than 7,000 miles by cycling around the world, making Shakespeare fun and accessible (yes, even the tragedies) to audiences of all ages, and have been described by none other than Sir Ian McKellen as "uproariously funny".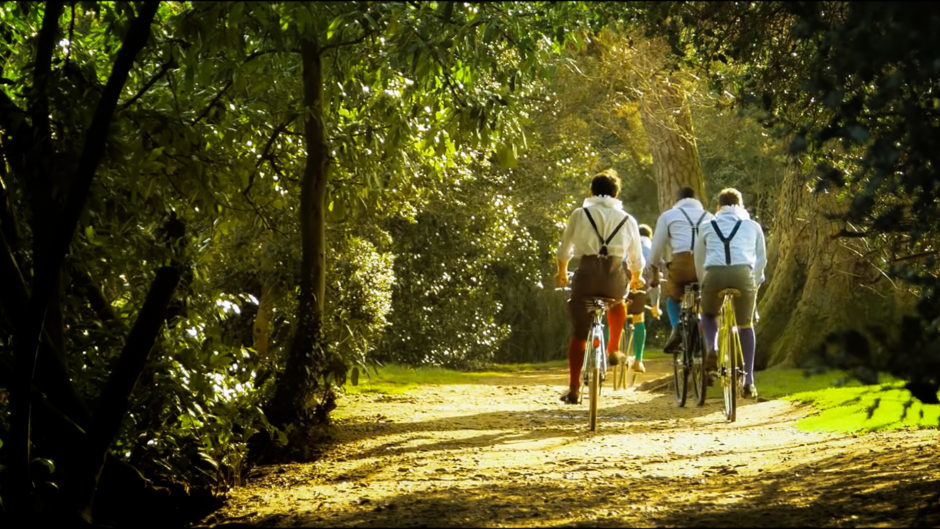 "We specialise in outdoor theatre, as we love performing in the open air, but really, we're happy performing almost anywhere," Paul smiles.
This year, the boys are performing Twelfth Night, cycling around the country on their Pashley Pathfinders, while the girls are rejuvenating their "seriously silly" Romeo and Juliet, including a performance just last week at the Pittenweem Arts Festival.
They will shortly be performing Shakespeare's famous tragedy as you've never seen it before at Courier publisher DC Thomson's Counting House on August 23.
So what's the play about? Well, Romeo and Juliet fall in love, despite the fact that both their families hate each other. Hilarity ensues – sort of.
"Shakespeare introduced 3,000 new words to the English language, and we think his vocabulary ranged from between 17,000 to 23,000 words – that's double the number of words used by the average conversationalist," Paul explains.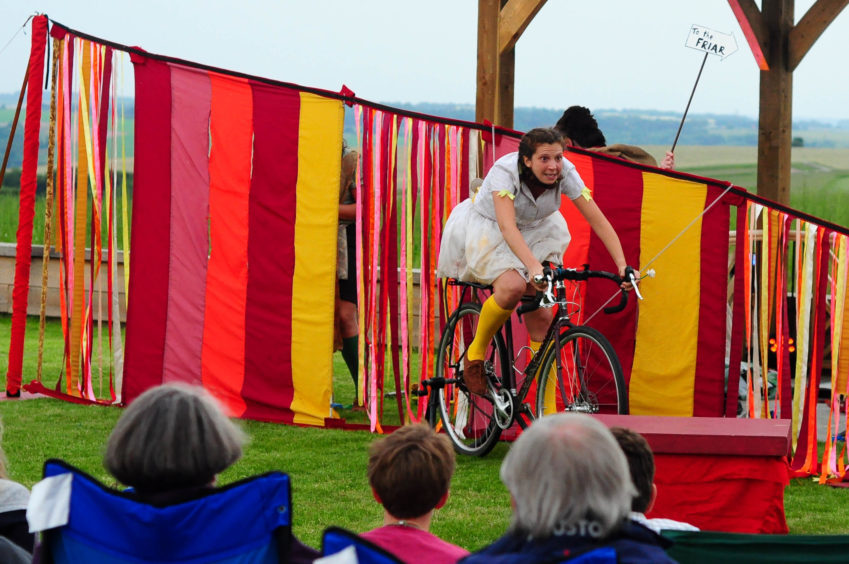 Garnering rave reviews wherever they go, they won the 2014 Edinburgh Fringe Sustainable Practice Award from Creative Carbon Scotland, which assessed sustainable design, communication of sustainable message and a high-quality production.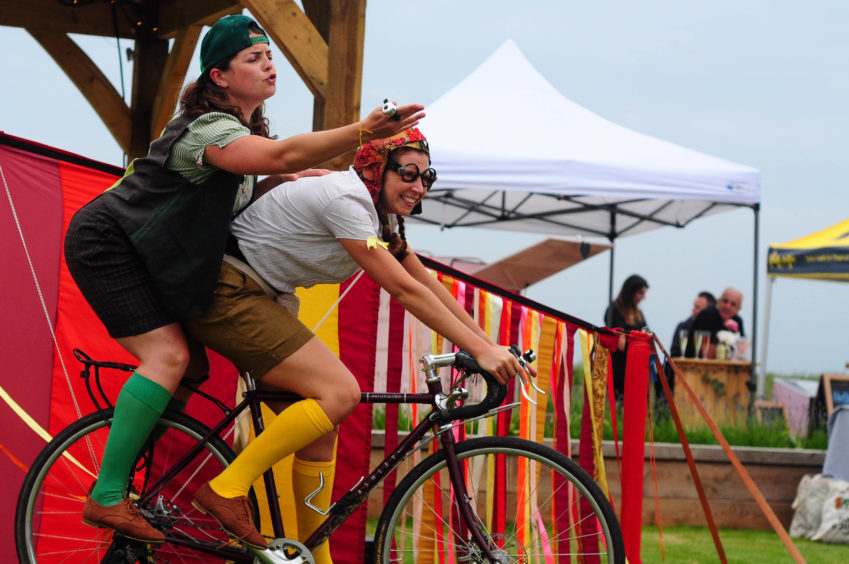 "When we got to the Edinburgh Fringe in 2015, we shook things up a bit by organising The HandleBards: Secret Shakespeare, which saw us provide our audiences with bicycles so they could cycle with us through Edinburgh," says Paul.
"2016 was our most ambitious year yet with four brand new shows for our 4 for 400 season, in celebration of Shakespeare's 400th anniversary."
Last year, the boys breathed new life into A Midsummer Night's Dream, while the girls pedalled As You Like It across the UK, and then to India, Malaysia, Singapore, Myanmar and Bali.
"We specialise in outdoor theatre, as we love performing in the open air, but really, we're happy performing almost anywhere," Paul smiles.
"We're incredibly proud of our environmental conscience. Last year we saved 50.2 tonnes of CO2 by travelling by bike," he reveals.
"And we've got better at using them over the years. It's been only an upward curve from our very first cycle when we broke two wheels, a trailer attachment and our director's coccyx.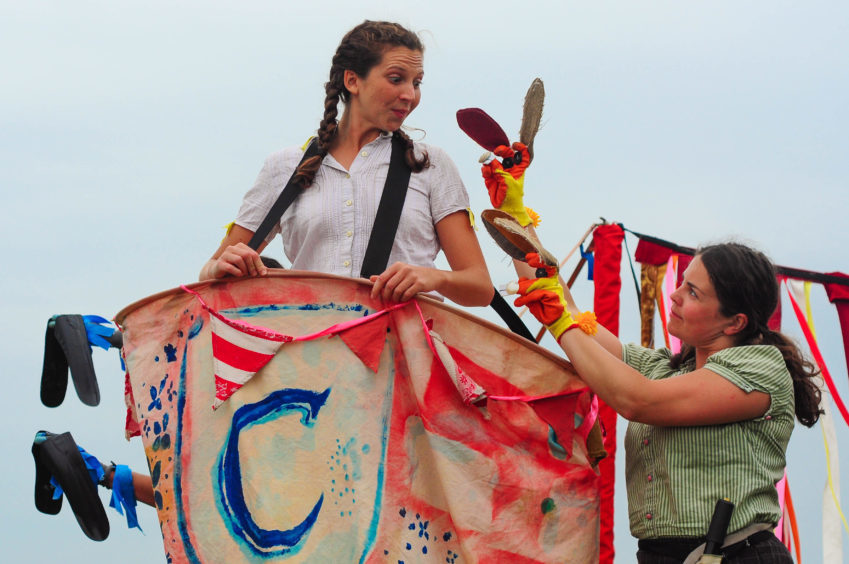 "We'll continue doing everything we can to promote sustainability and a greener future, and hope you'll be inspired to do your part too. Why not cycle to one of our shows instead of driving?"
Tickets to Romeo and Juliet at The Counting House, DC Thomson are available from
https://www.handlebards.com/tickets/romeo-juliet-dc-thomson/