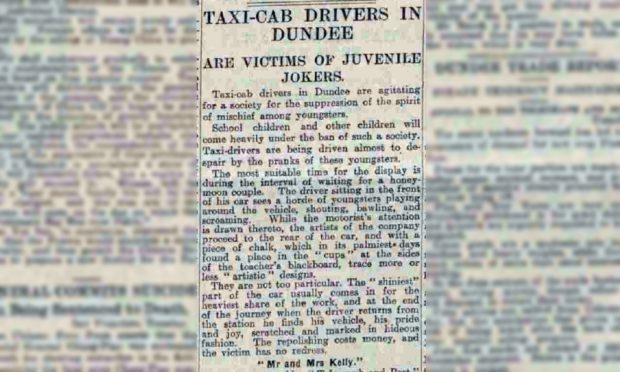 One of Dundee's early taxi drivers finally snapped when he caught a boy dragging his tackety boots down his polished paintwork.
He dealt the boy a savage and prolonged kicking then began lobbying publicly for a society for the suppression of mischief among children.
His call for action came on the back of a wave of taxi vandalism by youngsters during 1911.
They were drawn to taxis waiting for newlyweds because of the groom's practice of throwing pennies from the window.
This could involve long waits so the boys kept themselves busy scrawling chalk messages on the cars' paintwork.
While the chalk could be washed off, the graffiti left deep scores.
The messages were not particularly imaginative and included: This is a marriage; Mr and Mrs Kelly; When we are married we will have sausages for tea.
In exasperation, one driver wrote to the press warning: "Woe betide the youngster who falls into the hands of the Philistine. A taxi driver can spank well. The hand that guides the steering wheel can also wield the slipper or the belt."
The tackety boot incident happened when a ha'penny landed on the roof of a taxi.
A boy stood on the wheel but when he could not reach the coin, he dug the spikes on his boots into the paintwork. He lost his grip, however, and left enormous scores in the bodywork.
It is clear motorised taxis were well established by 1911, although I have found no date for their introduction to Dundee.
Our archives do, however, contain reference to the first taxi driver in the city. There is mention of two men, who died months apart in 1937, who were said to have achieved this first.
John Fraser, 68, 1 Thomson Street, died in early January. Originally from Dalkeith, he came to Dundee to work as a groom then later worked as a cabman for JM Robertson, Perth Road, before driving a taxi for Dundee Express, South Ward Road.
In July that year we reported the death of James Crighton, also said to be the first taxi driver, who drove a £120 gladiator owned by James Brodie of the Eagle Inn, Murraygate.