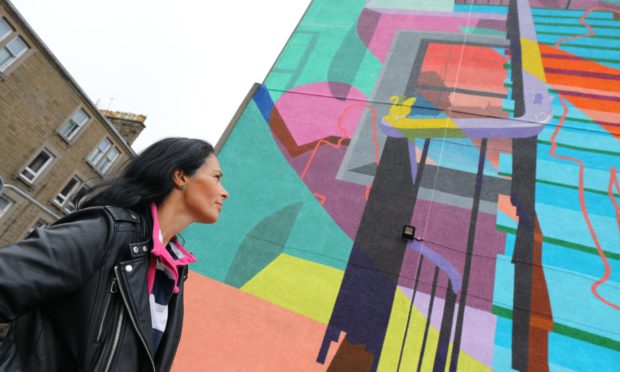 OpenClose Dundee has added vibrancy, drama and visual splendour to the city's forgotten spaces with its impressive artworks. Gayle checks it out​…
It's big, bold, bright and beautiful and does a fantastic job of bringing light and colour into a neglected, unexplored corner of Dundee.
Stobswell's newest work of art – a stunning five-storey mural on a 17m gable end in Cardean Street– was finished in August and is already bringing joy to the neighbourhood.
It's the latest offering from OpenClose, a project which aims to transform drab and dreary areas of Dundee with eye-catching pieces of artwork while encouraging people to explore different parts of the city.
Created by artists Fraser Gray and Martin McGuinness, the Cardean Street piece, titled Close Encounters, is themed around the concept of "home" and depicts a scene from a traditional city close, with visual nods to local landmarks including the Swannie Ponds and Baxter Park.
At the helm of OpenClose is director Russell Pepper, a man on a mission to convert the ugly and derelict into something attractive and thought-provoking.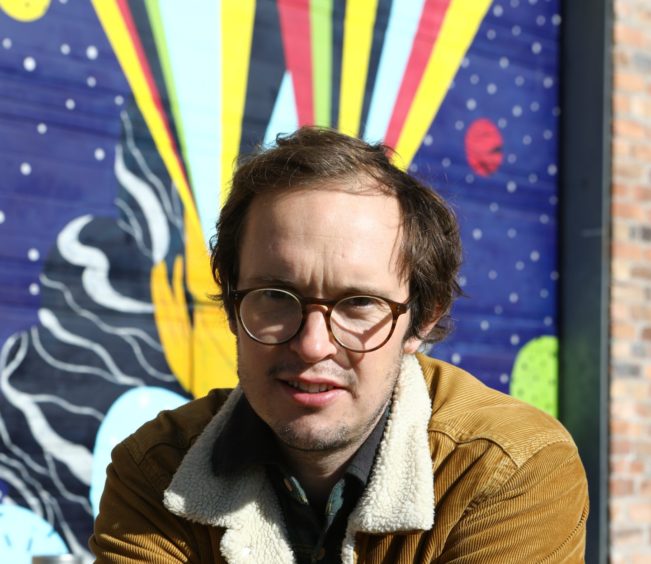 Having been inspired by street art on the Ramblas in Barcelona, Russell set about transforming some of Dundee's shop fronts, doorways, roller shutters and the external walls of hidden wynds and pends with murals and works of art back in 2017.
Funding from Place Partnership Dundee led to a trial project of six doors in lanes, closes and alleyways around the city centre.
Three years down the line, the city boasts two OpenClose trails – one based around the centre and the other in Stobswell – with new pieces of artwork continuing to pop up in unexpected places.
OpenClose has inspired other public art projects to get busy, too, with the Love Lochee community group bringing in artist Laura Darling earlier in the summer to create a colourful mural depicting workers flooding out of Cox's jute mill on Methven Street.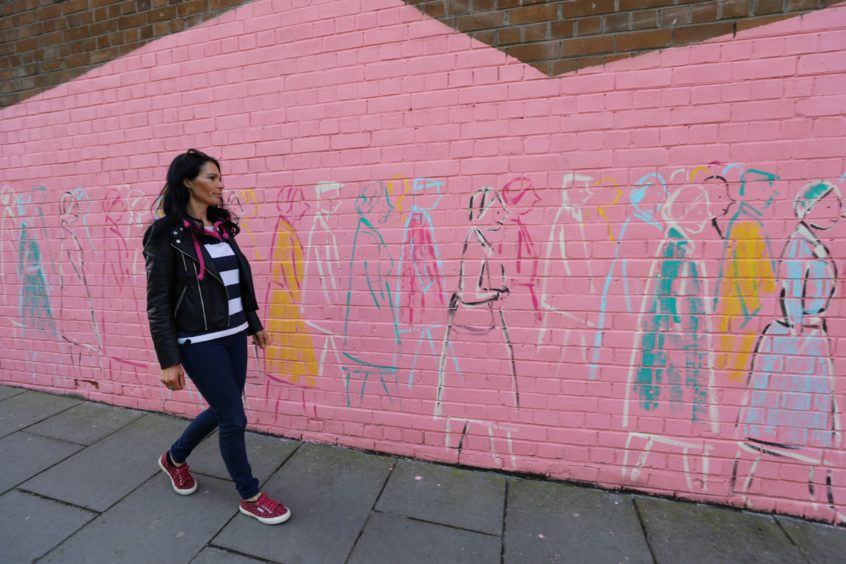 Other areas of the city have got in on the act too, including the Hilltown, where there's a powerful Oor Wullie mural – a comment on poverty and mental health in children – painted by Dundee artist Sapien and collaborator Gary Mackay.
Russell leads monthly guided walking tours of the OpenClose trails on a "pay what you think it's worth" basis. These take a couple of hours and are a fantastic way of finding out more about the murals and their creators.
But if you prefer to do it DIY style, you can explore the trails and find out the stories behind the artworks yourself.
All you need to do is check out the OpenClose website, openclosedundee.co.uk, and download the maps.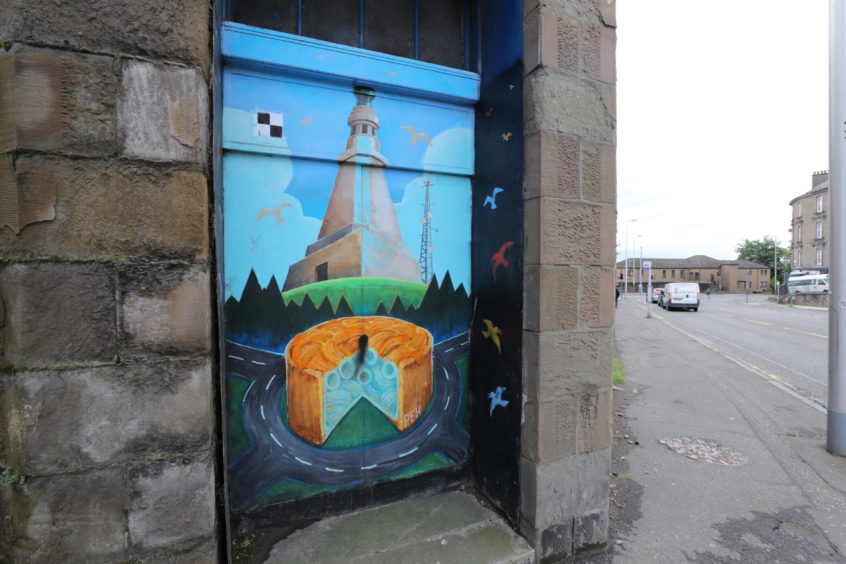 "The aim is to brighten up the city's neglected nooks and crannies and areas prone to vandalism, while encouraging people to rediscover their city," says Russell.
"Another bonus is that doors or hoardings which have been painted discourage vandalism, littering, anti-social behaviour (like drug taking) and tagging.
"Having artworks in the street, especially in overlooked areas, can help give people who live there a sense of pride and can foster community.
"Street art isn't going to save the world but little things like this can help to make people's lives just a wee bit brighter."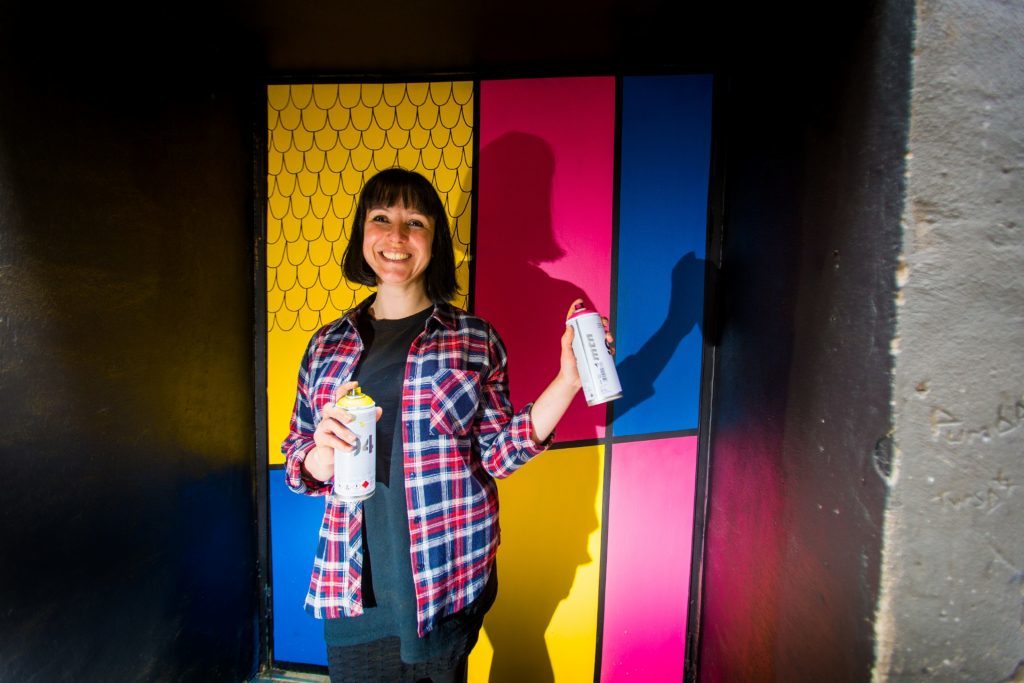 So, where to begin? Take a wander down the pend towards the Keiller Centre and you'll see an eye-catching kingfisher spray-painted on a fire exit by the artist Paco Graff.
Head down Couttie's Wynd and you'll find a door sporting a painting of a gull, by C.Gull, and a mesmerising representation of Van Gogh's Starry Night by Syke. There's also some quirky artwork from Suzanne Scott, aka WhimSicAL LusH.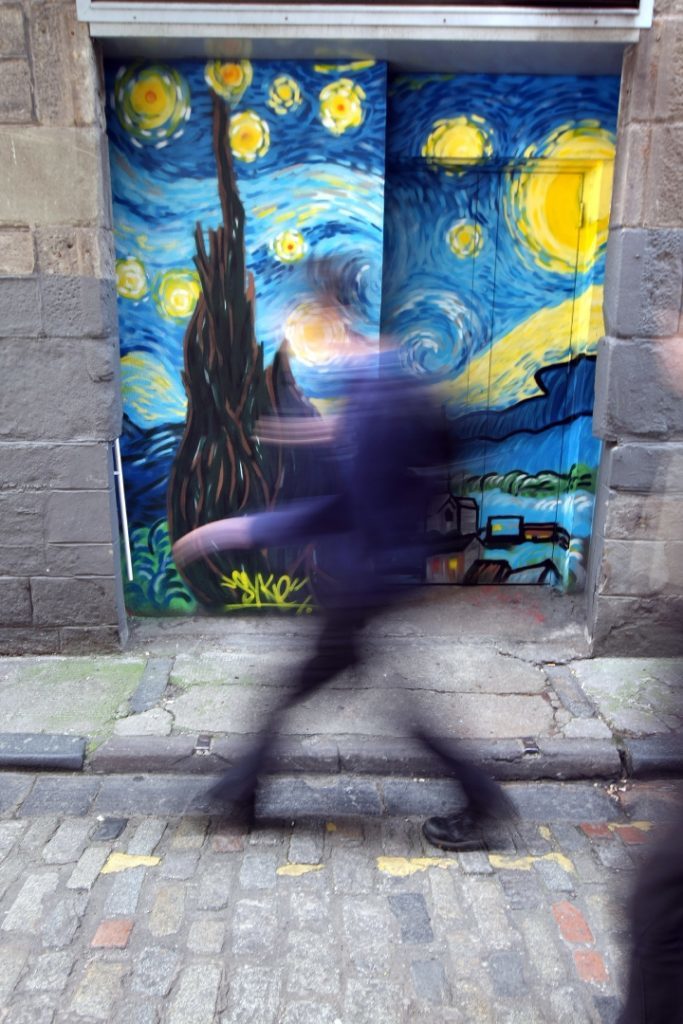 If you're down under the Tay Bridge, a once dank, forgotten space, you'll discover it's been transformed by vivid colours and striking murals by the same artists responsible for the new Cardean Street piece. (It's not an OpenClose piece but it's definitely worth checking out).
In Stobswell, a gorgeous cat mural by artist Jen Collins adorns the doors of the hair salon and boutique Room 39 on Dura Street. It was chosen by the business owners because they love cats!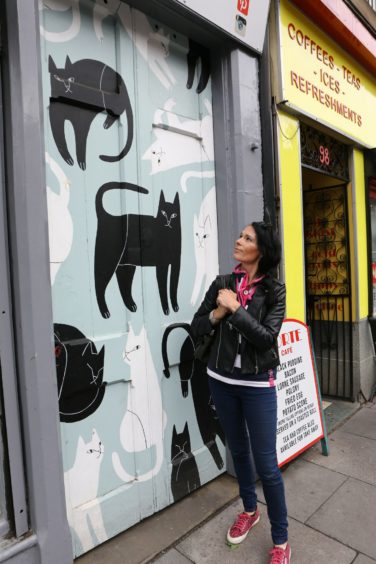 When it comes to the artists, the brief they're given is, says Russell, "extremely open".
"They need to bear in mind that it's a public art piece so it shouldn't cause offence," he says.
"For example, we have one artwork with nipples and bums on it and it was quite tricky to find a business to agree to take it!
"But I'm a fan of trusting artists and letting them do exactly what they want."
Other striking Stobswell murals include Michael Corrs' depiction of Ethel Moorhead in a close off Langlands Street.
Described as one of the "most turbulent" suffragettes, she famously threw an egg at Churchill during a meeting in the city.
Chelsea Rodger's quirky doodle of foxes is also pretty cool, as is Garry Milne's painting of singer and local hero Billy MacKenzie.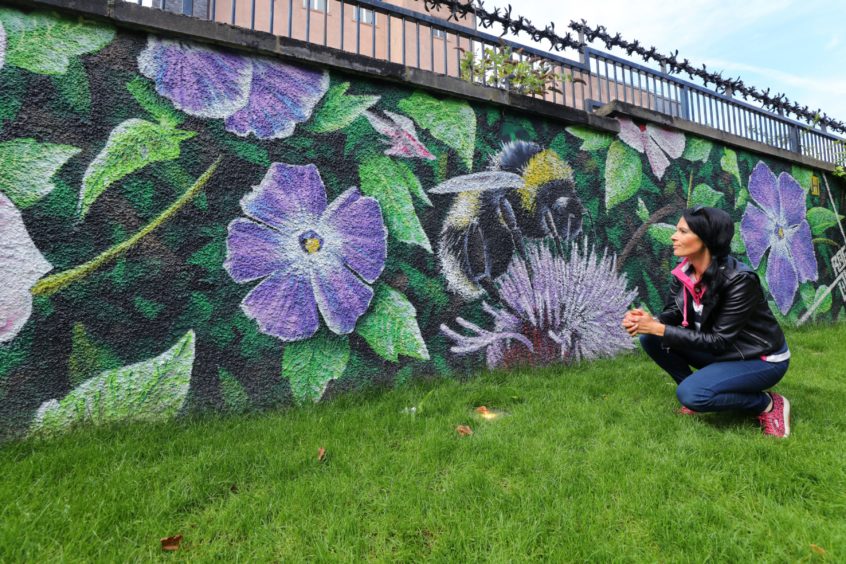 In the city centre, it's worth checking out the giant mural behind the Overgate Centre which captures Dundee botanist's William Gardiner's love of flora and fauna.
The artwork, by Robert McNamara, also known as Rogue-one, is in William Gardiner Square behind a flower and herb garden. It's a glorious pop of colour in an otherwise grey and dull space.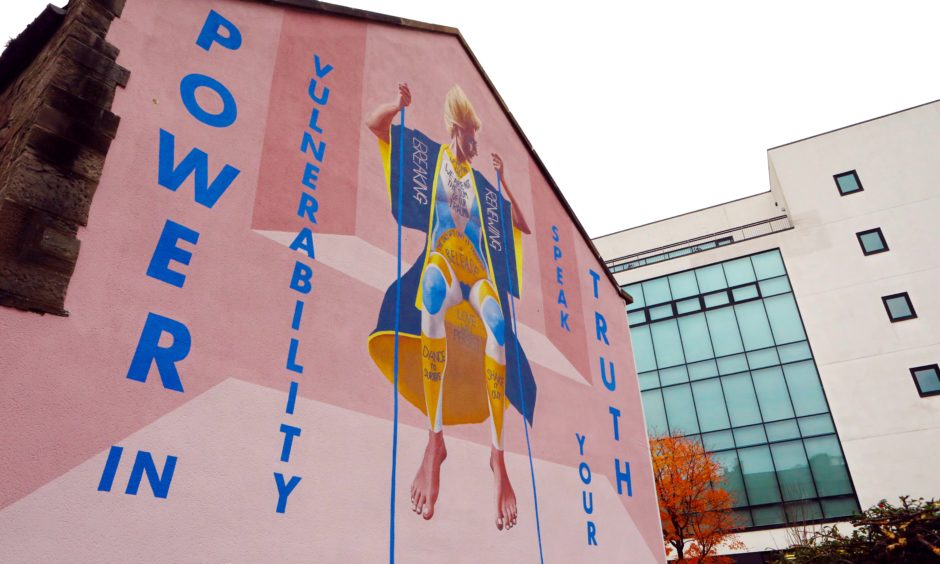 Another of Russell's favourites is a crowdfunded artwork, Power in Vulnerability, on a gable end in Tay Street Lane by Kirsty Whiten and The Fandangoe Kid. It's a powerful piece themed around loss, death and grief.
While there's loads of public art on offer across Dundee, Russell promises there's "heaps more to come" for OpenClose, with a funding application to create 20 new artworks throughout the city centre being considered.
"The aim is that you won't be able to walk down a single alleyway or close without encountering a piece," he says.
Info
For more information on OpenClose Dundee and to sign up for one of Russell's guided walking tours, see openclosedundee.co.uk and the dedicated Facebook page. In Aberdeen, check out Painted Doors Aberdeen, a project launched in 2016 to brighten up the Granite City. See Facebook and aberdeeninspired.com