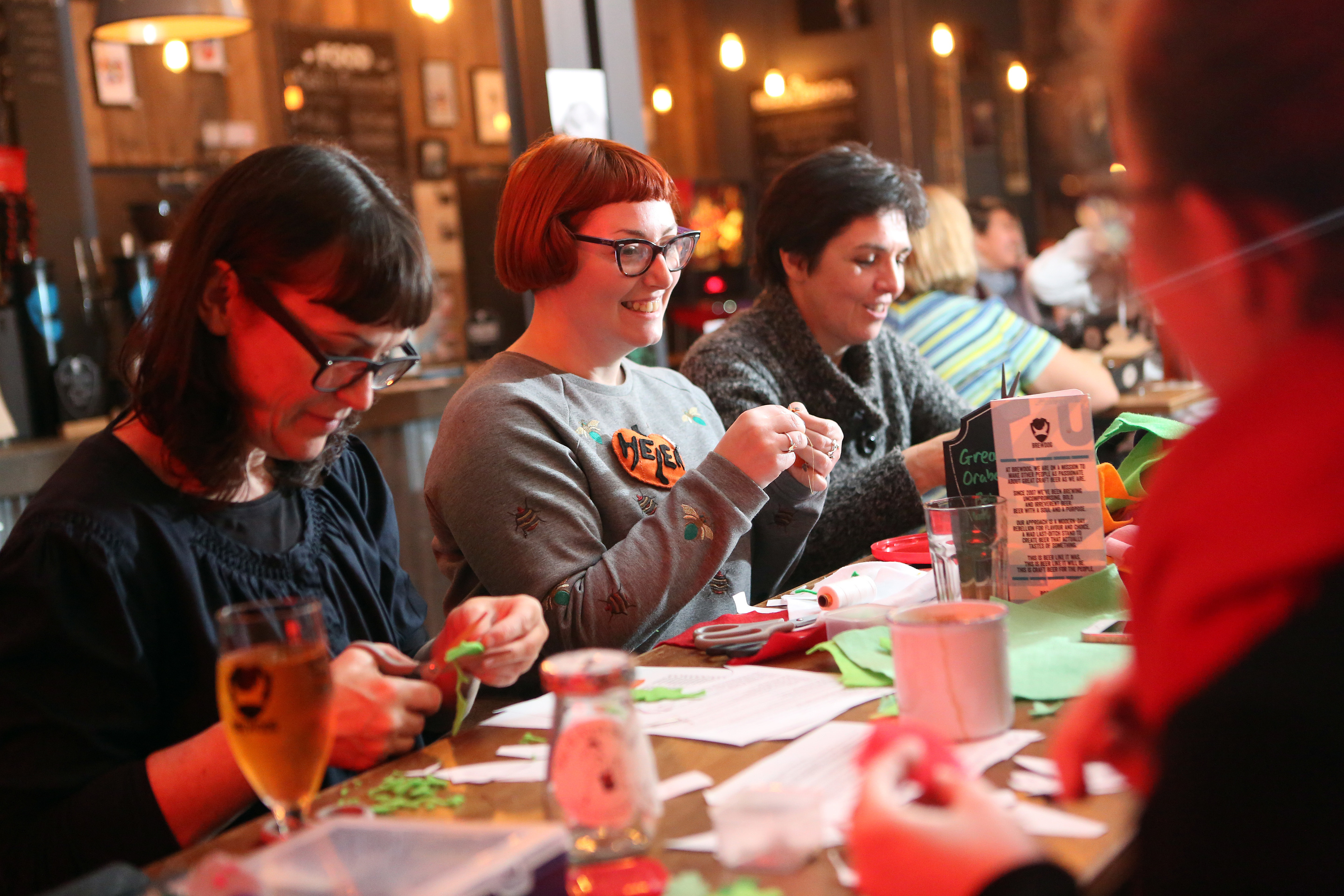 If the idea of sewing conjures up images of demure ladies sitting around stitching needle samplers, Jill Skulina is about to turn your preconceptions upside down.
Every Tuesday evening the freelance designer and mother of one from Newport-on-Tay takes a break from her day job to pass her creative passion on to others when she hosts her free Say It Ain't Sew classes in BrewDog Dundee.
Over a few tipples and nibbles, women aged from 18-80 (the occasional man has also been known to drop in) pop in to have a go at simple sewing projects – accompanied by plenty of banter and laughs along the way.
The classes are for anyone of any skill level. It doesn't matter if you make mistakes and whether you're an experienced sewer or just here for the beer, there's still much to be enjoyed in some basic hand sewing in a social setting.
"A social dynamic can lead to more creativity or idea swapping and combined with drinks and food, it's a great way to spend a couple of hours," says Jill.
"I hope people go away inspired. There's something about sewing felt that takes you back to childhood days, opening up a more playful experience than other kinds of classes."
It was the hand-made clothes and dolls her mother made for her when she was a little girl that gave her an eye for design – and needlework – from a very young age.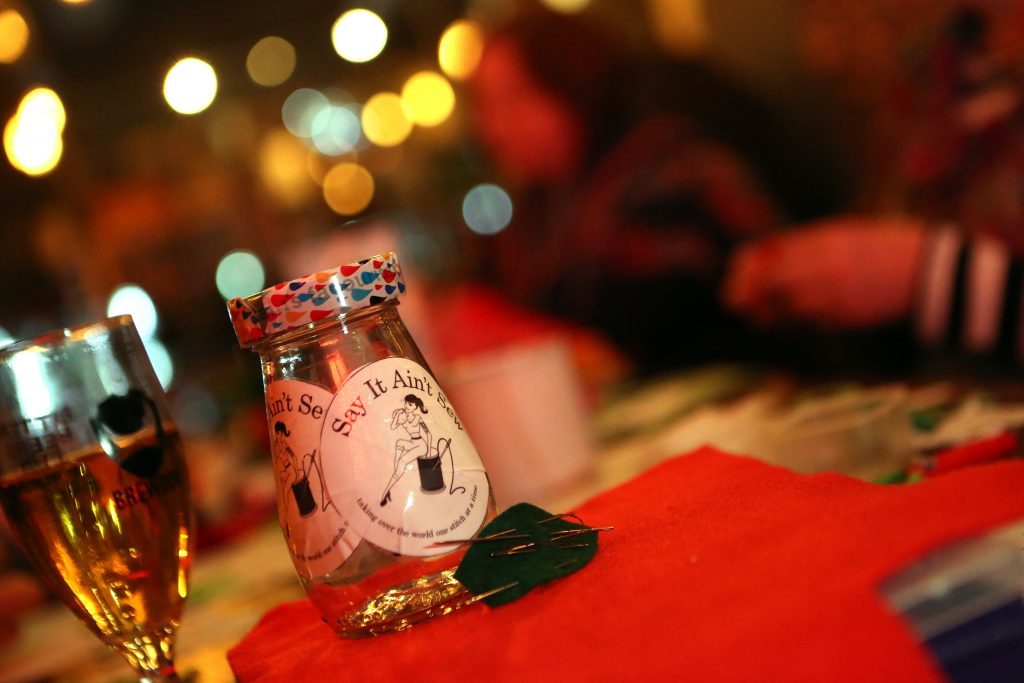 When she grew up, a career in theatre set design led to Jill studying interior and environmental design at Duncan of Jordanstone College of Art and Design.
"The course was so encouraging and supportive I ended up focusing on art and that's when sewing began to play a bigger part in my work," she says.
Jill's degree show was made up of six boxed fabric dolls, all intricately sewn and embroidered. When her daughter turned two, she returned to the college to study a masters in fine art, where, she says: "There was more sewing and more dolls."
And while fewer of us are as adept with a needle and thread as our grandmothers and great-grandmothers were, there's still a practical side to being able to use a needle and thread, she insists.
"I love being able to make something out of nothing and to create clothes I like, rather than relying on what's in the shops," Jill says.
"I think it's important to teach youngsters any kind of practical skill, from sewing to woodwork.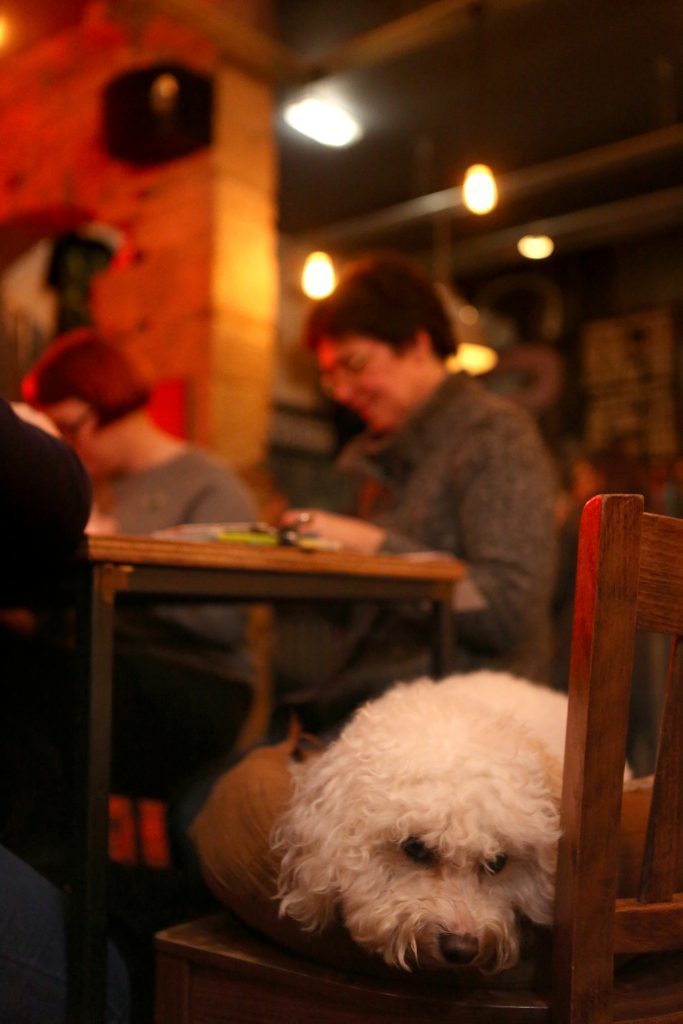 "They learn from mistakes and can see improvement the more they do it."
Although she primarily classes herself as an artist, her needlework is part of her skills – and it has proved very useful.
Through it she worked on 2014's Enchanted Forest, made costumes for Scottish Dance Theatre and most recently worked as wardrobe superviser at Dundee Rep Theatre for the production of The Cheviot, The Stag and The Black, Black Oil.
"Sewing under pressure and getting costumes on stage in time for dress rehearsal can be really stressful," she admits.
"That's usually the time your sewing machine decides it's not going to work properly."
A member of Wasps artists' studios in Dundee, Jill has recently taken over as artistic director at Dundee Wearable Art, an initiative challenging artists to use the body as a canvas.
Say It Ain't Sew meets at BrewDog Dundee, Panmure Street, on Tuesdays from 6.30pm-8.30pm.