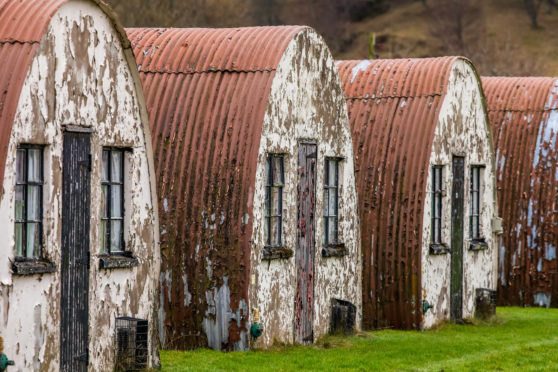 Camp 21 Comrie, also known as Cultybraggan Camp, is the best preserved prisoner of war camp in the UK. Gayle is faced with mixed emotions when she visits…
Nestled beneath the rugged Highland Perthshire hills, it held some of the most hard-line Nazis captured during the Second World War.
Today you can explore Cultybraggan Camp, the only preserved prisoner of war camp in Scotland, with 84 original Nissen huts surviving in a green space near Comrie.
At its height, the site was home to 4,000 Germans PoWs, before becoming an MoD training camp from 1948 to 2004. It was bought by Comrie Development Trust (CDT) in 2007 amid fears it would be demolished.
Now, it hosts a visitor centre, heritage trail and community orchard with some huts hired to an eclectic mix of local businesses such as a pottery and bakery.
Since August, for a small fee, visitors have been able to enjoy a new storyboard heritage trail and installations including the refurbished jail block and a recreation of prisoner accommodation in one of the 100ft-long huts.
I'm lucky enough to be given a guided tour by Phil Mestecky, heritage and events manager at CDT. This I find a combination of illuminating, insightful, moving and thought-provoking.
After a peek into the chapel – used these days for Buddhist meditation sessions and the occasional Christian service – we head to the jail block.
This is stark, with rows of shared cells and small, windowless ones for inmates in solitary confinement.
Paint peels from the walls, cobwebs loom large and there's a hole where a rusty grille has been ripped away.
Adorning the walls of one cell are a selection of cartoons drawn by a German PoW named Peter.
The pen-and-ink collection, titled Schottland 1944, was gifted to CDT by descendants of Captain Makins, camp Adjutant in 1944/45.
Some show German prisoners carrying out manual labour against a backdrop of intimidation, violence and even murder. Others show them happily playing cards, enjoying snowball fights, reading racy magazines and watching theatre and musical performances.
"The cartoons depict what life was like at Cultybraggan at the time, but also give a humanity to prisoners," says Phil.
In the camp's most notorious incident, five Nazi prisoners murdered fellow prisoner Wolfgang Rosterg, believing he'd become disloyal to the Nazi regime.
Also on display is Bunte Buhne, a book of sketches and programmes of theatre shows performed by Nazi prisoners. Some depict a fondness for the Scots…and scantily-clad women.
"These were presented to us by the son of one of the performers, Walter Klinker, who served in Hitler's notorious bodyguard division," says Phil.
"It's a challenging contrast. These prisoners were talented. They played music, made instruments, were very artistic. But they served Hitler's regime in some of the most hard-line Nazi divisions."
Also fascinating are letters from German ex-prisoners telling of terrible conditions back home and Red Cross reports which include details of prisoners' diets, causes of death (one is from a bullet wound – it's believed a Polish guard shot a German inmate who stood too close to the camp perimeter), and causes of illness.
Another "highlight" is a recently refurbished hut which shows where inmates slept, with bunk beds and a stove for warmth. It's hugely evocative.
Phil tells me PoWs went through a de-Nazification process at Cultybraggan, part of which showed images of Nazi cruelties.
As prisoners left camp, many didn't forget the kindness of locals. Indeed, one former inmate, Heinrich Steinmeyer, bequeathed his home and life savings of £384,000 to CDT.
During my visit, Edinburgh-based Freak Films was making a drama about a young refugee trying to reach Europe.
This will be shown to students of an online child protection course. Phil hopes more events, films and TV shows will be attracted to use the site in 2019.
info
Many of Cultybraggan's Nissen huts are in poor condition and at risk of rotting away.
To combat this, CDT is offering 20 up for free rent, on a "repair and lease" five-year scheme.
"It's a great opportunity to become actively involved in the running of the camp," says Tara Fraser, projects and estates manager.
"We're open as to how people want to use the huts, whether hobbyists or business owners. Applicants need to agree on a schedule of works to make huts wind and waterproof."
For more information, email Tara.fraser@comriedevelopment.org.uk and see www.cultybraggancamp.co.uk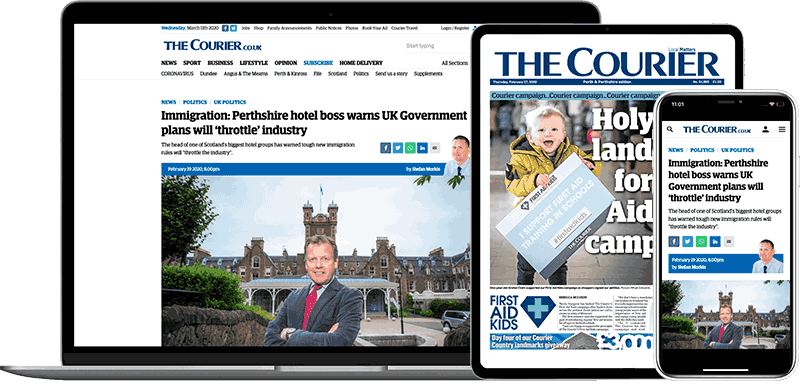 Help support quality local journalism … become a digital subscriber to The Courier
For as little as £5.99 a month you can access all of our content, including Premium articles.
Subscribe