Scots ceilidh musicians have graced their most spectacular stage yet with an impromptu gig on the Great Wall of China.
Internationally-renowned Whisky Kiss travelled east to perform at a Burns Night in Beijing and a trip to one of the world's greatest tourist attractions presented the unforgettable opportunity to strike up a tune in the amazing setting.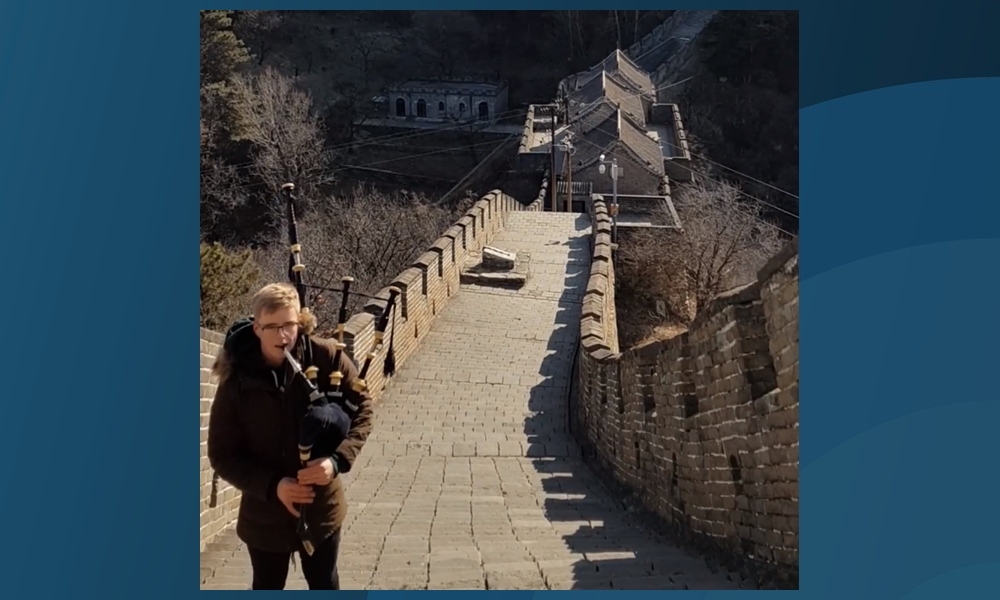 The band's talent has already won it a huge following, boosted by videos showcasing not only their musicianship but also Scotland's stunning scenery.
The band has topped the iTunes chart in a number of European countries and South America, with tracks from their recently-released debut album, sexySOUNDS being used by Scottish tourist chiefs to help draw visitors.
Their latest video also features the Edinburgh-based group's two Fife Highland dancers, Lianne Wilson from Kirkcaldy and Dunfermline's Brogan Bauld, and now footage of the Great Wall performance has gone down a storm on social media.
The band's Iain MacPhail said it was a thrilling chance to play in one of the world's most famous locations.
"When we landed at Beijing airport we jumped straight in a taxi and went to the Great Wall, about 40 miles from the airport, so we could see it before the gig."
The band – holder of two ceilidh-related Guinness World Records – had been expecting what they described as 'Scotland chilly', but faced wind chill conditions of minus 20.
That didn't deter fiddler Louisa Brown and Alloa's Ceiran Ross  – a member of the world-class Shotts and Dykehead Pipe Band – on flute and bagpipes, from striking up a tune in the crisp Chinese air, along with accordionist Iain and drummer Slaw Justynski.
"Usually that kind of cold might make us think twice about going outside and taking the instruments, but this was a once-in-a-lifetime chance to see one of the Seven Wonders of the World," said Iain.
"It was a beautiful spot, and the sky was a perfect blue. Our Chinese hosts at the ceilidh later told us there are usually 70,000 visitors a day to the wall, but the temperature had put so many off that we had one whole section almost entirely to ourselves.
"It was quite a hike to the summit, but that only helped to warm us up. All in all, a perfect location and a special place that led to an unforgettable moment in such a lovely place to perform tunes.
"For one day only we were the only band you can see from outer space!" joked Iain.
The band has already performed in locations including Kuala Lumpur, Abu Dhabi, Florence and France and, in Iain can also claim the unusual honour of having a former winner of BBC's The Weakest Link in their ranks.