Twenty years after releasing the breakthrough single Nancy Boy, Placebo are returning to Dundee's Caird Hall on Sunday October 8. Here bassist Stefan Olsdal tells Michael Alexander why he is hoping for a 'pseudo-religious experience' in a city that 'infiltrates' the band's lives.
As one half of 1990's formed alternative rock band Placebo, guitarist-bassist Stefan Olsdal is "working his way through coffees" and still catching up on sleep following the band's recent tour of Australia when The Courier calls him in London.
But it's the band's relationship with Dundee that the 43-year-old Swedish born 'Nancy Boy' artist is reflecting on ahead of Sunday night's gig at the Caird Hall.
The City of Discovery is the band's second stop on its 11-date 20th anniversary UK tour.
And it's always been a special place for androgynous-looking lead singer Brian Molko whose mum is from Dundee and who was once quoted as saying it is "where I grew up".
"Brian doesn't really talk too much about his childhood to be honest," says Stefan.
"But it's just funny how Dundee seems to infiltrate our lives.
"Our manager is from Dundee, one of our crew is from Dundee, a band that we signed a publishing deal for – The Mirror Trap – is from Dundee. I don't know what it is. There must be something in the water in Dundee!"
Stefan has fond memories of Placebo playing the Caird Hall in 2003.
He's also visited for a wedding and, while he hasn't been back recently, he hopes to find the time during this trip to explore the city's on-going physical and cultural renaissance.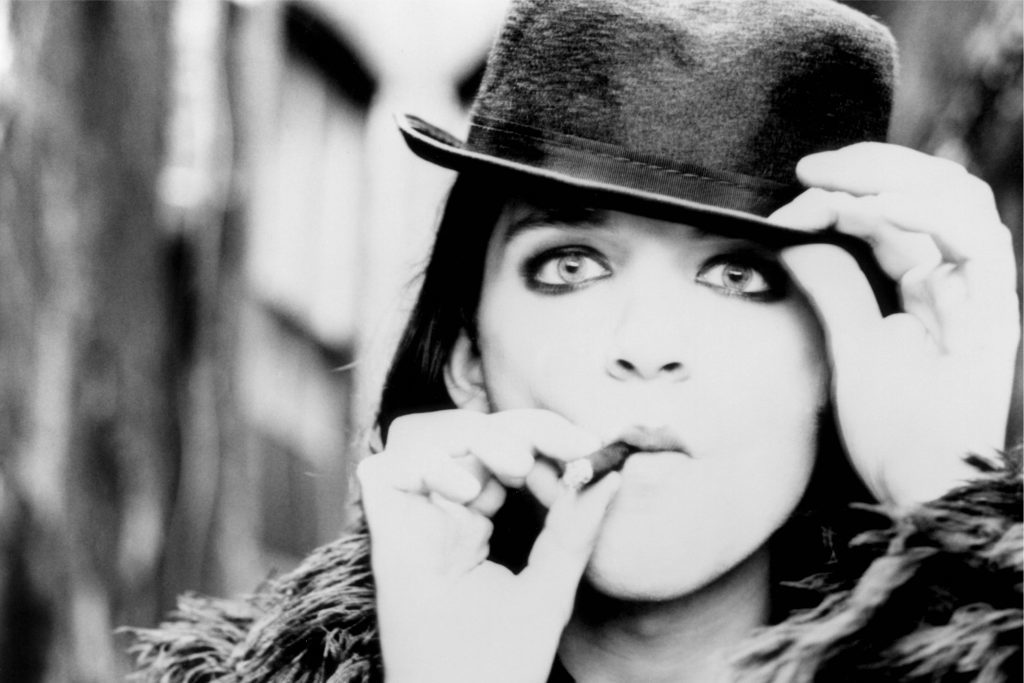 "I keep hearing about this regeneration, how the city is coming up culturally, artistically, architecturally – I'm curious to see what all the fuss is about!" he laughs.
Formed in 1994, Placebo gained exposure in 1997, after releasing 'Nancy Boy' – a song which Molko described as "obscene".
The band sparked controversy at the beginning of their career because Molko wore dresses and make-up in public and talked openly about sex, sexuality and drug use.
Now back to being a two piece as various drummers have come and gone, the band are celebrating their 20th anniversary in the public eye and reflecting on the release of seven studio albums, all of which have reached the top 20 in the UK, and the sale of around 11 million records worldwide.
"It feels like we've been around for 100 years to be honest!" says Stefan who admits he would be dead if he hadn't given up drink and drugs, and is feeling the strain of a hectic schedule.
"It's almost five years ago that we released our studio album and we've been touring ever since – we toured around for two years, then we did MTV Unplugged, and then we released this 20th anniversary album (A Place for us to Dream) last year and we've been touring for over a year now.
"I think I need a bit of a break soon!" he laughs.
"That said, it's the 20th anniversary – we are still here – we still feel like we haven't really started in a way. A lot of days I'm just grateful I'm still here!"
Comparing the experience of performing live as "like a pseudo-religious experience" when he connects with the energy of the audience, Stefan says the tour is all about celebrating the last 20 years and that means making the show "more of a crowd pleaser".
"We are playing songs we said we'd never play ever again," he adds.
"We've just kind of gone in with the attitude that this is a birthday party.
"So let's all of have a good time – that's kind of the aim of the tour."
Stefan says Placebo are "very lucky" with their loyal fans and he admits they "wouldn't be here without them."
Many fans now bring their own kids,  says openly gay Stefan, who has a son, and describes his life as being like a "parallel universe".
"When I'm home I've got my own family and then when I'm on the road it's like connecting with another kind of family – a community really," he reflects.
"I've been speaking to fans and they do really sweet things like they have their own queuing systems when they are standing outside Placebo shows.
"They all save each other's places. It's like genuine love and respect amongst Placebo fans. I'm kind of proud of that that we have a following that looks after each other more than steps on each other's toes."
Stefan was pleased with the release of Placebo's retrospective album A Place for us to Dream and the Life's What You Make It EP. He also has an electronic music project with his own band, Digital 21 & Stefan Olsdal which releases  its first album on October 6.
However, he particularly enjoys the live experience of being on stage.
"If I let it it's pretty mind blowing," he says.
"It's almost like a pseudo religious experience. And I know what it's like to be in an audience because I've experienced that sort of things with a lot of bands.
"It's not real. It's like a heightened sense of reality. You become part of something. If you learn how to connect to it it's immensely powerful because peoples' energies are almost infinite.
"A lot of the time I have to concentrate on what I'm playing or I make mistakes.
"You just have to learn to connect. If you are having a bad day you still have to find a way to connect.
"Sometimes it's just through connecting with the band members, and once I feel as if I've connected with them I feel I've connected with the audience. Or sometimes I connect with the audience and that helps me connect with the band."
Stefan says it was interesting on the Australian tour because there were hardly any people in the audience using their smartphones to film which meant there was "no barrier".
"When you see a lot of people with their phones up it can be hard to connect because you are playing to a device," he says.
"Sometimes as musicians on stage if you are not connecting it's like you are putting up a barrier with your audience as well. So it is time to put down your screen and try to be there in the moment and experience it, because that's not something you can download."
Stefan says that in many ways his relationship with Brian hasn't changed in over 20 years.
"We are still a couple of 19 year olds having fun writing together," he says.
"That's still there. Other things change like you become responsible, you become an adult. Your body deteriorates and you've got to look after yourselves."
That's where he enjoys having a family of his own.
"If anything it gets you out of your own head which is a dangerous place to stay for too long!" he laughs.
"We are social beings. We are supposed to be functioning in social groups.
"I think if you spend too much time by yourself, especially if you are in a band where it's an ego feeder. It's incredible to be in the position I'm in in a band – there's a certain amount of adoration and love that comes with it that can spin you out. We've been known to live the crazy lifestyle – it's been well documented!
"Like I said before I'm not dead but I thought I would be. It's a case of not being the same person going to the same bars and clubs like I did in the 90s. Some of our friends are still doing that. It's sad. There's more to life.
"You've got to keep moving on. The only thing that's constant in life is change. So you've got to be open enough to accept change and be open enough to deal with it.
"There are a lot of people who are not in my phone book anymore. Now it's more other parents. Everything changes. You've got to roll with the punches."
www.dundeebox.co.uk