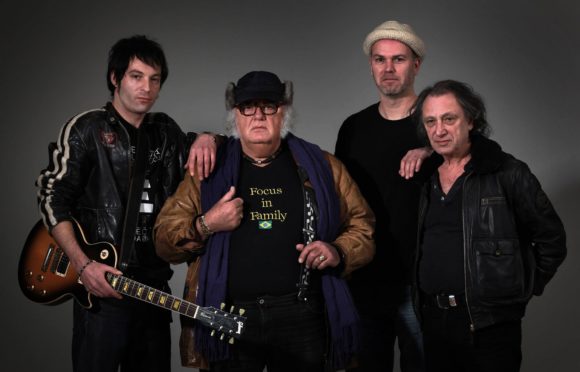 Prog rock legends Focus make their much-anticipated return to Kinross tomorrow.
While yodeling's not generally associated with rock music, the Dutch masters' utterly bonkers single Hocus Pocus earned them a top 20 slot in 1973 and eternal radio plays, thanks in no small way to their frontman Thijs van Leer's incredible vocal gymnastics.
Driven by some supercharged riffing, along with drum solos, accordion, flutes and whistling, it's a bona fide prog classic that still sounds original today.
Focus reached their commercial peak when their follow-up Sylvia went top five, before they eventually split five years later at the height of punk. After a prolific solo career van Leer revived the band in 2002, with original drummer Pierre van der Linden returning two years later.
Augmented by guitarist Menno Gootjes and bassist Udo Pannekeet, who replaced veteran Bobby Jacobs last year, Focus released their 11th studio album Focus 11 earlier this month to coincide with their current 20-date UK tour. Their gig at the Green Hotel's sold out.
*** Alt-blues troubadour Dave Arcari is at Clarks On Lindsay Street on Sunday.
The veteran trashpunk noise terrorist has included the Dundee venue on a mini Scottish tour which also takes in Glasgow's King Tuts (Nov 22) and Sneaky Pete's in Edinburgh (Nov 30).
Dave's most recent release is last year's Live At Memorial Hall set, which followed up his last studio album Whisky In My Blood — a showcase of the ex-Radiotones frontman's trademark National steel guitar sound. He's regularly toured the USA as well as the UK, Central Europe and Scandinavia.
Tickets £8.80 from Clarks, Grouchos in Dundee, Assai Records and WeGotTickets.
*** Pop legend Kiki Dee returns to the Green Hotel on Sunday.
Still best-remembered for her 1976 chart-topping duet with Elton John, Don't Go Breaking My Heart, the Bradford-born singer was the first white female performer to sign for Motown and she also sang at 1985's historic Live Aid at Wembley Stadium.
Kiki started working with English-Italian guitarist Carmelo Luggeri in the mid-90s and they've gone on to release three studio albums plus live offerings. "We're working on new material at the moment for a studio album next year," says Kiki, 71, who last played Kinross in 2016.
"Being the age I am I'm just grateful I can still go out and write songs and am still doing it. We seem to have stuck with it and there's a certain freedom I like about it.
"We're not trying to change the world. We're being working musicians, sort of like modern-day minstrels going round playing our songs. Of course we do acknowledge past successes and that allows us to do our new songs and work we like from other artists such as Leonard Cohen and Kate Bush."
Tickets £29.90 via Ticketweb.
*** Scottish soul-popsters Hue And Cry play Fat Sam's tomorrow.
The Coatbridge-born brothers Pat and Greg Kane last appeared in Courier Country at July's Rewind Scotland and are back out on the road with their full band to celebrate the 30th anniversary of their sophomore album Remote. Fans can expect to hear classic hits Violently, Ordinary Angel and Looking For Linda.
Tickets £29.95 via ticketmaster.co.uk.
*** View frontman Kyle Falconer is the star attraction at Glencarse on Wednesday.
The Same Jeans songsmith is at Inchyra Arts Club to play tracks from his UK top 40 debut solo album No Thank You. Support at the Byre comes from fellow Dundonian acoustic troubadour Billy Mitchell. Tickets £16.75 via skiddle.com.
*** Scottish songwriting legend Benny Gallagher is stepping out on his own in Kinross next Friday.
One half of '70s hit-makers Gallagher and Lyle, the 73-year-old regularly plays across the UK and reunited with Graham Lyle in 2012 and 2016 for a series of gigs. The former Glasgow shipyard electrician last headlined the Green Hotel 12 months ago.
Tickets £21.50 via ticketweb.co.uk.
*** Conroy's Basement has a four-band session tonight with Manchester stoner blues outfit Ritual King and a trio of Dundee's finest alt-rock bands.
Hard-hitting progsters Solar Sons, metal exponents Volcano X and edgy riff kings Indica are all involved. Tickets £6 via Facebook.
*** Holy Moly and The Crackers take the road to Comrie tomorrow.
The good-time Geordie rockers — whose track Cold Comfort Lane features in blockbuster Ocean's 8 — will play songs from their Salem LP and unveil new material at the White Church. Tickets £16.31 via eventbrite.co.uk.
*** Blues rocker Carvin Jones brings his mesmerizing fretboard skills to Kinross tonight.
The Arizona-based King of the Strings was voted onto Guitarist Magazine's all-time list in 2001 and the Green Hotel's the only Scottish stop on his latest UK tour. Tickets £21.50 via Ticketweb.
*** Dundee Acoustic Music Club's latest gig at Newport's Rio has Edinburgh duo Delightful Squalor and Peebles bluesman Sam Mundy on Sunday from 2pm. Advance tickets £13/£11/£7 from Grouchos.
*** Conroy's welcomes Paisley four-piece Sway on Thursday, with support from indie troubadours Saint-Louie and The Good Doctor. Tickets £7 via skiddle.com.
*** There's a Bob Dylan tribute band at Beat Generator Live tomorrow. Tickets £11.25 from Grouchos and Tickets Scotland.
*** Number 57 hosts Chain Gang tomorrow and Bedrock on Sunday.