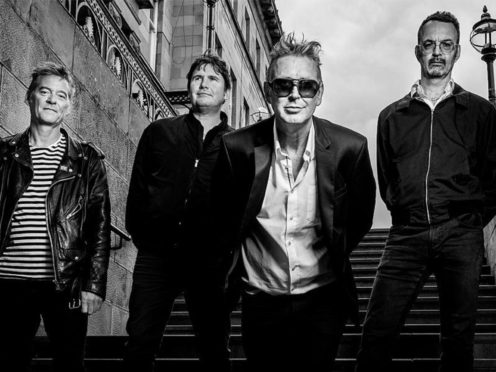 Hipsway are set to return to Fat Sams on Thursday.
The Glasgow legends this week unleashed their first album in 29 years, Smoke And Dreams, and the band's frontman Grahame Skinner reckons successful shows 12 months ago have upped the ante ahead of their Scottish tour. "Gigs can never come soon enough," he tells RockTalk.
"It's the best sort of job you can have. It's really great fun but we've still got a few songs to rehearse because we've got a new keyboard player, Andy Gillespie, who used to play with Simple Minds. I'm hoping people will like the show as much as they did last year but it's also difficult — we've got something to live up to now."
Hipsway played the new release in full at recent club gigs in Glasgow and London, but their Dundee set'll lean heavily on the band's self-titled 1986 debut, including classic singles Broken Years, Ask The Lord, Honeythief and Long White Car.
Skin's confident fans will enjoy the new material. "They'll probably like Saturday Night, New York Nights — it's quite uptempo and catchy — maybe TV Dream and You Don't Know," he says. "They're all lively songs I'd hope a radio station would play, although there's also a couple of slow ones on the album that're a bit dark."
The band's spent much of 2018 crowdfunding Smoke And Dreams and although he admits it's been a steep learning curve, Skin reckons the wait's been justified. "It's the first time we've done it like this and we didn't realise how much work's involved," he says.
"Most importantly the album stands up, and I think it'll also surprise people. Obviously times are different, so we have different expectations, but I'm really pleased with it. It's all very melodic and there's a couple of tunes that could be singles."
The album's lyrical theme is deception in its myriad forms, but Skin admits he didn't plan it that way. "You don't really know what you're doing when you're making it, you're just making it," he explains.
"I don't sit down and say I'm going to write about X, Y and Z, things just come out then you realise what you've actually written. You write stream of consciousness quite often and then you see something you like and you use it as a starting point. You never really know what you're writing until you've finished it."
Hipsway's last Courier Country show was a 90-minute curtain-raiser at Rewind Scotland in July — with a return to Scone in 2019 on the cards. "That was absolutely banging," recalls Skin, who's one of two founder members in the seven-piece along with guitarist Pim Jones.
"I wasn't expecting it but it was superb. After we played Honeythief, honestly, it was the loudest noise I've ever heard at one of our shows. We loved it and had a great time. We might be doing Saturday or Sunday next year, I'm pretty sure that's going to happen. It'll be a lot shorter but we'll give it our all."
For now it's the band's seven December shows — starting in Airdrie on Wednesday — and the buzz surrounding their self-produced album that're foremost in Skin's thoughts. Almost three decades on from Hipsway's premature demise amid contractual wrangles, the singer likens their revival to an act of redemption. "It's been great working with Pim again," he declares.
"When it fell apart it felt like a shame because we drifted apart as friends. It's been really good getting two things together — having a band that's given me a living and getting my pal back."
Tickets for Fatties are £28.25 from ticketmaster.co.uk.
*** London-based songsmiths The Magic Numbers are at Inchyra Arts Club on Tuesday.
Known for their timeless harmonies and melodic hooks, the cosmopolitan outfit released their fifth album Outsiders this year and are playing a series of dates in the USA, UK, South America and Australia.
Next week's show's one of just two Scottish gigs for the Forever Lost and Love Me Like You hit-makers, who comprise half-Scots siblings Romeo and Michele Stodart (bass) plus drummer Sean Gannon and his sister Angela (keys). Tickets £22.25 via skiddle.com.
*** The world's longest-running Pistols tribute band plays Beat Generator Live tomorrow.
English look and soundalikes Sex Pistols Experience — who formed in 2001 — are hooking up with Dundee's own Cherry Bombz for their annual visit to North Lindsay Street. Tickets £10/£11.50/£12 from band members via Facebook, tickets-scotland.com or Grouchos in Dundee.
*** Dundee musos plan to celebrate Bob Dylan at Clarks On Lindsay Street. Hard Rain — Geoff Craigie, Donnie Coutts, Stuart Ivans, Chris Marra and Kevin Murray — play Sunday afternoon. Tickets £5.83 from Clarks, Evenbrite, Grouchos and Assai Records.
*** It's boogie rockers Vincent Flatts Easily Led at the Green Hotel tonight. The Steve Burton-fronted troubadours play a Kinross debut amid a break from studio work. Tickets £19.40 via Ticketweb.
*** Number 57 hosts Dundee talents Kyle Falconer and India Rose tomorrow afternoon as part of a one-off Gig Beside The Park session. There's also evening sets this weekend from soul outfit The Mess Arounds and veterans Tivvy.