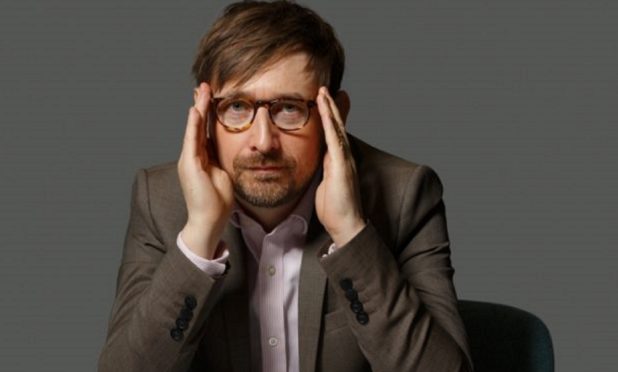 Britpop veterans The Divine Comedy are tuning up for an appearance in rural Perthshire. The '90s hit-makers are playing a special album launch show at Inchyra Arts Club on Monday that's been cued-up by Broughty Ferry's Assai Records.
The band's 12 studio offering Office Politics is being released today.
Formed in Northern Ireland in 1989, The Divine Comedy is the alter-ego of singer-songwriter Neil Hannon, who's employed a floating cast of musicians down the years.
Accomplished on guitars, keyboards and bass, the Enniskillen troubadour's debut album was the REM-lite Fanfare For The Comic Muse in 1990.
It was on its follow-up, 1993's Liberation, that Hannon first revealed his trademark diverse musical outlook, embracing synth pop and orchestral influences, with literary references also beginning to surface in his lyrics. Despite critical acclaim for third album Promenade (1994), it was only after he recorded the theme music for the cult TV sitcom Father Ted that his work started to gain wider recognition.
Commercial success finally arrived in 1996 with the album Casanova and its lead single Something For The Weekend, which reached 14 on the UK charts. Further '90s hits followed in the shape of The Frog Princess, Everybody Knows, Generation Sex, National Express and The Pop Singer's Fear Of The Pollen Count.
Reaching number nine, Hannon's 1998 album Fin de Siècle remained his best chart performance until his 11th opus Foreverland went two place higher in 2016. He signalled the coming of his new 16-track offering with the recent release of a single, Norman And Norma.
Hannon and cohorts are playing an acoustic set at Glencarse, expected to be largely made up of Office Politics in full. Discounted entry to Monday's show can be secured by ordering the album on any format via Assai, with single tickets also available at £12 via assai.co.uk
*** Pop-punks Baby Strange are at Conroy's Basement on Thursday.
Comprising Donald Strange (vocals / guitar), Connaire McCann (drums) and Aidan McCann (bass), the Glasgow outfit formed in 2012 after meeting at a Christian rock summer camp in Latvia. Festival favourites, the cult indie rockers are best known for their singles VVV and California Sun. They released their debut album Want It Need It in 2016 and are currently working on its follow-up.
Tickets via gigsinscotland.com
*** Highland folk-posters Tide Lines are at Montrose Town Hall next Friday.
The four-piece's debut album Dreams We Never Lost earned huge acclaim in 2017, with their singles Far Side Of The World and Streets Of Dreamers also making waves. They're presently finalising their second album, due imminently. Tickets £15 via angusalive.scot
*** There's a chance to catch Tinderbox Orchestra at Church on Thursday.
The 20-piece ensemble will be joined by local acoustic country duo Union Chapel and emerging young musicians from Hot Chocolate Trust for a spectacular mixed-genre show. Tickets £9.12 via Eventbrite.
*** Jazz-pop favourite Mari Wilson's at Green Hotel tonight. The Just What I've Always Wanted hit-maker was nominated for a Daytime Emmy Award in 2017 for her song Moon And Back and has guested with British Electric Foundation at Rewind Scotland. Tickets £26.75 via Ticketweb.
*** McFleetwood make a quickfire return to PJ Molloys tomorrow.
The Scottish Fleetwood Mac tribute last played the Dunfermline venue in February and are returning by popular demand. They'll be supported by rising Fife performer Cody Feechan, whose debut single Manhattan Sky dropped last November. Tickets £11.25 via Ticketweb.
*** Firefighter-turned-singer Stevie McCrorie checks in at Church tonight. The Stirling songsmith won the fourth series of BBC talent show The Voice UK in 2015 and sold 62,000 physical copies of his top 10 single Lost Stars. Tickets £16.88 via Ticketweb.
*** Anthemic rockers Declan Welsh & The Decadent West play Beat Generator tonight. The Glasgow four-piece's debut EP, the radio-friendly All My Dreams Are Dull, was released last week. Tickets £8.25 via seetickets.com
*** Number 57 has Junkyard Dogs tomorrow and Bedrock's open jam session on Sunday.
*** Covers combo Cherry Bombz play Balmore Bar tonight then Whites Bar tomorrow The Kettledrum on Sunday.