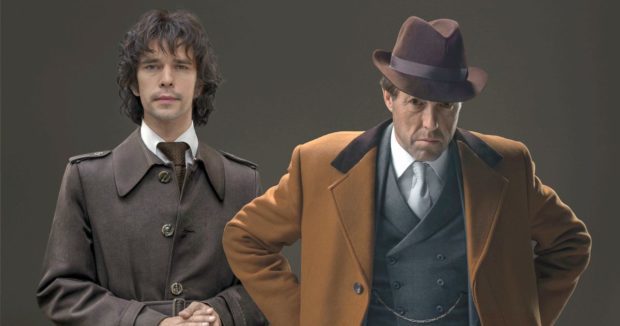 A VERY ENGLISH SCANDAL + CARRY ON BRUSSELS
A VERY ENGLISH SCANDAL: Sunday, BBC One
CARRY ON BRUSSELS: Wednesday, Channel 4
Written by Russell T. Davies and directed by Stephen Frears, A VERY ENGLISH SCANDAL launched itself upon us on a wave – nay, a veritable tsunami – of hype. Thankfully, it didn't disappoint.
This three-part dramatisation of the notorious Jeremy Thorpe case features Hugh Grant heroically rebelling against hapless rom-com type as the onetime leader of the Liberal Party who exploited his privileged position to quash the career-threatening truth of his homosexual affair with a young man by the name of Norman Scott (Ben Wishaw).
There's more to this extraordinary saga than that, but I don't want to spoil it for those of you who aren't familiar with the details. Suffice to say, it doesn't end well.
Grant and Wishaw are rather marvellous in their respective roles. There's barely a trace of the standard 'Hugh Grant' persona in his portrayal of Thorpe; he fully inhabits this gregarious character, with his habitually amused smirk and port-soaked timbre.
Grant, with age, has developed a vaguely reptilian, lived-in carapace. He's still abundantly likeable, but the flinty edge that's always lurked beneath his "Oh golly gosh" shtick is now fully exposed. You can tell that he's having an absolute ball in this complex role.
His performance as Thorpe channels Peter Cook's Sir Arthur Streeb-Greebling while suggesting a living, breathing human being. No mean feat.
Wishaw is in danger of being typecast as a wide-eyed ingénue, it's a role he's essayed several times in the past, but he's just so darn good as Scott. He plays him in the manner of an innocent lamb tragically unware of his gory destiny.
RTD (as all the cool kids call him) does an excellent job of driving the narrative along while placing it in sharp historical context. He tackles the overarching themes of endemic homophobia, corruption and hypocrisy with characteristic grit, wit and fleet-fingered energy.
Episode one traced Thorpe's relatively effortless ascent of the political ladder and his increasingly desperate attempts to hide his secret affair with Scott. He was posh, confident and charming, so no wonder the public took to him. However, a hefty percentage of that same public would turn on him instantly if they discovered he was gay. Thorpe, a canny career politician, was acutely aware of this.
He supported the legalisation of homosexuality in 1967, but privately confided that he would blow his brains out if his sexuality was ever exposed. Powerful public figures couldn't be openly gay in that far off yet relatively recent age, it simply wasn't allowed.
A top-tier piece of television drama, A Very English Scandal examines its thorny subject matter with admirable shades of grey.
Those slippery corridors of political power were also the setting for CARRY ON BRUSSELS, a grimly absorbing new documentary series following various British MEP's as they struggle with post-Brexit turbulence in the European Parliament.
It exposed the bitter and emotionally-charged divisions between Leavers and Remainers as they prepare to detach themselves from this Byzantine hub.
Unsurprisingly, the UKIP MEP's came across as stubbornly uncooperative, bullying nuisances with zero interest in the complicated nature of the matters at hand.
Their political rivals, who regarded these buffoons with understandably sighing despair, reminded me of Tim from The Office gazing at the camera in mute, pleading disbelief as David Brent committed yet another oblivious faux pas.
Except there was nothing funny about watching the fate of our nation sliding down the U-bend. Lives are being destroyed by these selfish, idiotic clowns.
TV HIGHLIGHTS of THE WEEK
PETER KAY'S CAR SHARE: THE FINALE
Monday, BBC One, 9:30pm
Will John and Kayleigh finally get together in the last instalment of this charming little sitcom? All will be revealed as Peter Kay and Sian Gibson bid farewell in this double-bill, which begins with a repeat of the penultimate episode.
KING LEAR
Monday, BBC Two, 9:30pm
Anthony Hopkins stars as the titular monarch in this prestigious adaptation of the classic Shakespeare play. Lear's chaotic descent into insanity is ably abetted by a cast including Emma Thompson, Jim Broadbent and Emily Watson.
THE COLLINS VARIETY AGENCY
Tuesday, BBC Two, 9pm
This documentary chronicles the colourful story of the Collins family, who founded Scotland's first theatrical agency. In the process, they nurtured some of the greatest stars of the 20th century for over 60 years.
THE BATTLE FOR BRITAIN'S HEROES
Tuesday, Channel 4, 9pm
In this challenging documentary, writer Afua Hirsch argues against some of the more questionable aspects of Britain's most beloved heroes. She confronts Horatio Nelson's pro-slavery views and Winston Churchill's attitudes towards race.
FILM of THE WEEK
THIS IS ENGLAND
Monday, Film4, 11:10pm
Written and directed by Shane Meadows, this semi-autobiographical coming-of-age drama follows a disenfranchised young lad as he falls in with a friendly gang of older, multiracial skinheads in early 1980s Northampton. Their relatively idyllic world is eventually destroyed by the catastrophic arrival of a racist ex-con played by Stephen Graham on terrifying form. Tender, funny and brutal, it's one of the great British social-realist films, worthy of consideration alongside classics by the likes of Ken Loach, Alan Clarke and Mike Leigh.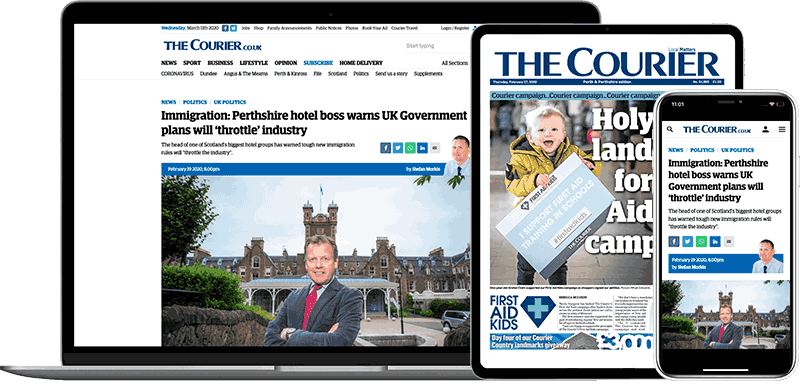 Help support quality local journalism … become a digital subscriber to The Courier
For as little as £5.99 a month you can access all of our content, including Premium articles.
Subscribe