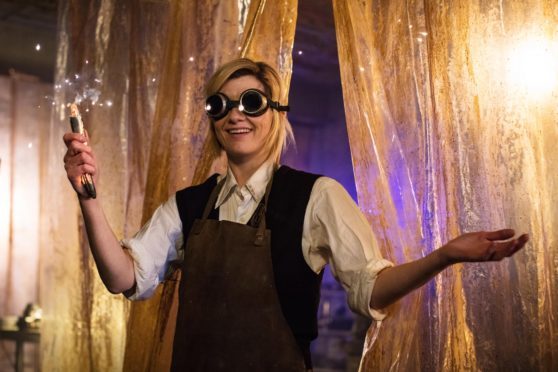 Doctor Who + Imagine… Hockney, The Queen and the Royal Peculiar
DOCTOR WHO: Sunday, BBC One
IMAGINE… HOCKNEY, THE QUEEN AND THE ROYAL PECULIAR: Tuesday, BBC One
"Half an hour ago I was a white-haired Scotsman."
And there it was. Just one brief, throwaway line to acknowledge that the 13th Doctor is a woman. After months of hoopla surrounding the casting of Jodie Whittaker as the first female incarnation of the Time Lord, the latest series of DOCTOR WHO just got on with things. A smart move.
Drawing overt attention to the Doctor's gender change would've reduced it to a self-conscious novelty as opposed to an entirely natural development. It would've unfairly undermined Whittaker's performance. She is the Doctor and that's that.
She made a strong impression during her first full episode. The plot – a pleasingly dark affair involving a Predator-style alien hunting on Earth – was merely a framework to support her winning performance while introducing the show to new viewers. In that regard, it was an unqualified success.
So what's this Doctor like? At heart(s), of course, she's essentially like all the others: brave, eccentric and inquisitive. What Whittaker brings to the role are flashes of contagious childlike wonder, breathless energy, quiet moral certitude and smart comic timing. Her expressive face runs the gamut from goofiness to gravitas. She's charming, funny and thoroughly commanding: everything you could want from a Doctor.
I personally never had any doubts about that, as Whittaker is a fine actor. She was always going to nail the part. My main concern with this new series is the arrival of Chris Chibnall as showrunner.
The brains behind Broadchurch has five previous Doctor Who episodes to his name, the best of which were little more than above average. His writing lacks the flair and ingenuity of his predecessors Steven Moffat and Russell T. Davies.
However, after watching this enjoyably straightforward episode – demonstrably his best effort so far – I began to think that maybe Chibnall's approach might be just what Doctor Who needs right now. As much as I admire Moffat, his cerebral style of continuity-heavy storytelling alienated some viewers. My usual response to that would be 'their loss', but I'd like to see Doctor Who become a national talking point again.
More than anything, of course, I want it to be good, but I get the impression that Chibnall and his team know what they're doing. Doctor Who has always thrived on change, while feeding off successful elements from its past, and I cautiously welcome Chibnall's decision to reboot the show as an accessible piece of episodic family entertainment unburdened by prolonged story arcs.
Whittaker is an engaging Doctor, her relatable new friends seem promising (Bradley Walsh's understated performance is a standout), and Chibnall appears to have a distinct vision for the show. Production-wise, it's blessed with sumptuous cinematography, vibrant direction, an effectively sparse, eerie score and impressive special effects. It feels confident and energised, a show reborn.
When the artist David Hockney was offered a knighthood, he turned it down. When asked to paint's the Queen's portrait, he replied: "I'm very busy painting England actually, her country." So why did agree to create a spectacular stained-glass window in Westminster Abbey to celebrate the 65th anniversary of her coronation?
In IMAGINE… HOCKNEY, THE QUEEN AND THE ROYAL PECULIAR, the sly contrarian and chain-smoking atheist more or less stated that, well, it's something to do, isn't? Furthermore, he wasn't impressed by the pre-existing window designs: "You can't really see what's going on." He felt he could do better.
The result is a beautiful work of art, but I'm tickled by the thought of Hockney creating it as just a bit of fun.
TV HIGHLIGHTS of THE WEEK
FOR FACTS SAKE
Monday, BBC One, 9:30pm
Brendan O'Carroll hosts this new quiz based around ordinary people and their – it says here – amazing facts. If that weren't enticing enough, the teams are led by a rotating casts of Mrs Brown's Boys regulars.
INFORMER
Tuesday, BBC One, 9pm
Paddy Considine stars in this sombre new drama about a police officer mired in the murky world of informants. It begins with one such informant being arrested and identified as of potential use to London's Counter Terrorism Special Unit.
THERE SHE GOES
Tuesday, BBC Four, 10pm
This five-part comedy drama follows a learning disabled child and her family. We first meet them as they attempt to get to the park for some fresh air. Her parents are played by former Doctor Who co-stars David Tennant and Jessica Hynes.
CHILD OF MINE
Thursday, Channel 4, 10pm
One in two hundred babies are stillborn in the UK. That's one of the highest rates in the developed world. Filmed over several months, this moving documentary follows the parents of a stillborn child as they attempt to raise awareness of a heartrending issue.
FILM of THE WEEK
SISTER ACT
Monday, Film4, 6:55pm
This lightweight yet enjoyable comedy stars Whoopi Goldberg as a nightclub singer who is placed under witness protection when she testifies against her gangster boyfriend (Harvey Keitel). Her hiding place? Why, a convent of course. The flimsy plot is really just an excuse for a strong cast – which also includes Maggie Smith as a stern Mother Superior – to do their thing. The songs are pretty great too.