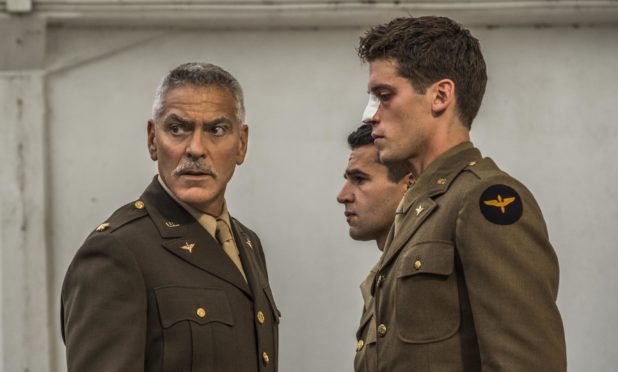 This week, Paul Whitelaw looks forward to a new adaptation of a classic antiwar novel and reconvenes with Killing Eve.
NEXT WEEK'S TV
CATCH-22
Thursday, Channel 4, 9pm
Joseph Heller's classic satire of military bureaucracy, injustice and the madness of war was adapted for the screen with mixed results in 1970. This six-episode miniseries is clearly intended as a more faithful and possibly definitive adaptation. Set during World War Two, it follows a sharp young US Army Air Force bombardier as he struggles to rebel against a system that's stacked against him. When he tries to get out of flying his remaining missions – suicide missions, essentially – he discovers a horrifying logical loophole: Catch-22. Boasting a large ensemble cast including Hugh Laurie and George Clooney (who also co-produces and directs), it succeeds in capturing the acerbic, absurdist, darkly comic tone of Heller's antiauthoritarian masterpiece. Impressive.
THE FAMILY BRAIN GAMES
Monday to Thursday, BBC Two, 8pm
Dara O'Briain plays host to "eight of Britain's cleverest families" as they cross their wits in "the ultimate test of cross-generational brain power." In a laboratory overseen by academic experts, they take part in various problem-solving games designed to test different facets of their intelligence. The basic idea is that, by performing as a team, these competitive high achievers will provide an interesting study of family dynamics. And to an extent, they do. What's more, you can play along at home. While I wholeheartedly welcome unabashed celebrations of intelligence, there's no getting around the fact that The Family Brain Games is the most middle class TV gameshow since the Robert Robertson-fronted iteration of Ask the Family.
THE RESTAURANT THAT MAKES MISTAKES
Wednesday, Channel 4, 9pm
This commendable series revolves around an experimental restaurant staffed by volunteers living with some form of early onset dementia. Like the recent BBC series Our Dementia Choir with Vicky McClure, it aims to raise awareness of this condition while illustrating that it doesn't preclude people from achieving new goals. In episode two, they welcome an influx of food critics who politely yet firmly refuse to give the restaurant special treatment. That would be patronising and counterproductive. For the participants, the project seems to renew their self-confidence. Waiter Peter, a former business owner, sums up the frank yet poignant tone: "Dementia takes away many things… our memories and ability to do things. But what it doesn't take away is feeling."
STILL GAME
Friday, BBC One, 9pm
If you missed the final series when it premiered earlier this year on the BBC Scotland channel, now's your chance to say farewell to Jack and Victor. Even the most devout Still Game fan would admit that it's long since passed its prime, but this valedictory run marks a slight return to form. It's certainly nowhere near as bad as the other post-return outings: it actually contains some decent jokes and glimmers of the warmth which made us love it in the first place. Make no mistake, Still Game in its heyday was a modern sitcom classic. Admittedly, this opening episode is average at best, but at least it isn't embarrassing. Thankfully, the series improves as it goes on. RIP.
FILM of THE WEEK
THE BLUES BROTHERS
Wednesday, ITV4, 9pm
Dan Aykroyd and John Belushi ascended to a higher plain of pop culture immortality with this wildly irreverent – yet fundamentally sincere – musical comedy about two recidivist musicians seeking redemption via a charity concert for their old orphanage. Deadpan wit and slapstick carnage jostle with show-stopping cameos from R&B legends such as James Brown, Ray Charles and Aretha Franklin. It's an irresistibly crowd-pleasing classic.
LAST WEEK'S TV
KILLING EVE
Saturday 8th, BBC One
Series two of this multi-award-winning black comedy thriller picked up directly from the violent climax of series one. Sympathetic MI5 agent Eve (Sandra Oh) was suffering from PTSD after stabbing – fatally, she assumed – psychopathic assassin Villanelle (Jodie Comer). The oddly likeable villain was alive and fairly well, of course: she's an unstoppable force of dark nature. Phoebe Waller-Bridge (Fleabag) has stepped down as head writer to focus on other projects, but new boss Emerald Fennell (hitherto best known for playing Nurse Patsy in Call the Midwife) slipped into her shoes with ease. Killing Eve is still a fast, funny parody of spy thriller tropes which also functions as an actual captivating spy thriller. It has its cake and eats it on the fly. Also, Oh and Comer are superb.
YEAR OF THE RABBIT
Monday 10th, Channel 4
The ubiquitous Matt Berry stars in this dreary sitcom about a tough, maverick Victorian cop patrolling the mean streets of London's East End. It's a charmless affair in which unfunny swearing and strained silliness offer no substitute for wit. The one-note Berry, who can't even affect a passable cockney accent, is acted off the screen by a supporting cast which includes Paul Kaye and Alun Armstrong.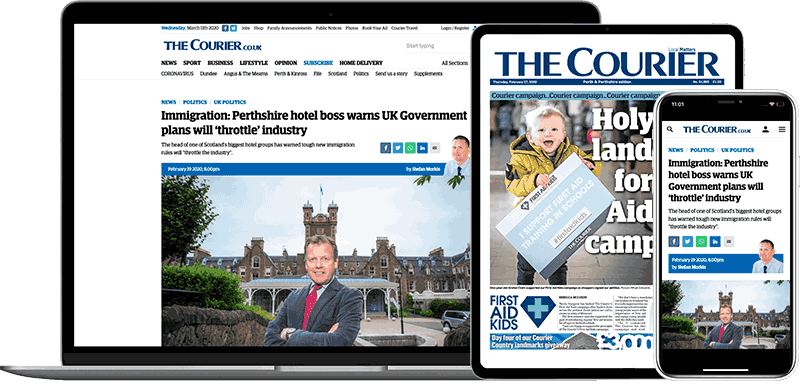 Help support quality local journalism … become a digital subscriber to The Courier
For as little as £5.99 a month you can access all of our content, including Premium articles.
Subscribe