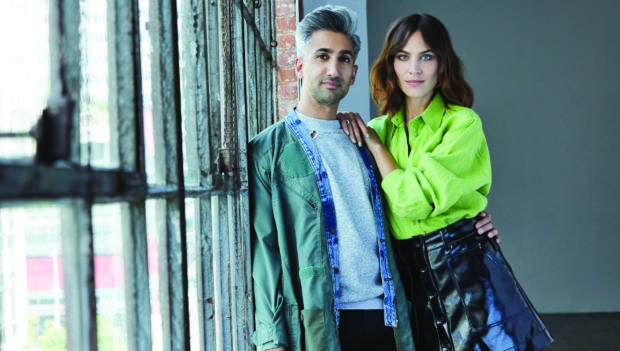 Netflix makes its first appearance in TellyBox as Rebecca steps into the wardrobe with a Bake Off-esque series, featuring Dundee's very own Hayley Scanlan
I've only gone and done it folks. I've actually sat down to watch something that isn't Friends, Suits or the Gilmore Girls on Netflix. And I want to share my findings with you.
I have more time on my hands now that I don't have the usual 20-minute commute to work every day and can't justify spending my free time loitering around the cheese aisle in Tesco anymore. So I've gone into full-time weekend mode.
I've really struggled to venture outside the aforementioned Netflix shows, not knowing what I should be sinking my teeth into.
But, having been a fan of Queer Eye and watched most of the episodes several times, the show's only British star, Tan France, appeared to be in a new programme with TV presenter Alexa Chung. Or so my homepage had me believe. And so it was to watch Next In Fashion I went.
At its core, it's a fashion version of Great British Bake Off, but WAY more intense and features contestants from all over the world. We also have a token Scottish candidate in the form of Dundee's very own Hayley Scanlan.
Contestants are paired with another designer they've either partnered with before or who has a similar style to them. Each week they are given a different challenge and have to make an outfit in two days to meet the brief given by Tan and Alexa. Unlike GBBO, they are given access to a huge pantry of fabrics and textiles. Literally any pattern, colour or fabric you can think of is there in some form.
For the first episode, the contestants had to make a red carpet look, the most rubbish of which would send their designers packing.
Some whine pairings to note include Ashton and Marco, who are pals from the USA. They declare they only ever make and wear black clothes. One of them has even styled Gwen Stefani but trying to create a look for a red carpet catwalk proves slightly baffling.
Then there is Angelo from Italy, who is paired with Charles from Canada. The former likes his patterns and touching everything in the clothing pantry. The latter has to rein him in but their resulting dress works a treat.
There is Narresh from India, who is paired with Lorena from Mexico. They claim that both of their strengths are making dresses and their drawing looks great but their initial choice of fabric came from someone's grandma's curtains. They finish 20 minutes before everyone else and their future in the competition is placed in jeopardy after most of the judges declare a strong aversion to their design.
Would recommend this show: to anyone who likes fashion, competition shows or needs a bit more drama in their life.
Would not recommend: if you're a fan or close relative of Hayley Scanlan. She doesn't come across well. Finding constant problems with no solutions comes to mind…