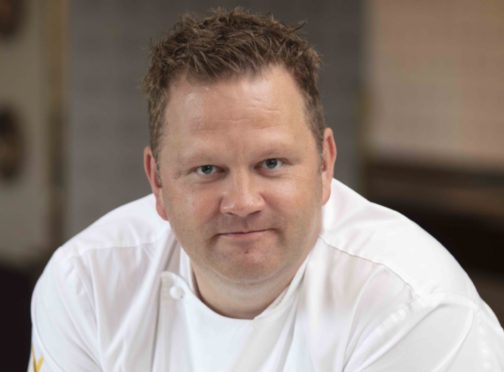 In this weekly series, Rebecca Shearer speaks to those who have helped shape Scotland's food and drink industry, and finds out more about the role fine fare has played throughout their life and career…
Gleneagles' executive chef, Simon Attridge, 41, has had a whirlwind of a career. From humble beginnings helping his dad make apple pie as a child, to opening a restaurant in Shanghai, to returning to work in London's banking district, it's hard to think of any more notches he could attach to his belt.
But his passion for Scottish fare and Asian flavours is what has made him the chef he is today. Here, he takes us on a trip down memory lane and tells us about the meals that have stood out the most for him throughout his life and career.
Childhood – beef stew and apple pie
He may not have realised it, but Simon's love for food started back in his early years when he would help his dad make one of the most important dishes of his week – apple pie.
"I was brought up in Reigate in Surrey, and I'm the eldest of three – with a brother and a sister. My dad was actually in the trade and ran a group of hotels down in Surrey, where he was the managing director.
"But I have a couple of food memories from my early years, the first one being from my grandma, who was Scottish, from Partick in Glasgow. My grandparents used to live just down the road from us in Guildford.
"One thing that stood out was my grandma's beef stew with dumplings at her house in a big pot in the middle of the table. Another memory would be rolling out and making apple pie with my dad.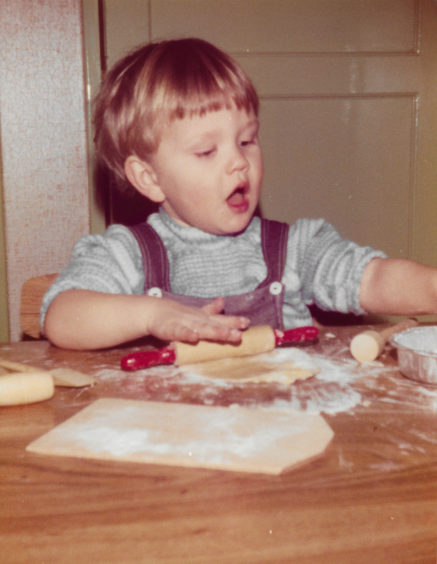 "We used to eat together a lot as a family, especially on a Sunday. My dad used to work very long hours. During the week my mum would cook as my dad wouldn't always be there for dinner – the hours aren't always suitable for dinner time when you work in the hospitality trade. But it was always a big thing that every Sunday we'd have him at home and we'd do a roast lunch or a roast dinner as a family sat at the table, and that was always followed by apple pie.
"My dad was one of four brothers and I remember being at my grandparent's house, sitting around their table in the kitchen, with the coal fire and there was a back door going out to the cold store and the outside toilet. Food would play a big role at the grandparent's house as my grandma was very much a lady from her era – cooking a family dinner.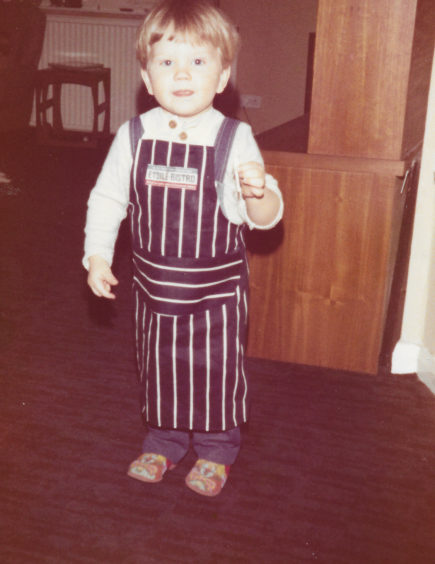 "For some reason as well my grandpa would always have a slice of bread with some marmalade after dinner, without fail.
"My dad was a good cook and was a bit of a chef before he went into the front of house and management side of the industry. So with him and my grandma's cooking, we knew we were being exposed to good, humble food from a young age."
Teens – butterscotch tart and roast dinners
One of the most stand-out food memories from Simon's teens happens to be of a favourite dessert at school.
"We had a lot of butterscotch tart at school and it was one of the most delicious things to eat. They'd have it on a metal tray and cut it into squares, with a dollop of whipped cream on each one. This would be for school dinners!
"I think through my teens I also started to appreciate food a bit more and started cooking properly at the back end of my teens. I started working at a local golf club and really got a taste for fine dining. I worked for a chef who'd actually worked for my dad in his younger days who'd then gone on to get a three-rosette level at the local hotel. He'd taken over the franchise at the golf club and started doing fine dining nights.
"It was a passion of his and I think that rubbed off on me. I started cooking with him and it gave me the inspiration to go on and pursue a career as a chef down in London.
"But though I mentioned it in my childhood, the roast dinners were so important in my teens and I think I was more aware of them in terms of how they brought the family together and how good the food was."
20s – hammed duck legs
The real starting point of Simon's career came in his 20s, when he was given the amazing opportunity to work at one of Heston Blumenthal's restaurants near London.
"When I was 23 or 24 I spent about two years working with Heston Blumenthal, as the head chef at his Riverside Brasserie in Bray. It was his second restaurant after The Fat Duck – his first.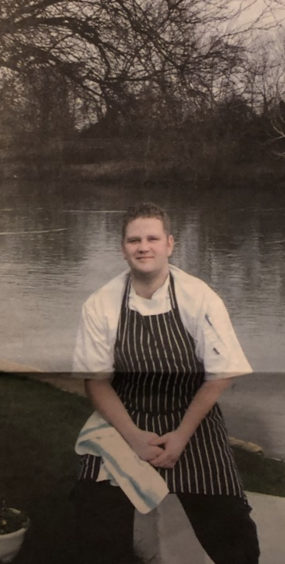 "He opened the brasserie in Bray Marina and it had all the same techniques and principles as The Fat Duck but was a bit more relaxed. It was at a beautiful part of the Thames in a converted boat shed, just outside Windsor. It was Heston's food but in a much more relaxed environment.
"There was a dish that was an original The Fat Duck dish called hammed duck legs. For some reason, that dish just sticks out so much for me. Every single night we'd have to prep at least 100 of these duck legs and it was a really time-consuming job that you had to do really fast otherwise you'd be there all night.
"We had to take out the bottom bone of the duck legs, then pin the rest of the legs with a cocktail stick then cook them for 24 hours in a water-bath [a pan of hot water]. It was one of Heston's most popular dishes and would come with a pomme puree, coffee bean sauce and green beans.
"This was also my first exposure to a lot of Scotland's produce. There are a couple of suppliers up in Scotland who supplied to most of London, and still do today. They'd send down lots of fresh seafood, too. When I came to work in Scotland about three years ago I remember thinking it was a bit weird that nobody was using those suppliers up here."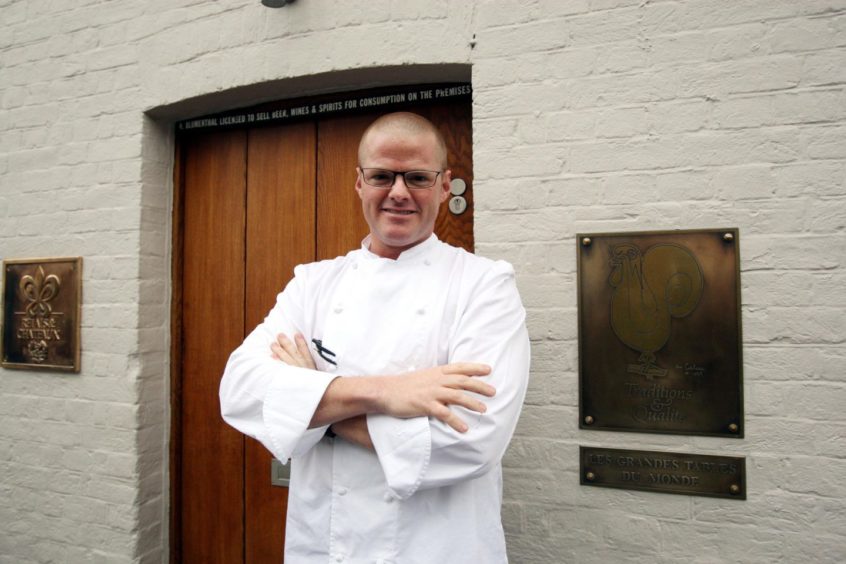 Simon's appreciation for Asian flavours also came about when he was in his 20s and took the opportunity to go travelling.
"After working at Heston's I went and got a Michelin star at 25-years-old. Then I moved to work in Shanghai for a Frenchman, as his number two. We opened a restaurant called Jade On 36 at the Shangri-La Hotel. He stayed there and went on to open a few more restaurants, one of which got three Michelin stars.
"He was very forward-thinking and doing some really modern food. The majority of the produce was imported, as it mostly is over there, but we were cooking a lot of European food with Asian influences."
Following his experience in Shanghai, Simon returned to London and went to work in the banking world, where many chefs work in the restaurants and catering side of banks' headquarters.
"I started at Barclays then went to Goldman Sachs then to UWS – the bank of Switzerland. These were all in the bank headquarters in the city and Canary Wharf in London.
"There's the feeding of the staff – a lot of these buildings have 8,000-10,000 people in them. So we'd easily feed about 3,000-4,000 staff members a day. There was also catering required for all the internal meetings, events and client entertainment. Effectively these bank headquarters are like five star hotels but with no bedrooms.
"There were so many different facets the chefs got to work in – we had a fine dining restaurant, fine dining rooms, buffets, sandwiches. The staff dining had all kinds of things, too – from pizza ovens to woks.
"I stayed in that world for quite a long time and had a fantastic time. It was so diverse and we could cook what we wanted so long as the client was happy. I tried to make a lot of my dishes there based on British seasonal produce where possible, but also include influences from around the world."
30s – crab with mango and passionfruit
"In my 30s I went back to work for the Shangri-La Group and was part of the team that opened the one in London, in The Shard. Again, there I was using British produce with Asian influences and that was the main concept of the fine dining restaurant there.
"Mixing flavours was a common thing in my 30s too, such as teriyaki with beef, which allowed us to use Asian flavours but with good-quality Scottish beef.
"Crab with mango and passionfruit was a popular dish back then and I think it really represents this time of my life – a fantastic British product with some influences you'd probably think don't go with crab but work really well."
Now – venison
"I've been at Gleneagles since I was 38, in 2017, and it's a really diverse place. Gleneagles has got so many different outlets. For instance, we've got a tandoor chef and two tandoor ovens, but we're using beautiful Scottish venison, Scottish lamb, etc, and the flavours from the tandoor.
"All our food, no matter what we're serving, is based on seasonality and locality as much as possible. One of the standout dishes for me is a venison dish that we have on in The Strathearn, which is wild Highland venison – we've got the loin, a crispy deep-fried bon bon, some savoy cabbage, some truffle, some chopped nuts – and it really showcases Scottish produce at its best.
"In lockdown though I've never done so much cooking at home because I'm so often at work. I'm still trying to have my roasts on a Sunday and do a mishmash of things from the cupboard but for the first time in a really long time I'm actually having all three meals. All of the chefs and staff from Gleneagles have been sharing our lockdown recipes between each other, using things like store cupboard essentials, like how to do a pasta with tomato sauce, some mushroom soup, and some baking tips and things like that.
---
Simon's Wild Venison, Cherry and Chocolate
(Serves 4)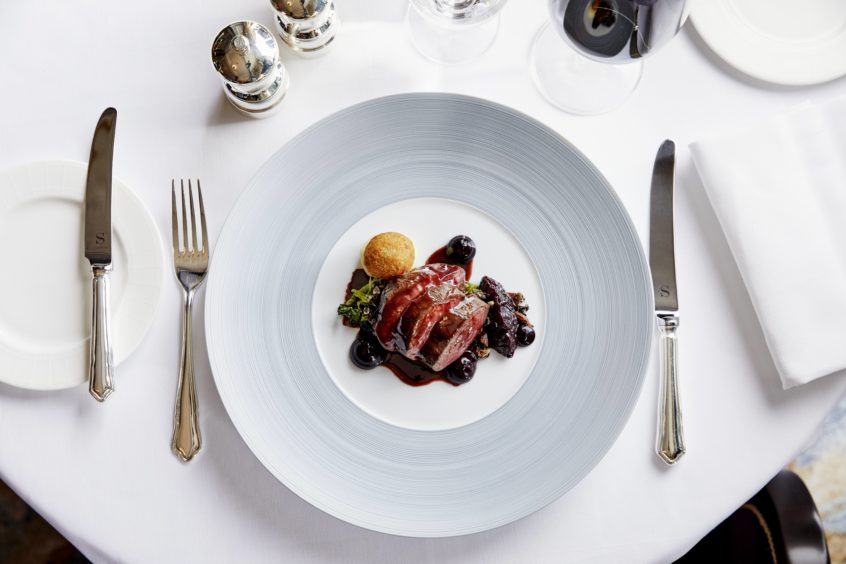 Ingredients
For the venison bon bon and sauce:
500g venison haunch
Rapeseed oil, for cooking
50g carrot, chopped
50g onion, diced
50g celery, chopped
1 sprig thyme
1 clove garlic
1 bay leaf
750ml red wine
10g Guanaja chocolate
Breadcrumbs, to coat the bon bons
Salt and pepper
For the cherry compote:
250g sour cherries, pre-stoned
60g caster sugar
5g sherry vinegar
60g cherry puree
For the chocolate emulsion:
50g Guanaja 70% chocolate
18g cocoa powder
40g rapeseed oil
10g hazelnut oil
For the mash potato:
300g mashing potato, peeled
400ml water
10g salt
75g butter
For the savoy cabbage:
1 head of savoy cabbage
Salt
For the venison:
800g venison loin, all silver skin removed, trim reserved for sauce
100g unsalted butter
3 sprigs thyme
Salt and pepper, for seasoning
Rapeseed oil, for frying
Method
First, prepare the sauce and venison bon bon. In a hot pan, colour off the haunch with a little oil. Remove the meat from the pan once it is caramelised all over. Add the vegetables to the pan and cook until they are browned. Add the meat back to the pan along with the herbs and enough wine to cover the ingredients. Place a lid on the pan and cook in the oven at 150°C for 2 hours. Once cooked, allow the meat to cool in the cooking juices.
Once the meat is cool, prepare the bon bons. Shred the meat, discarding any fat and sinew and then add a little wine. Season to taste then roll into 20g balls. Coat each bon bon in breadcrumbs and deep fry until golden brown.
In the pan with the cooked vegetables and meat juices, add the remaining wine to make the sauce. Grate in the chocolate and then keep warm until you're ready to serve.
Next, make the cherry compote. Quarter the cherries and add to a pan with the sugar, vinegar and puree. Cook slowly until the cherries are soft and the base of the pan is dry.
Now, make the chocolate emulsion. Mix all the ingredients together in a bowl and melt over a bain-marie. Once the ingredients are fully combined, emulsify the mixture with an electric hand blender.
Next, make the mash potato. Cook the potatoes in the salted water. Drain the water and allow the potatoes to dry out. Pass the potatoes through a drum sieve or potato ricer then whisk in the butter. Pass the mash through the sieve again to ensure the mixture is completely smooth.
To prepare the cabbage, chop it very finely then blanch in boiling salted water. Once cooked, refresh in iced water and then drain thoroughly.
Finally, cook the venison. Season the meat all over with salt and pepper. In a hot roasting tray, colour the seasoned loin of venison in a little oil. Make sure to evenly sear the venison on all sides.
Add the butter and thyme to the pan and baste the loin until it's medium rare, this should take approximately eight minutes. Continue to turn the loin regularly as it cooks. Once cooked, rest the meat on a cooling wire and then carefully pour over the butter. Let the meat stand for 10 minutes before carving.
To plate, use a pastry brush to paint a single stripe of chocolate emulsion across the plate. Pipe the mash potato onto the plate. Place the cabbage on the chocolate stripe and top with three slices of the rested venison loin. Quenelle the cherry compote on to the plate. Spoon the chocolate sauce around the meat and serve.
---
Read more in this series…
My Memories in Meals: Award-winning chef started his culinary journey with marshmallow surprise
My Memories in Meals: Food ambassador on how it all began with strawberries and pepper