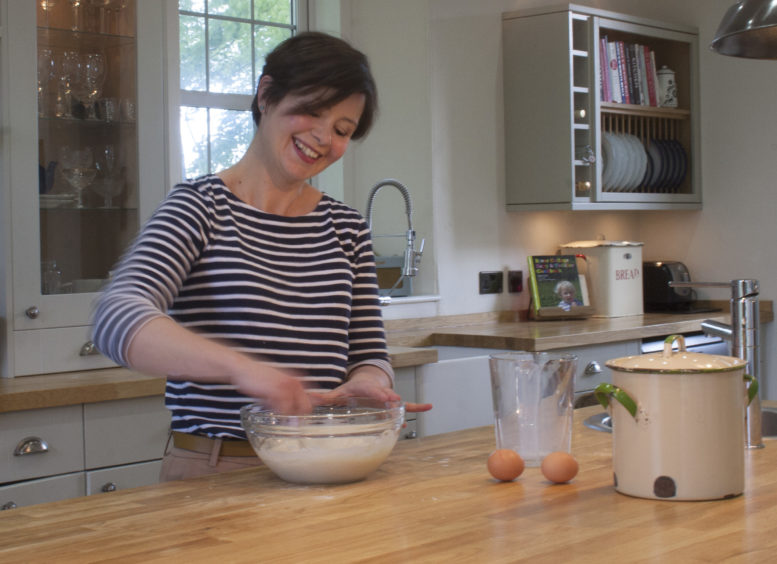 Catherine Devaney, regular contributor to The Courier's food magazine, The Menu, chooses her five desert island foods and offers a simple recipe using each of them
Throughout lockdown we've been playing Desert Island Discs in our shiny new family WhatsApp group.
Like many across the country, it took the spectre of impending doom to corral the family elders together on the instant messaging platform, initially as a mechanism to ensure they towed the line and sent the spring chickens to the chemist on their behalf, before inevitably degenerating into photographs of Saturday night spag bol and cartoon labradors.
Following the original format of the Radio 4 show, each castaway takes turns to share the six tracks they would save from the waves, then name a luxury item and a book, which they are given in addition to the Bible and the Complete Works of Shakespeare, to sustain them on their desert island.
Surprisingly few of the chosen luxury items have been food related; ranging from champagne (some of us have expensive tastes), prosecco (some less so), a giant box of lego (some of us never grew up), an eiderdown pillow (He Who Works From Home is particular about such things) and a pen and paper.
Really? Judging by the level of food obsessiveness that has characterised the last 12 weeks of lockdown, I am highly sceptical of the veracity of these choices.
Looking back over the last months, when events spiralled out of our control and the daily statistics were too awful to contemplate, what did we do?
Our modern-day survival instincts kicked in and we rushed to share photos of our lunch, devised recipes to elevate our store cupboards to Michelin-standard, ferretted around after the last chickpeas, obsessed about pasta shortages, kept cooking and carried on with the TV comfort blanket that is Jamie Oliver and punctuated our days feeding the sourdough starter.
It doesn't take a psychology degree to discern why, when times were tough, we turned to the things we could control, i.e. food, to displace the many leagues of awfulness beyond control or comprehension (and then promptly lost control, as my exponential scone consumption has proven).
But being marooned on my own desert island of lockdown, admittedly a fairly lush and fertile one, awash with asparagus, eggs and strawberries, has made me think about what I can and cannot live without. Here's my top five foodie luxury items and five-ingredient recipes to accompany them.
First up, fresh herbs.
Dill, basil and mint are my wingmen. Five ingredients: basil, garlic, pinenuts (toasted), parmesan, olive oil. For the quickest pesto, blitz the first four ingredients in a blender or food processor and add olive oil slowly to the desired consistency. Drizzle over barbecued lamb or toss through new potatoes.
Second, fresh fish.
I hope someone delivers to my desert island because I'd be pretty hopeless with a spear.
Five ingredients: Cod, chickpeas, chopped tomatoes, onion and chorizo. Pan fry the cod in a little oil, skin side down until crispy (2-3 minutes) then flip and fry for a further 2-3 minutes, adding a knob of butter towards the end to baste the fish.  In a separate pan, sauté the onions, add the chorizo, add chopped tomatoes and simmer while the fish is cooking (season to taste).
Third, eggs.
Forget omelettes, frittata is where it's at. Eat them hot or cold and throw in all the leftover bits and pieces from the fridge. Five ingredients: eggs, butter, cooked new potatoes, a good sharp cheddar, peppers or other leftover vegetables.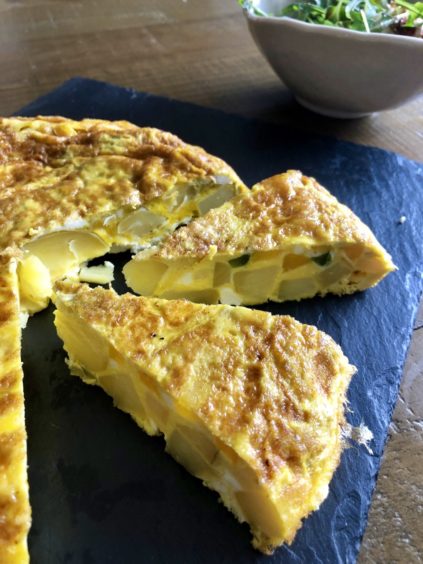 Start by mixing six eggs with a couple of handfuls of cheese and a pinch of salt. Pan fry the peppers in a little oil, add a knob of butter, when foaming add the egg mixture, cubed cooked potato, and any leftover vegetables, then cook under the grill for five minutes or until cooked through.
Fourth, green vegetables.
Spinach, rocket, cabbage, and did I mention asparagus? All essentials of life it seems. Five ingredients: spinach, asparagus, chestnut mushrooms, goat's cheese, pasta.
For an almost instant pasta sauce, pan fry the mushrooms and asparagus, keep the pan on the heat and add cooked pasta, then stir through liberal amounts of goats cheese and a little of the water the pasta was cooked in to loosen the sauce, then stir through a few handfuls of spinach leaves until wilted.
Fifth, good cheese.
I may have to tether a few mountain goats and brush up my dairymaid skills on my island.  I have particularly fond memories of the week we ordered a whole brie (well, things were pretty grim back in March).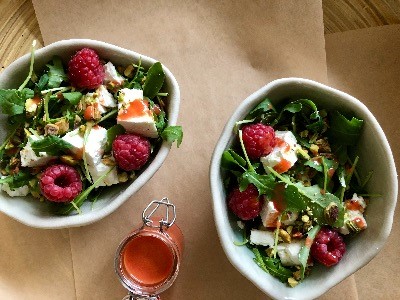 Five ingredients: feta, salad leaves, pistachios, raspberries, balsamic vinegar, olive oil (ok, that's technically six, but surely olive oil should be a given, along with salt and the Shakespeare).
For a quick salad, crumble feta and toss with the salad, toast the pistachios and scatter, then dress with raspberry vinaigrette (made by blitzing fresh raspberries, a little balsamic vinegar, extra virgin olive oil or rapeseed oil and salt to taste).
Can't live without
Which brings me to the things I now know I can live without. Without regular trips to the supermarket I've discovered that many of those items in my usual shopping basket were actually unnecessary (at least as far as I'm concerned, I accept my locked down kids might have a different view).
Potato snacks of any dehydrated constitution, particularly the ring shaped variety. It's really rather nice not to have to fish the empty packets out from under the sofa cushions.
Broccoli. Another supermarket staple that featured rather too often on our rushed weeknight tea menus. Broccoli, the time has come for me to admit that you bore me.
Oat milk. Like the expensive green smoothies they share a shelf with, I am now mindful how much money we've saved without them and have firmly put them in the category of 'needless frivolity'. I might even try making my own.
Likewise Petit Filous and Babybels, although I won't be attempting to make those.
If the harshest lesson my kids have learned through lockdown has been to eat proper cheese and yogurt then they still have much to learn about life.
I do, however, stand by my luxury item choice… coffee, having spent the first few weeks of lockdown in a churlish huff induced by the withdrawal of cappuccinos and the absence of mid-morning micro-foam.
The problem is I'm now so hopelessly institutionalised that I'm rather attached to my desert island bubble. Now that people have begun to emerge, waving to me from rescue dinghies, inviting us to row across to other islands brandishing picnic baskets, I find myself wedded firmly to my own beach with its lockdown stores of brie and black coffee.
I just can't do it.
Please don't take offence if I send a message in a bottle to politely decline the BBQ invitation. It turns out I rather liked isolation. I knew where I was with it.
And perhaps, long after this is all over someone might stumble upon me, muttering insensibly under a palm tree, something about store cupboard essentials.
---
Read more in this series…
Isolation Kitchen: How to pep up lunchtimes – just don't suggest a picnic!