Dandelions are easy to forage at this time of year and are a nutritious addition to salads and much more.
As children, a lot of us entertained ourselves by making dandelion chains, while as adults we consider them weeds to be eliminated from our lawns come summer.
But did you know that these bright yellow flowers are actually fully edible? Not only that, they're also packed with vitamins C, A, K and E, folate and antioxidants, making them very nutritious.
You can use dandelion flowers in cooking, salads, preserves and make tea, wine and vinegar from them too. Meanwhile in Asian cuisine, the leaves have traditionally been used like lettuce, boiled, made into soup or fried.
And now is the perfect time of the year to forage for them – dandelions grow wild in large numbers in pretty much any green space, whether it's your garden, a city park or in the countryside.
Community gardening project Grow Dundee has shared its top dandelion foraging tips and a recipe for dandelion honey to help get you started.
The good news is, making honey is nowhere as intimidating as it sounds – and it's delicious spread on toast or pancakes, whether you're a vegan looking for bee honey substitutes or you simply fancy something different.
Nadege Depiesse, Grow Dundee administrator and gardening assistant at Dundee's MAXwell community centre, said: "May is prime time for foraging, because everything is growing and in full bloom.
"Foraging and gardening have become really popular activities during the lockdown because people have a lot more time to do these things. They're also realising it's nice to grow or forage your own food, rather than buying it all from the shop.
"Dandelions are one of the easiest plants to forage, they are everywhere at this time of year and they're totally safe to eat, as long as you avoid sprayed fields, busy roads or paths where lots of dogs get walked, as then the flowers may be polluted.
"I use dandelion leaves in stir-fries and soups, but I hadn't tried the flowers before. They are harder to eat in their natural form, because we aren't really used to eating them. That's why I thought a honey recipe would be good, that way the flowers are processed but you're still getting the flavour.
"Dandelion honey is very sweet – probably not best if you're diabetic – and tastes great. It's also suitable for vegans. I found the recipe online but then tweaked it a bit, because I found that the suggested amount of sugar was too much.
"The lemon gives it a nice citrus element too, and you can also substitute that for juice from other fruit, for example apple, depending on what you like."
Follow these instructions for safe foraging and then check out the recipe…
---
Grow Dundee's dandelion foraging tips:
Go on a warm and sunny day so the flowers are wide open.
Avoid busy roads, sprayed fields and paths with large numbers of dog walkers as the flowers may be polluted.
Make sure you are following the latest official guidelines regarding the Covid-19 restrictions. You can go foraging while on your daily exercise, but don't make unnecessary additional journeys.
Follow the Wildlife and Countryside Act 1981 – it is unlawful to uproot any wild plant without permission from the landowner or occupier, so avoid private land.
---
RECIPE: Dandelion Honey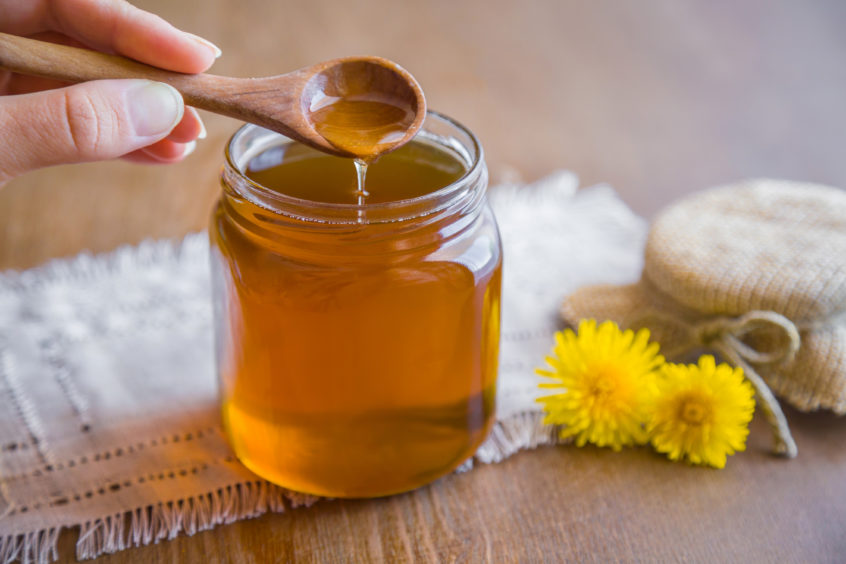 Ingredients
75g flower heads or petals
300g sugar
350ml cold water
2 slices of  lemon
Method
1. Shake the flowers to remove any bugs and take off the petals (optional).
2. In a sauce pan, add water, lemon and dandelion. Leave it to infuse overnight.
3. The following day, use a muslin cloth or a strainer to extract all the juice.
4. Weigh the juice and add the same about of sugar (e.g, 300g of juice, 300g of sugar).
5. Add juice and sugar in a saucepan, stir until the sugar disappears. Bring to boil for 15-20 min to thicken it up.
6. Pour your honey in a clean jar while still warm. Store in a cool, dry place.
---
Further reading about foraging…
Foraging recipes: How to make foraged gorse custard ice cream