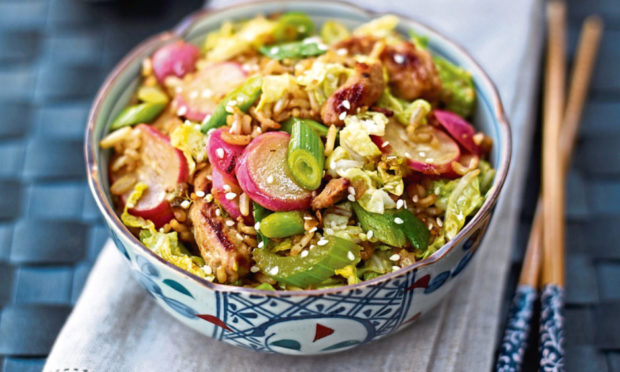 An easy meal to make, this special fried rice recipe is perfect for any weeknight.
For more midweek meal ideas, take a look at previous recipes in this series.
---
Special fried rice with radish, celery and spring onions
(Serves 2)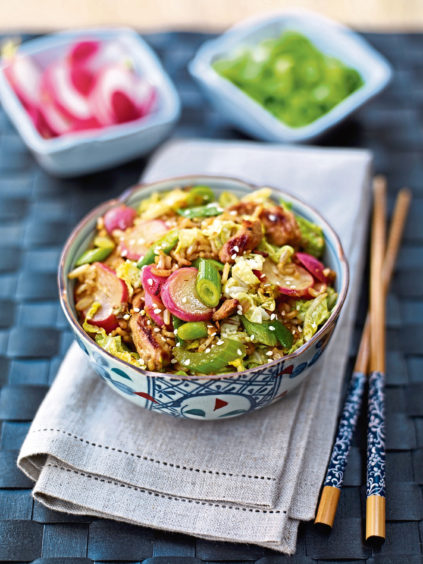 Ingredients
1 tbsp sesame oil
250g pork strips
1 clove garlic, crushed
3cm ginger, grated
2 sticks of celery, sliced diagonally
4 radishes, sliced
1 pack wholemeal microwave rice
¼ Chinese leaf lettuce, shredded
2 spring onions, sliced
2 tbsp soy sauce
1 tsp hot sauce
1 tbsp mirin
2 tsp sesame seed
Method
In a large wok, heat the oil until very hot and cook the pork strips, tossing and stirring throughout. Add the garlic and ginger, stir and then add the celery and radish.
Continue to stir while adding the rice, Chinese leaf lettuce and spring onions. Add in the soy, hot sauce and mirin and stir while everything cooks. The vegetables should keep a good crunch.
Serve sprinkled with sesame seeds.
Recipe courtesy of loveradish.co.uk
---
Read more in this series…
Celebrate National Curry Week with this delicious Maldivian tuna dish
Midweek Meal: How to make this scrumptious pasta carbonara with a rosy red salad