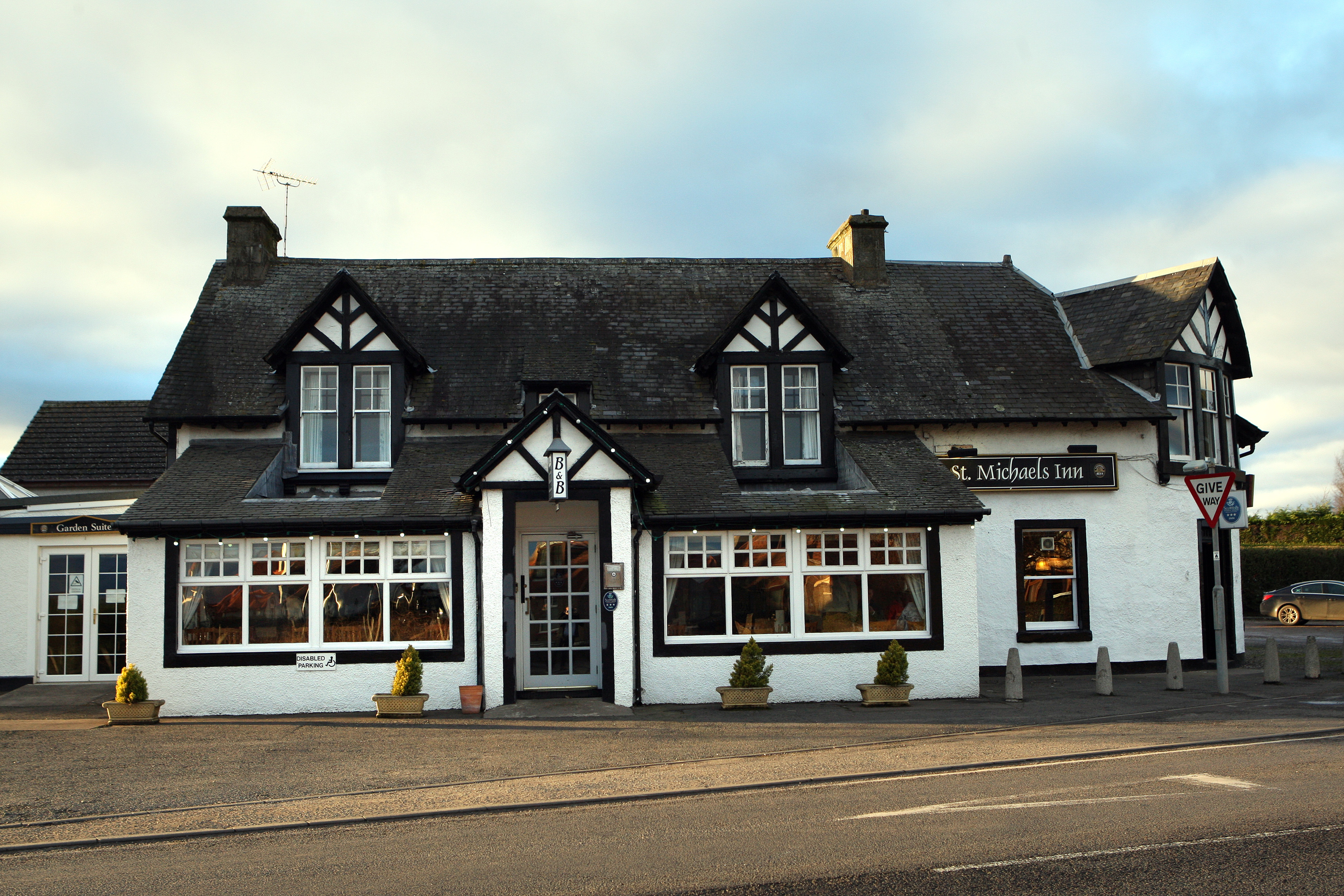 Having a good "local" is usually part of the dream of anyone moving into a new community; even in these days when pubs are suffering because of the alleged predilection of the public to drink at home rather than in the public bar, a good, unpretentious, well-run "local" is pretty near the top of the wish-list for those setting down roots somewhere new.
St Michael's Inn is a well-known hostelry in North East Fife and has been popular with locals from all around the area for many years, which attests to its success as a crowd-pleaser in these difficult times.
Being at a major crossroads helps, as it's easily accessible by car or bus from most of the villages round about, and Dundee and St Andrews beyond.
The drinks list also provides two decent-looking low alcohol wines which makes a bit of a change from buckets of Coke or an overdose of orange and soda for the designated driver.
Being of a lushy turn of mind, we got a cab there and back and were thus able to indulge in a couple of pre-dinner drinks in the very comfortable lounge bar, where we were also seated for our meal.
We fancied a quiet, tasty, unhurried Friday night supper and having heard that St Mike's reputation for providing just that was still strong – and that there was a new chef in the kitchen – we could hardly have chosen better.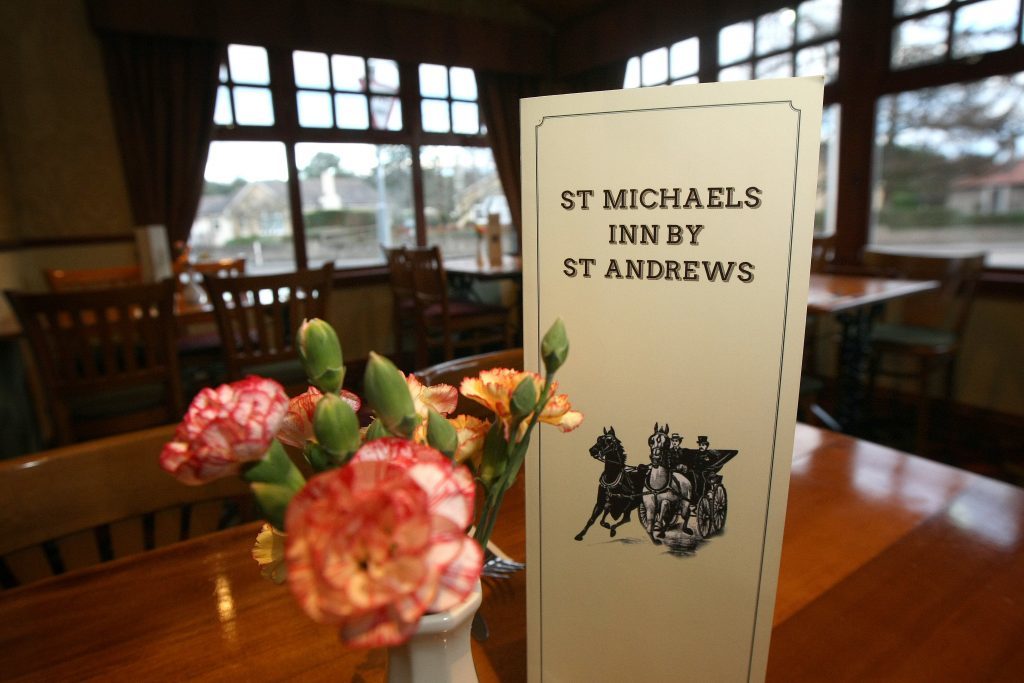 Like many pub menus, this one majors on breaded and deep fried but there is plenty of interesting choice if you're not a fan of the deep-fat fryer. The general menu is available from lunchtime to supper time (last orders just before 9pm) with a list of daily specials and a chicken dish of the day.
Although I was tempted by the potential heat and spice of jalapenos stuffed with cream cheese, I started off with garlic mushrooms and very good they were too. What seems like a simple, can't-go-wrong dish is often either soaked in too much oil or given too little added flavour but this combination of an almost meaty, garlicky, buttery sauce hit the spot.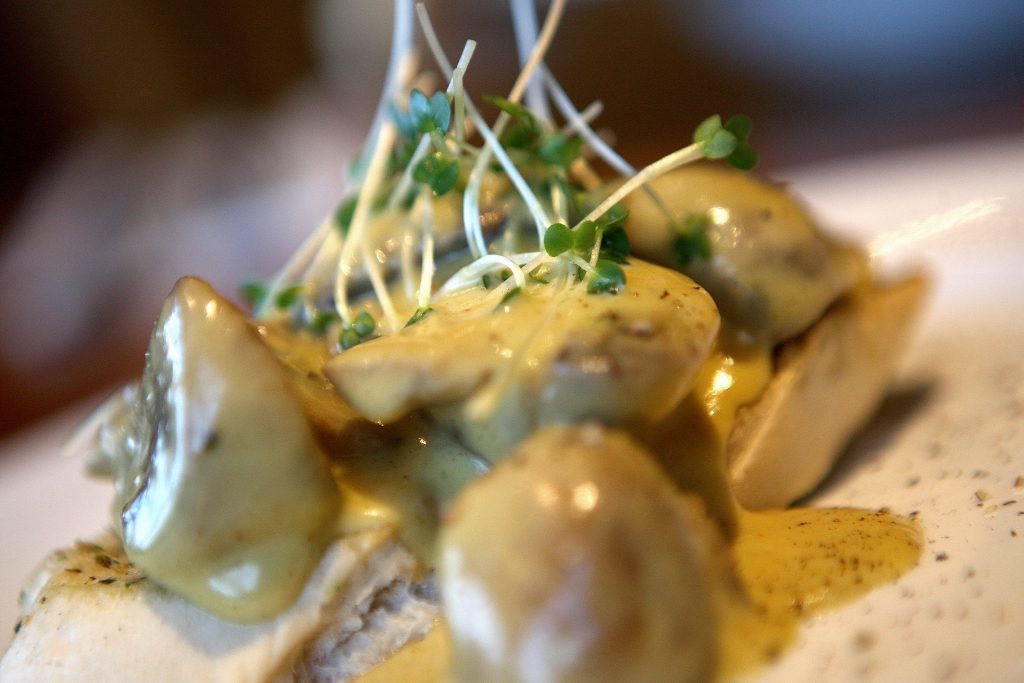 The far-from mushy mushies were also served on a very nice slice of garlic and herb bread, just in case the vampires hadn't been frightened off quite effectively enough already.
Apart from a soup-of-the-day, there was also Cullen skink, something my fish-mad soup-dragon of a husband cannot see past.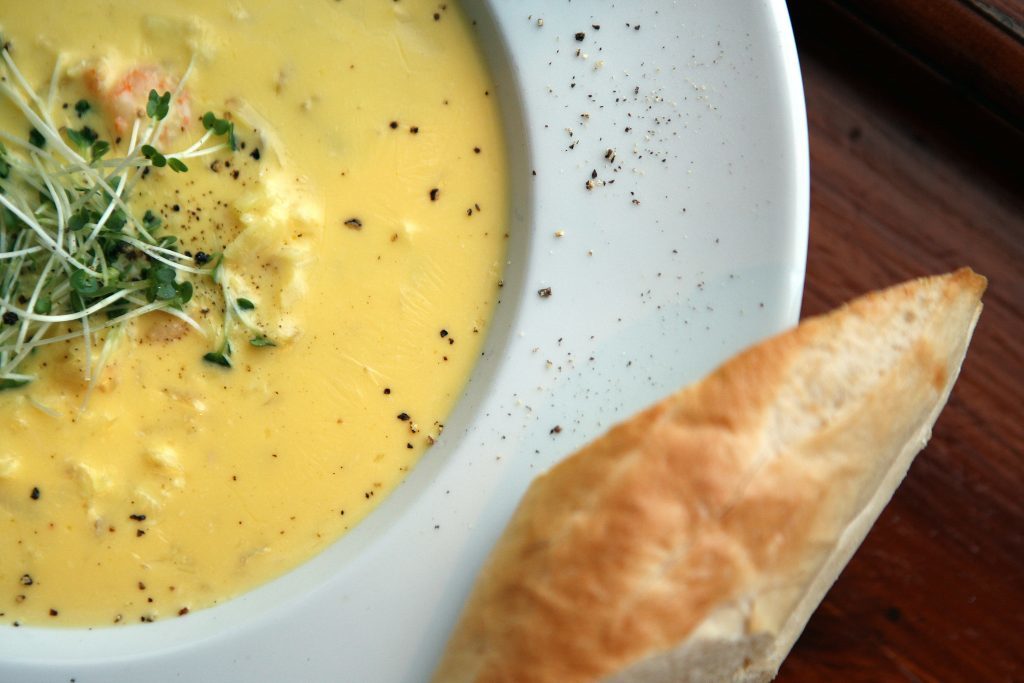 This one was obviously home-made and smokily delicious – and although the helping was healthy (as were all the courses), it was light enough in style to provide flavour and texture without overfilling the inner man. When it's the only thing you're having, a bowl of Cullen skink that you could run a mouse on is a very good thing; here, as part of a three-course indulgence, this smoother, lighter version was just right.
This was just as well because the speedily-delivered main courses were large and lovely platefuls of good quality, no frills, home-cooked food, with a real punch of flavour and good balance of ingredients.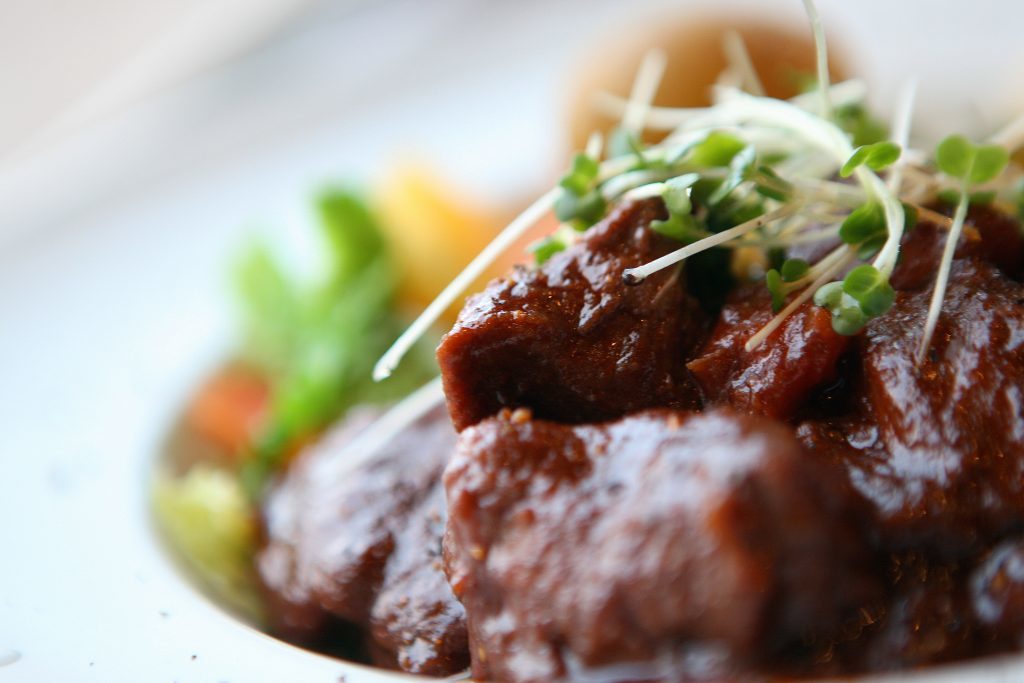 The venison casserole with a red currant, root vegetable and red wine gravy was rich and the meat was perfectly cooked. The accompanying mash was very good – it's so easy to over or under-season this or just to miss a few lumps along the way but this mopped up the sauce (every drop!) without turning into slush.
A similar dollop came atop my fish pie which was well seasoned and flavoured, with plenty of filling and a light, creamy sauce that didn't cloy. It came with a fresh, well-dressed salad and a large piece of French bread which even a gut-bucket like me didn't need.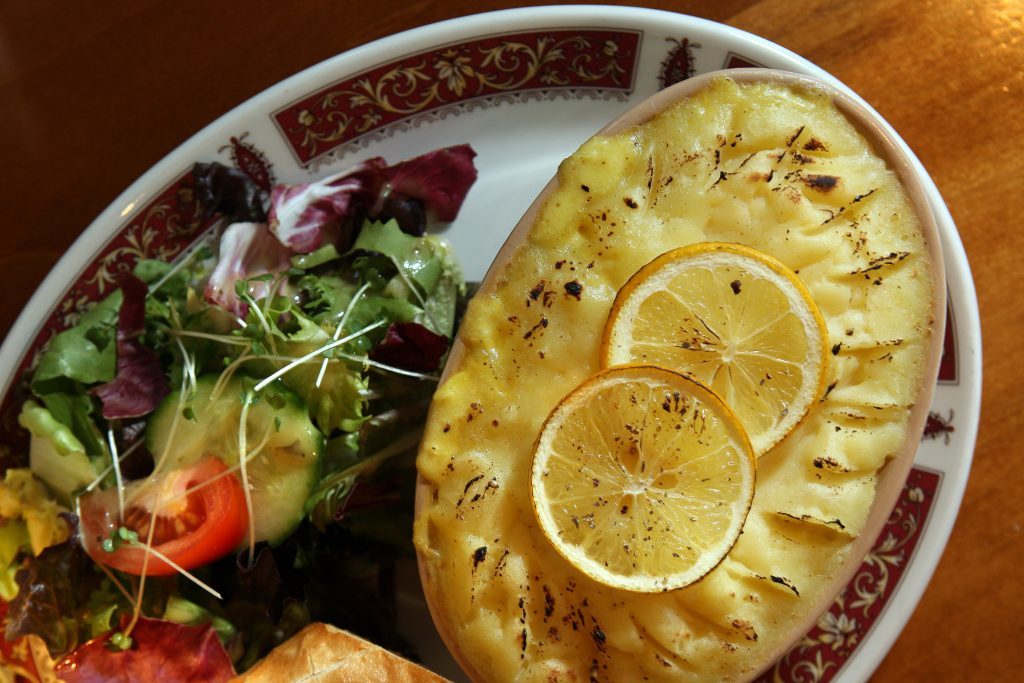 This was partly because I had my eye on the puddings which is not like me at all. But they had a home-made trifle on offer and I was just in the mood for it. It was fruity with a very good texture of jelly and sponge and excellent custard. I don't eat enough custard to know if it was made in the kitchen but if not, they chose a very good quality bought one, smooth and dense.
Himself was just delighted to see plain vanilla ice cream on the menu. He usually has to have a long conversation with waiting staff, trying to persuade them that no, he really doesn't want cream, choccy sprinkles, bits of mint or wafery pencil thingies, he just wants plain vanilla ice cream. That was (without the 10-minute explanation) exactly what he got here and very good and plentiful it was.
We enjoyed a bottle of Palena Chilean Merlot which at £15.50 on the table was very good value.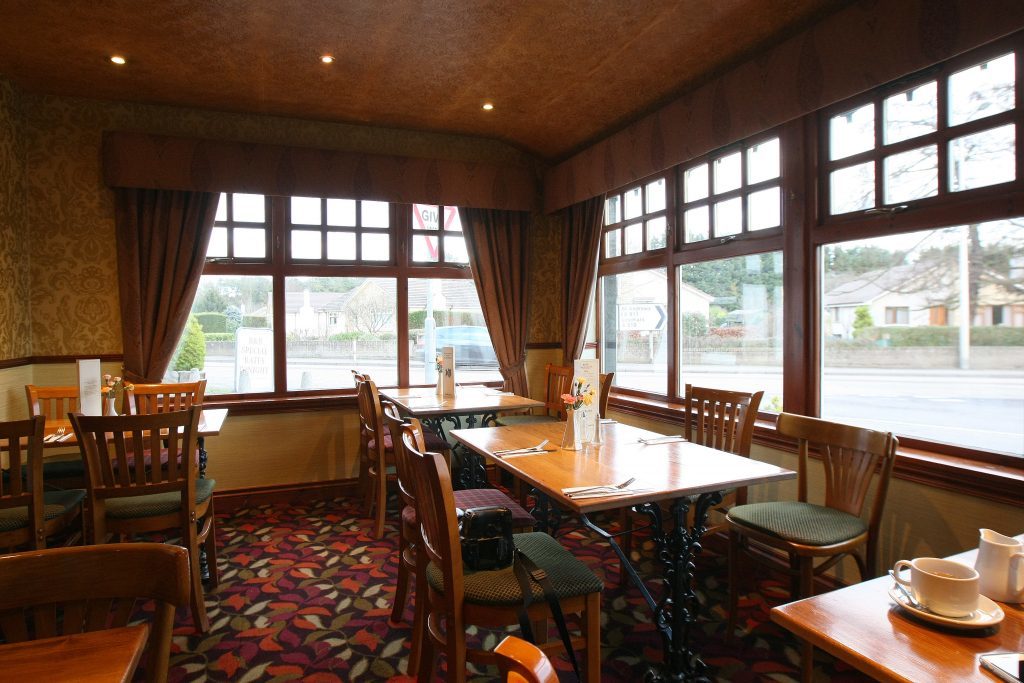 Service was very friendly and helpful; the place wasn't particularly busy and on this showing, it deserves to do better on a weekend evening, perfect for when you can't be bothered to cook yourself but don't want to spend a fortune or spend the evening poring over lists of esoteric ingredients to get to the meat of the matter.
St Mchael's Inn probably won't win many culinary awards but it certainly wins out for flavour, value-for-money and being the kind of place that any sensible person would love to have close enough to home to enjoy on a regular basis.
Info
Price: three courses from about £15
Food: 8/10
Menu: 7/10
Service: 8/10
Value: 8/10
Atmosphere: 7/10
Total: 38/50
St Michael's Inn
Leuchars
By St Andrews
KY16 0DU
01334 839220