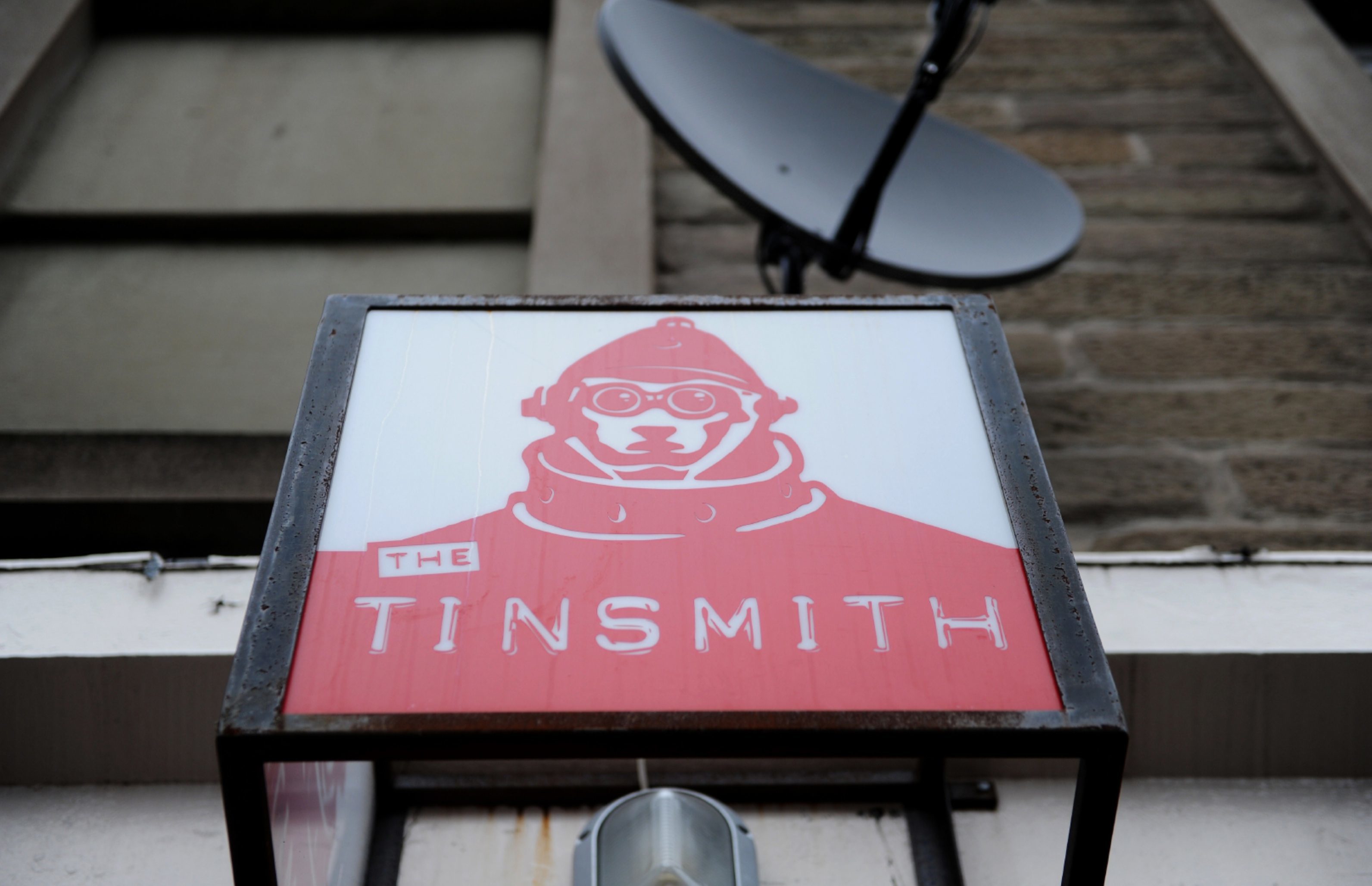 On my culinary adventures across Scotland, I have eaten some spectacular food and try to always sample the speciality of the region or particular restaurant.  Throughout the years, however, there is one "delicacy" that I just haven't got around to tasting – the deep fried Mars Bar.  I noticed it on a menu in the centre of Dundee and I was sold – I just had to try it.
This battered creation is said to have originated at a chip shop in Stonehaven, and since its discovery in the mid 90s it has even been discussed on The Tonight Show with Jay Leno. It's not something any of us should eat on a regular basis for obvious reasons and I became slightly concerned that this would become my guilty pleasure; I could feel my arteries throbbing at the thought of it. On the other hand, if it's so amazing, why isn't it on menus everywhere alongside the cranachan? Only one way to find out.
I should mention that The Tinsmith does not sell itself on this particular dessert and doesn't even shout about it, but it caught my eye and I was intrigued. I may have ventured in one day anyway, had I not seen the menu, but this was the calling card I needed.
The Tinsmith is part of the group of restaurants that includes The West House and D'Arcy Thompson, but what I like about them is that each place has entirely its own identity and style. The Tinsmith is an urban, industrial, no-frills place with bare wood, graffiti-style artwork and rustic tables. It is the type of look that comes into its own in the right lighting in the evening but bright, sunny daylight doesn't overly do it justice.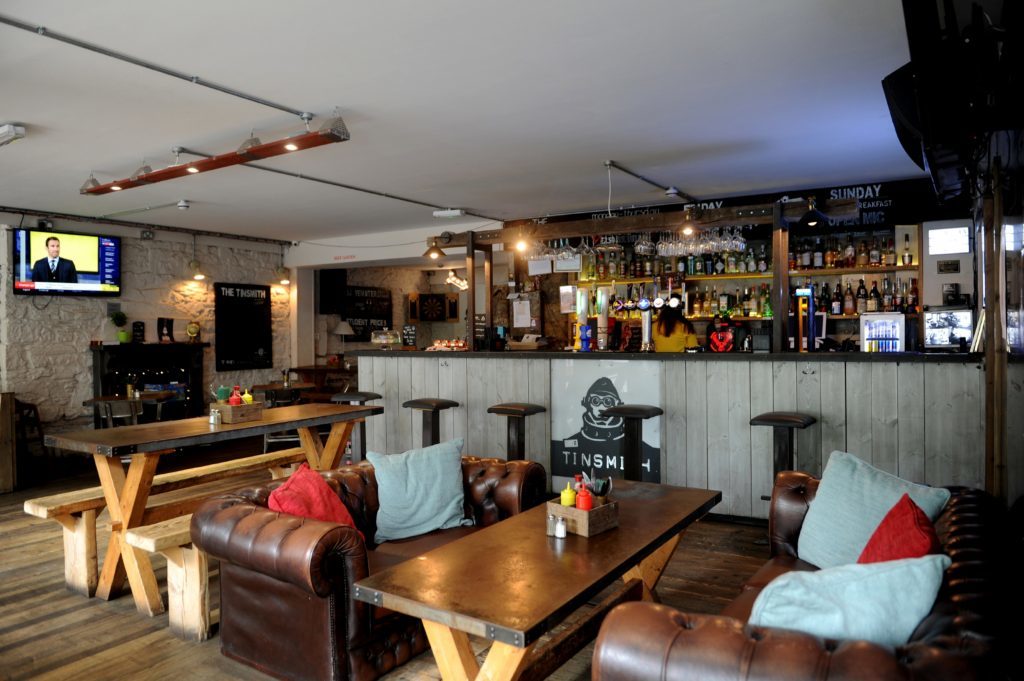 There were more than five tables already seated when we arrived one weekday lunchtime and they weren't, as I had expected, just the working crowd – there was a family and also a retired couple. The music was loud enough to make it feel busier than it was, making the atmosphere fine.
The menu is self-proclaimed pub grub and as such was made up of snacks, sandwiches, burgers and a few other more substantial dishes. Although a few things grabbed my attention such as the fish finger butty and the curry of the day, my attention kept returning to the pie menu – pick a pie, pick a side and pick a veg. What's not to like?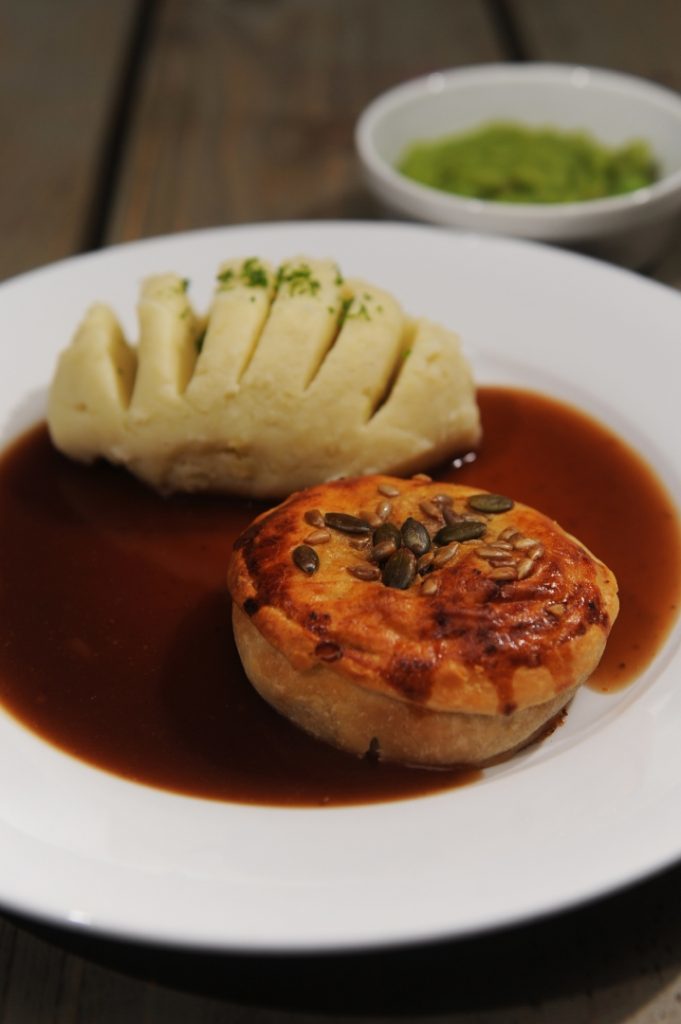 My individual, golden pie arrived neatly presented with a large quenelle of mash and a little dish of mushy peas. I had chosen the butternut squash and feta pie and it was really rather tasty. It was rustic, with lovely crisp pastry and a spicy filling. The fact that it came with a jug of gravy was a total added bonus and was quickly pooled into the mash although the pie was moist enough without it. The mash was OK, not particularly creamy as described, but lump-free and when smothered in gravy and mushy peas hit the spot nicely.
My friend opted for the burger. She did not choose the 'Half a kilo 'o' kow!'  but just the comparatively modest classic variety. The patty was fairly thin but the bun and accompaniments were fresh and the fries were good. It was not the best burger in the world but for £5.95 it was incredibly good value.
Now, I wasn't going to be the only one ordering dessert so soon enough the sticky toffee pudding arrived. It was hot and certainly sticky but rather heavy on the black treacle. And then we came to the main event, the reason we had come to The Tinsmith: the deep fried Mars Bar with Irn Bru ice cream.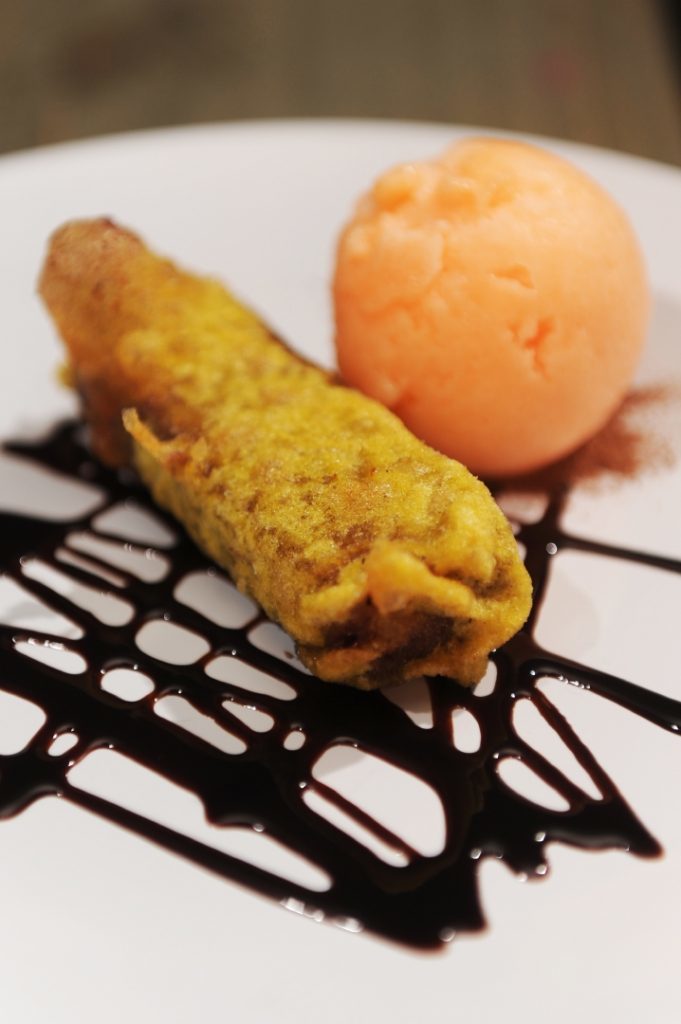 It looked like a battered sausage, as one would expect, but with a ball of ice cream. We were actually served vanilla ice cream instead of the advertised Irn Bru but secretly, I was rather pleased about that. The spoons delved in. The batter was crisp and gave way to the sticky, oozy chocolate bar which was warm and gooey. I would love to say that after just one mouthful, I was hooked and it was the most incredible thing I had ever tasted, but it just wasn't. The batter was savoury and tasted of chip fat and as much as I willed my tastebuds to enjoy the experience, I gave up after three mouthfuls. I am not necessarily saying that this was a bad deep fried Mars Bar; as far as I know, this could have been the best version ever created but it wasn't for me.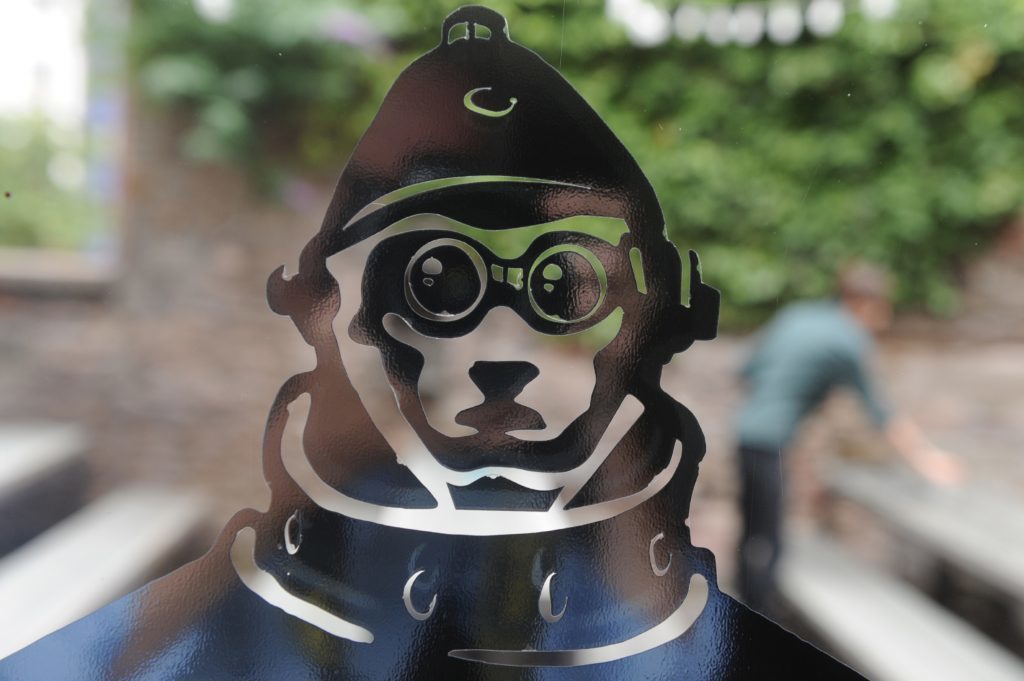 I went to The Tinsmith to tick a culinary experience off my list, but what I actually found was a decent pub serving decent grub. The food is available to take away; there is a kids' menu and even dogs are allowed in. The evenings offer live music and sport and I'm told this central venue gets incredibly busy then.
It's relaxed, casual and somewhere I would consider popping into again for a pie or lunchtime sarnie. I won't, however, be repeating the deep fried Mars Bar, but then I could always just have a cocktail instead.
Info
Price: Starters and light bites: £2.95 – £5.95; main courses: £5.25 – £14.95; desserts: £1.50 – £4.95
Value: 9/10
Menu:  7/10
Atmosphere: 7/10
Service: 6/10
Food: 7/10
Total: 36/50
Info: The Tinsmith
Address: 11 – 13 Old Hawkbill, Dundee, DD1 5EU
Tel: 01382 204198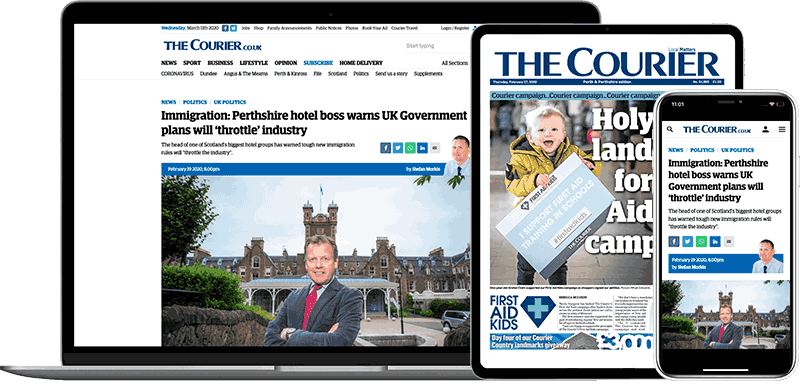 Help support quality local journalism … become a digital subscriber to The Courier
For as little as £5.99 a month you can access all of our content, including Premium articles.
Subscribe