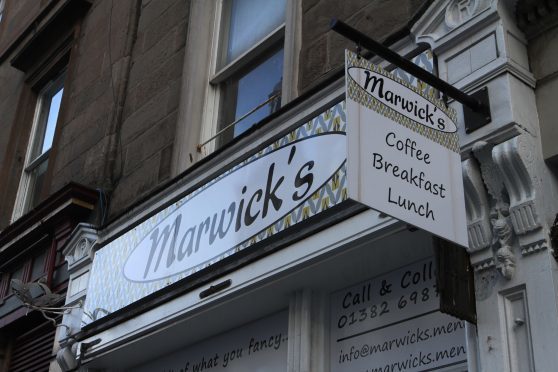 While perusing the end of the January sales in Dundee, a friend and I needed sustenance and we needed it badly. Bored with generic chain coffee shops and trying to stay relatively healthy, we headed to a newly revamped eatery on Union Street. We wanted something different, something to make us feel good, and I had high hopes for Marwick's. Oh, and did I mention it's vegan?
For some reason, vegan food has a bad reputation in some circles. It is true that bad vegan food can be terrible – I cannot stand a dry, claggy falafel and some of the "meat substitutes" are beyond awful.
But the same could be said for any food, especially a bad, chewy, tough, fatty steak. In actual fact, vegan is a term used to make customers aware of what is not in the food – no animal products of any kind – rather than what it contains. Aside from this, the food can be any cuisine, any nationality, any combination; the list of plant-based ingredients is limitless and exciting.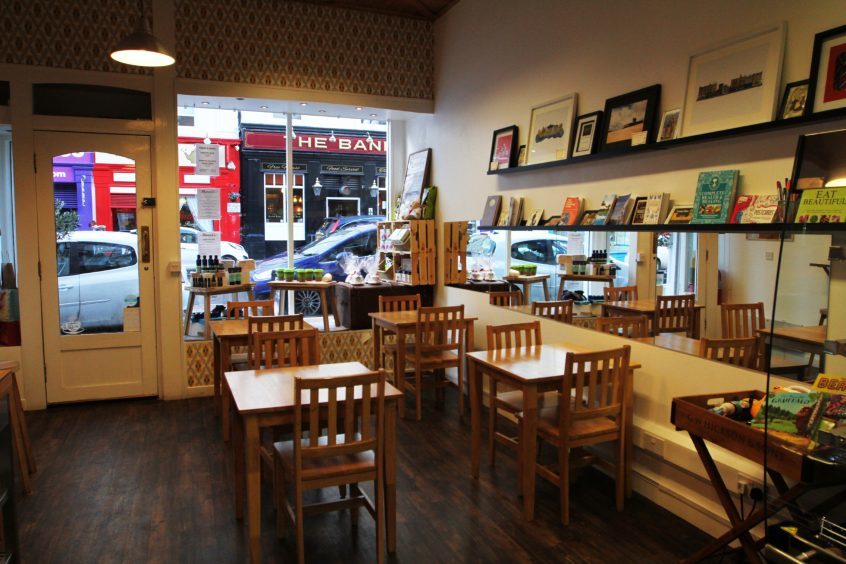 Marwick's has been trading as a "regular" cafe that offers vegan options for a while but, following a trial period, has recently relaunched as totally vegan. What I really like about the branding is that it doesn't shout about its new genre of food. Apart from a couple of leaflets dotted around, there is nothing obviously advertising that it is solely vegan, and nor should there need to be.
My friend and I perched on stools at a bench – there are only a few tables inside the cafe as most of the trade is takeaway. The decor is bright and inviting with Neal's Yard products on display and for sale, vibrant retro wallpaper and an open kitchen behind the counter offering the wares of the day. We were greeted by chance by owner Michael Marwick whom I recognised from his photo in The Courier.  He was beaming and jolly and a great, relaxed host.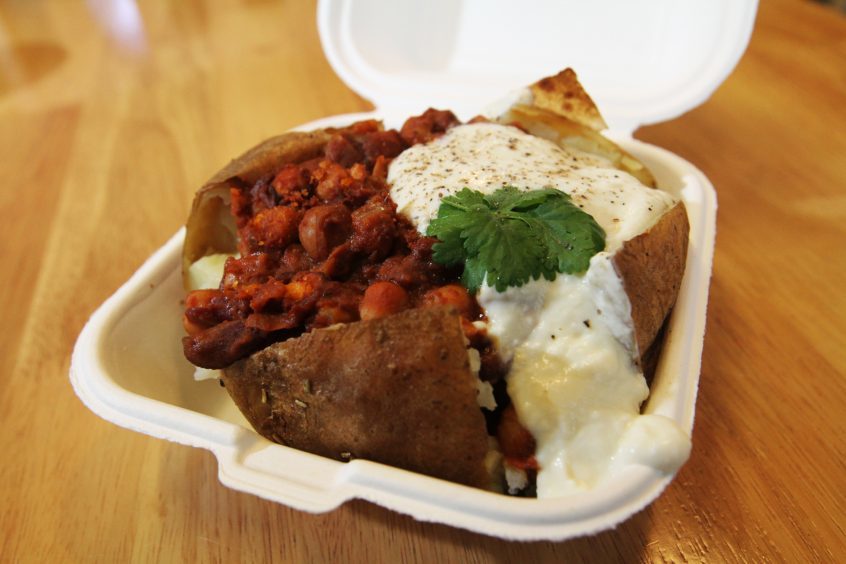 I was so, so pleasantly surprised when I read the menu at the counter. I wanted it all.   The jacket potato fillings were unusual and exotic, but not omitting my favourite of baked beans, and the paninis and baguettes all sounded divine. I had decided that I would be having a few weeks off the carbs but that mantra went out the window immediately.
I opted for a bagel with a side of soup. My pickle bagel grill was made up of braised red cabbage with a lovely smoky spice, slices of crunchy, tart yet sweet picked gherkin, port-infused onion marmalade and hummus to provide a lovely creaminess at the end. The seeded bagel was piping hot and had been really well squished and toasted which gave the bread itself caramelised edges and a crisp shell. I inhaled the whole thing and can't wait to have more of that fabulous combination.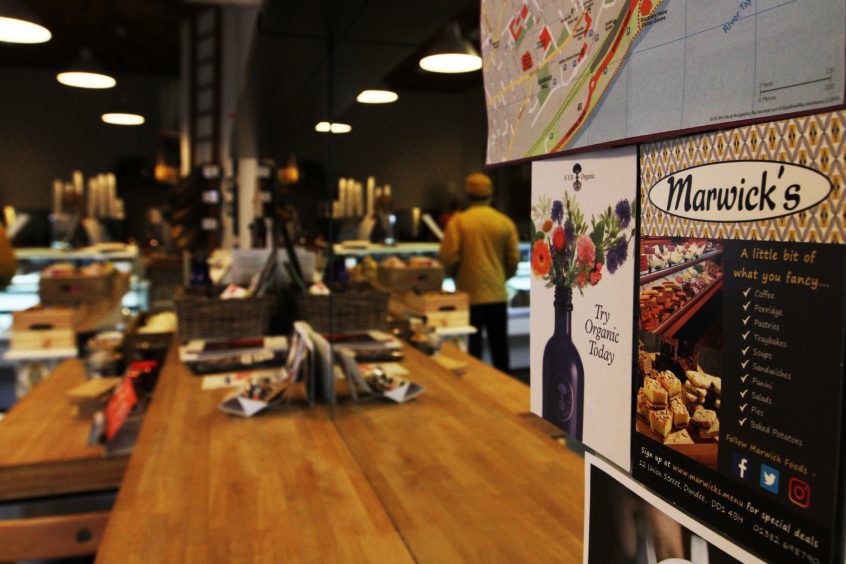 My little pot of soup was  vegetable and barley broth – not weak and watery but thick and packed with diced vegetables and grains, a real winter warmer.
My friend had a baked potato with the elaborately named chocochilli chickpea filling. The spud itself had been rolled in herbs giving it extra flavour and the inner concoction was rich and smoky. The chocolate could definitely be detected and the dairy-free lime yogurt was a necessary addition to cool down the chilli. This was another winner, so moreish and packed with flavour. Her accompanying soup was the sweet potato and cumin which also had a kick but was, as expected, thick and sweet and delicious.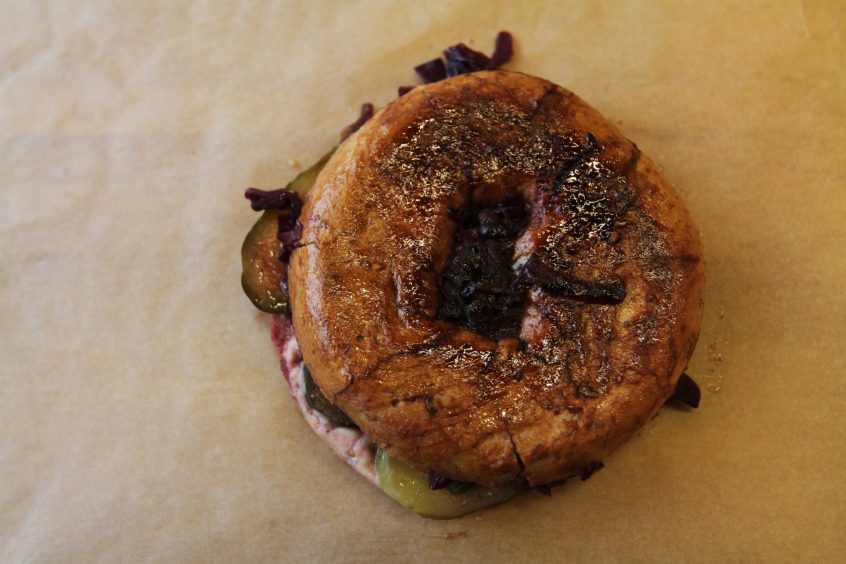 To prepare ourselves to hit the shops once more, we had to sample the tiffin and wow am I glad we did. If I didn't know better, I would say that it had been packed with butter but of course it hadn't. We guessed at coconut oil as the creamy rich substance that, added to the chocolate and biscuit, made one hell of a decadent slice.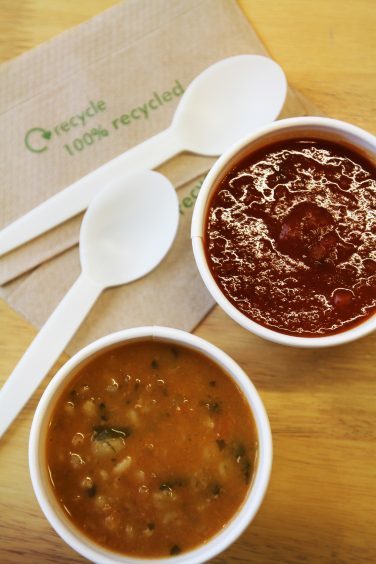 I thoroughly enjoyed Marwick's as a lunch spot. Real care is taken over every aspect of the business. Jams, spreads and sweeteners are on offer as well as magazines and leaflets detailing local events. The ingredients used are top quality and such thought and inspiration have been put into the flavour combinations. The food is wholesome, healthy and very filling.
Often the new, healthy or different foods come with a jacked-up price tag but not at Marwick's. With most dishes under a fiver, this is feel-good food that won't break the leatherette wallet.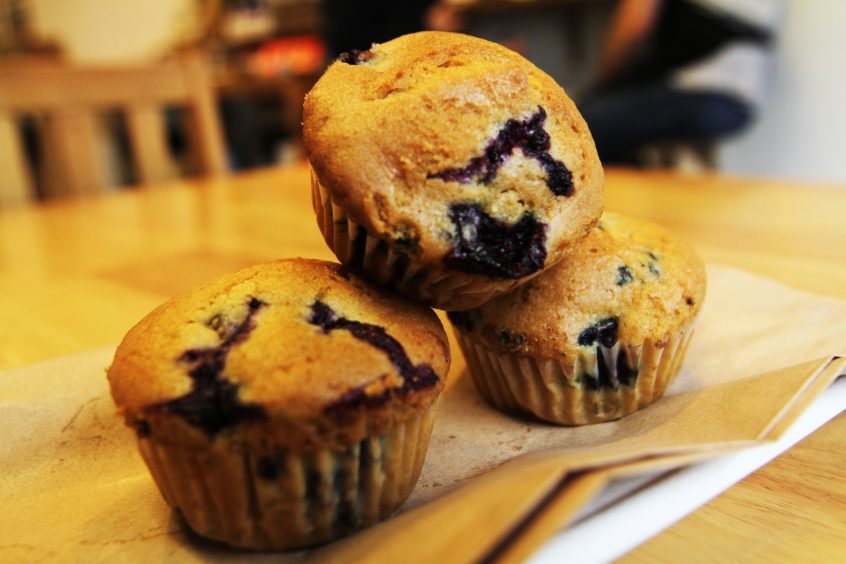 I now understand why Marwick's doesn't have huge signs everywhere letting people know that everything on offer is vegan. It doesn't need to. Those who are particularly interested in that side of the business will hear soon enough through the grapevine and for everyone else, it really doesn't matter. This is a lovely little cafe offering friendly service and really great food. It just so happens that there isn't any meat in it but I defy anyone to go in and not find something to tickle their tastebuds.
Info
Price: Breakfast and lunch items: £3.25 – £6.95
Value: 9/10
Menu:  8/10
Atmosphere: 7/10
Service: 8/10
Food: 9/10
Total: 41/50
Info: Marwick's
Address: 12 Union Street, Dundee, DD1 4BH
Tel: 01382 698790
Web: www.facebook.com/marwickfoods