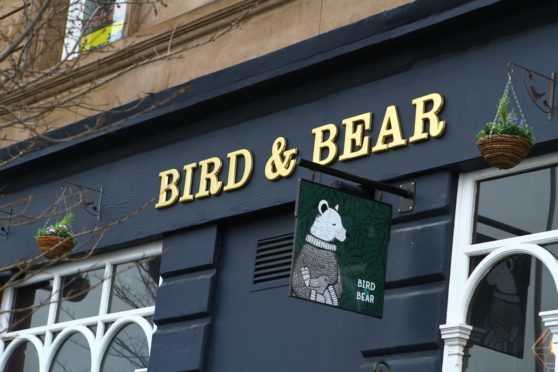 The eating establishment at number 2 Whitehall Crescent has changed multiple times over the last few years – The Tasting Rooms, True Pizza then True Kitchen. So I waited a while before venturing into The Bird and Bear, just in case it was gone again before The Courier went to print.
The mak-over that has taken place is really quite stunning.  The bar is something to marvel at with its hammered copper and dark velvet tones as well as its extensive liquor collection required for making their now well-known cocktails. Wherever you look, there is something new to see – from bird cages to funky pendant lights it felt cool, modern and trendy yet with a nod to the glitzy glamour of the 1920s.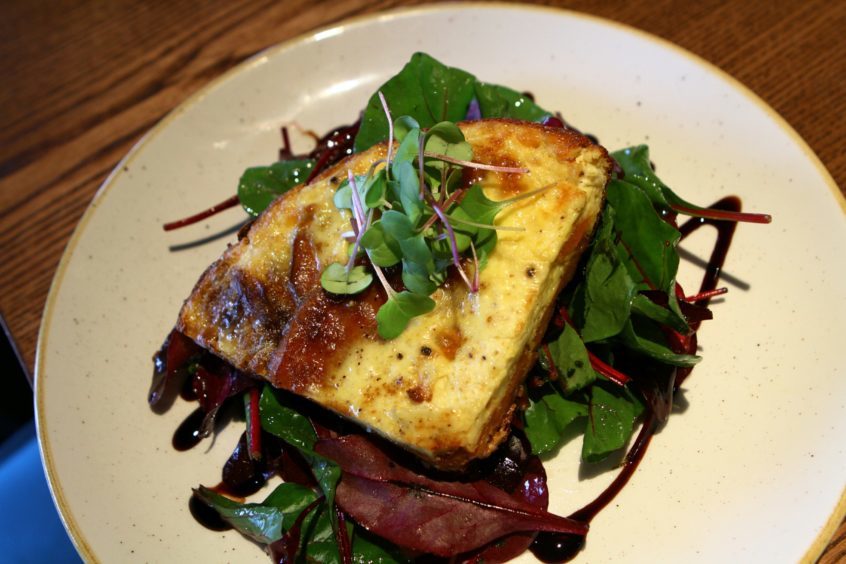 We chose to sit upstairs which, in hindsight, was a mistake as it was a lot quieter and the action was all taking place on the ground floor. Still, the booth we had was comfy and quiet and perfect for a lazy lunch. After work, a table on the balcony would be ideal not only for fabulous people-watching sessions but to have a great view of the fancy cocktails being flaired.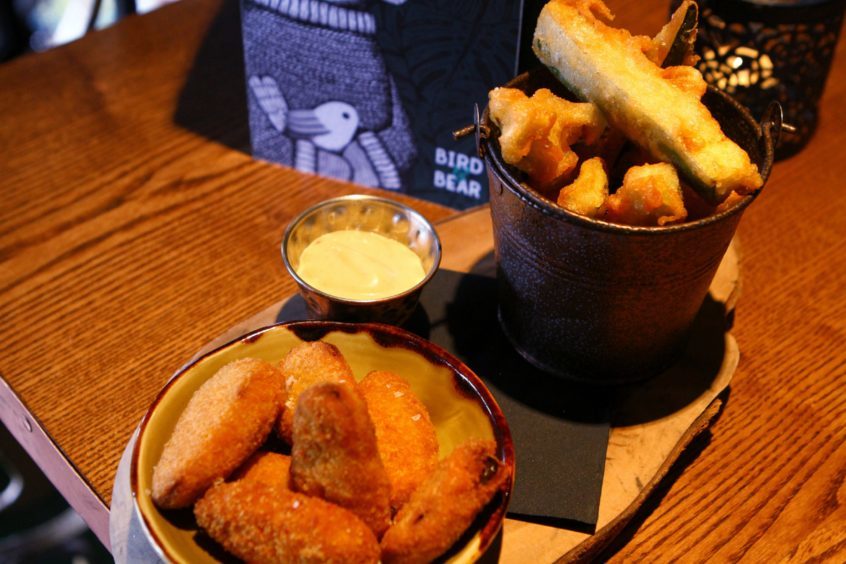 There was no sneer at bringing in a toddler or asking for a high chair at lunchtime. Our waiter, who we discovered had his own little bundle of sleepless nights at home, chatted with my daughter as much as he did with us and made us all feel relaxed and as welcome to be there as a hot hipster couple.
We were soon presented with menus and some tap water for the table. Was it served in a generic jug with nothing special to note about it? It certainly was not. A carafe of chilled water arrived spiked with orange slices and blueberries. It's the little touches like this that people remember and bringing tap water as standard is very classy in my view. Another big tick for The Bird and Bear.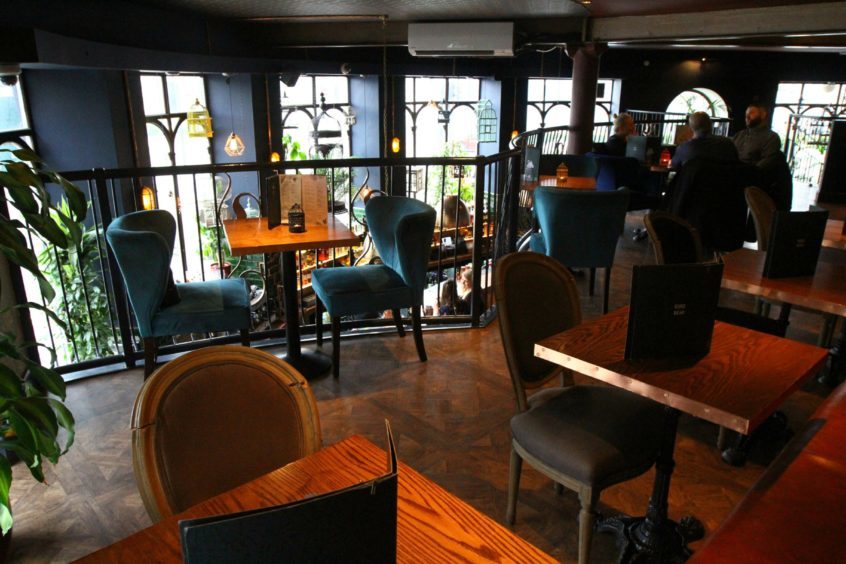 There were three menus which we could choose from on our weekday lunchtime jaunt – brunch, lunch and small bites. The vibe is certainly not fine dining or trying to be fancy, but  wholesome, inclusive food, the majority of which would be great for soaking up a little of the alcohol from the enticing cocktails.
I loved the menus. They were interesting and different and varied. We could have chosen anything from coconut and quinoa pancakes or a Thai chicken salad to a proper hot dog (veggie option available) complete with crispy onions.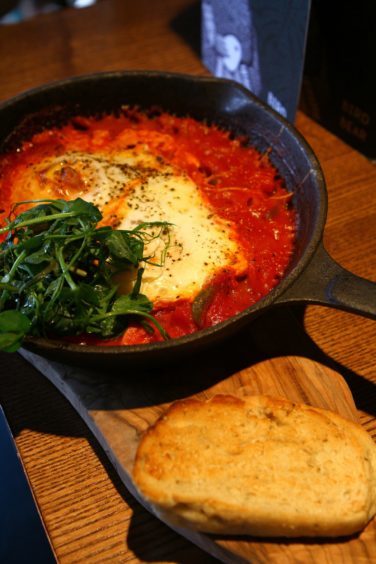 I chose baked pimenton eggs from the brunch menu as it was early, I hadn't had breakfast and I thought I would be semi-healthy.  A hot, incredibly heavy skillet arrived on a board filled with a smokey, spicy, tomato sauce  studded with large chunks of soft onion. Nestled in amongst the sauce were two bright and sunny baked eggs, cooked to perfection as the yolk oozed out when poked with the toasted and incredibly crunchy sourdough. The bread was definitely needed as without it, the texture would have been very samey but I really enjoyed my little healthy brunch dish.
I ruined my virtuousness by also ordering house fried pickles and courgette matchsticks but ah well, the diet starts tomorrow. The sliced pickled gherkins had been coated and deep fried until crisp and were exactly as I had hoped they would be. During the heating process, they hadn't lost that sweet and sour bite and they were rather moreish.
The courgettes should have been named match boxes rather than matchsticks as they were huge chunks of battered and deep fried vegetable. This was actually nice as once we broke through the coating, the courgette could not only be seen, but tasted and still held its shape and bite. With both the sides, we felt we had overdosed on the batter but on a Sunday morning with a hazy head, these may be a welcome addition.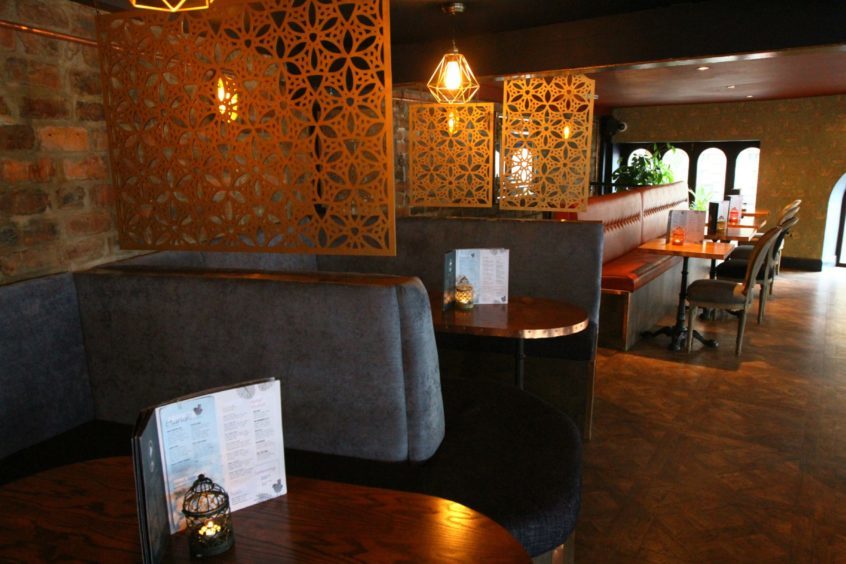 My friend opted for the tart of the day which prides itself on always being vegetarian.  The offering on our chosen lunchtime was a sweet potato and feta frittata. It was well cooked and non-rubbery and the feta gave lovely sharp, salty tones when combined with the mellow sweetness of the potato. My friend's healthy option was also spoiled by the fact she ordered skinny fries to go with it but they were pretty good as well.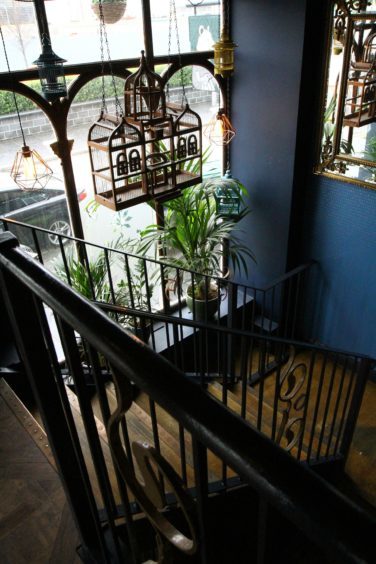 I feel as though I have mentioned cockails a lot and this is because creations such as the House Beary Mary – a take on the bloody version complete with crispy bacon, sat alongside the food options on the brunch menu drawing me in.  Next to the lunch items came "Hard Shakes" – creamy ice cream inventions with a naughty adult twist. Salted caramel vodka anyone? Alas, we stuck to our diet sodas but even reading the options was a nice way to spend time.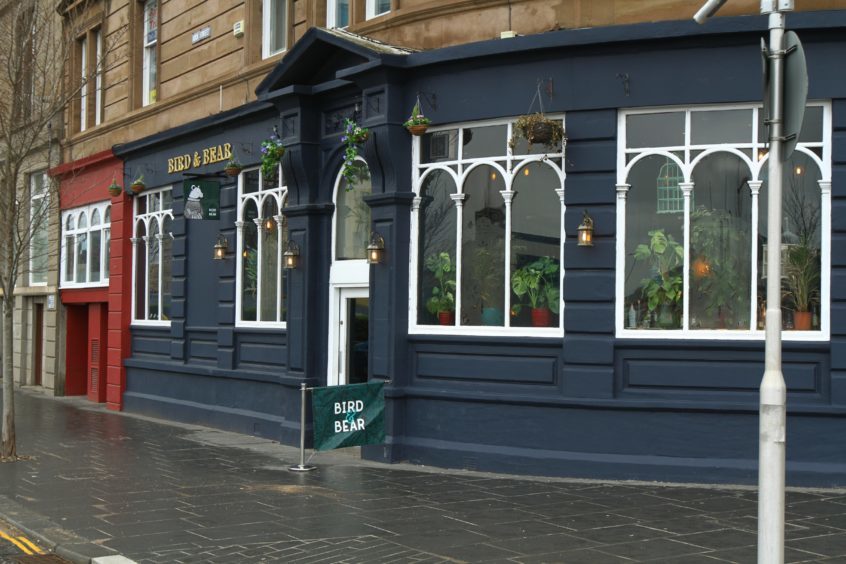 The Bird and Bear was a long list of quirky and welcomed surprises from the decor and menu to the service with personality and modest food bill. This would be a fabulous place to meet for drink after work and their weekend brunch is apparently becoming quite the event with hip-hop music blending in with the trendy vibe. I cannot wait to go back, child-free, for a glitzy cocktail and to feel part of the understated glamour of The Bird and Bear once more.
Info
Price: Brunch items : £7 – £8.50;  lunch: £4.50 – £7.50; small plates and burgers: £2.95 – £9.95
Value: 8/10
Menu:  9/10
Atmosphere: 9/10
Service: 8/10
Food: 8/10
Total: 42/50
Info: The Bird & Bear
Address: 2 Whitehall Crescent, Dundee
Tel: 01382 791841
Web: www.facebook.com/Bird-Bear-125624684695357/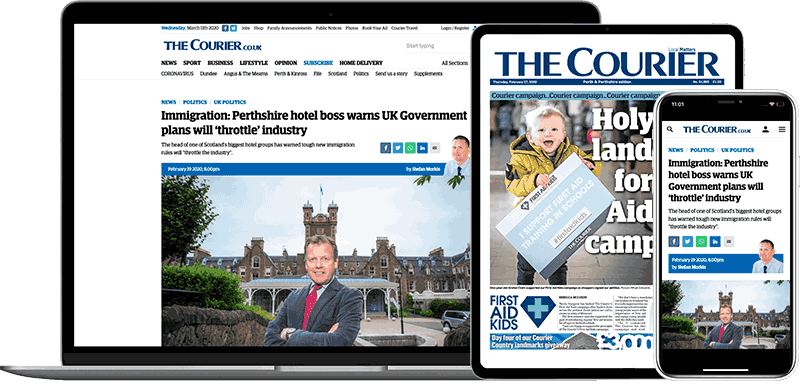 Help support quality local journalism … become a digital subscriber to The Courier
For as little as £5.99 a month you can access all of our content, including Premium articles.
Subscribe