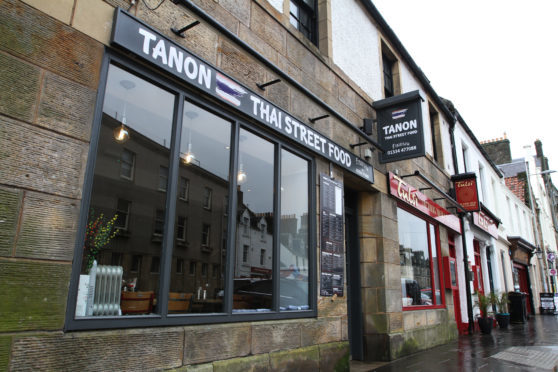 The concept of "street food" is becoming more and more trendy and earning its own place in culinary respectability.  Its becoming a stamp of authenticity for a cuisine and conjures up thoughts of colourful market stalls in hot climates, serving barbecued meats and fresh juices to passers by. Can it really taste the same though, taken out of its setting and served inside a little terraced restaurant in St Andrews?
When I think of British street food, I try to forget about the greasy burger van and instead close my eyes and can smell the aroma of roasting chestnuts on a busy wintery street.  I was lucky enough to travel around South America when I was younger and partly due to budget restrictions, but mainly because I was adventurous, all I really ate was food from road-side stalls and markets.  Barbecued corn on the cob with a halloumi-like cheese squeaking through the kernels were a real highlight, cow head tacos not so much.  I haven't ever eaten street food in Thailand but I can only imagine the colours and fragrances billowing from the stalls.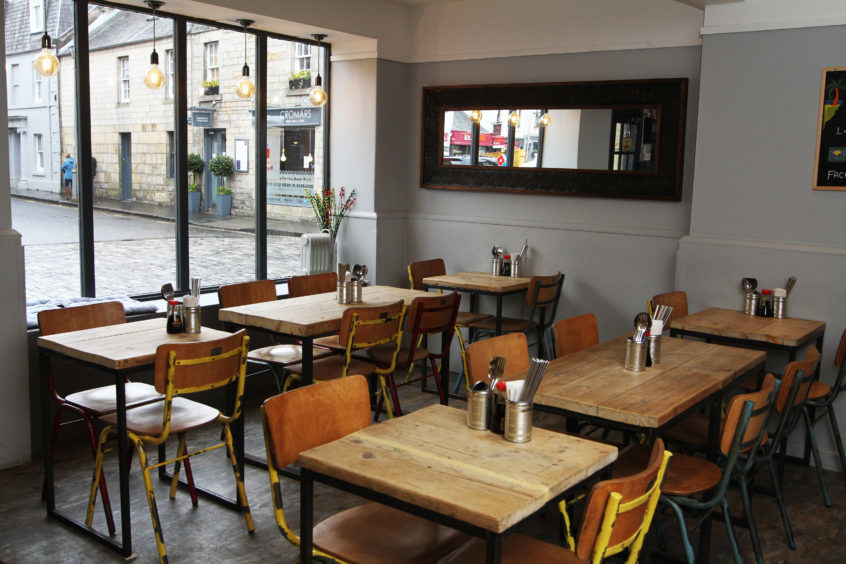 Tanon in St Andrews is a street food kitchen and so we simply had to go for a taste of the exotic on a cold March evening.
The dining room is small, with only eight tables filling the shop-front but the neat rows of stripped-wood furniture against a bare wood planked wall look modern, characterful and welcoming.  There are kitsch adverts adorning the walls from Thai Coca-Cola to glamorous ladies advertising tyres.  Cutlery is provided in stripped tin cans rather than laid out in place settings, and food is served on enamel plates.  All of this gives Tanon a casual vibe, everything is spotlessly clean and well placed but relaxed and informal – the perfect place, I suppose, for everyone from university students and their visiting parents to couples looking for something a little bit different on date night.
The menu is large, with something for everyone.  There are the familiar favourites of chicken satay and Thai green curry but on this occasion, we skimmed over everything we had seen before and dared to be different.  OK so Mr Kerry didn't stretch himself too far with his starter of haggis spring rolls but still, he hadn't had them before.  They were as he had hoped they would be – crunchy and delicate with a comforting meaty flavour.  He also ordered the fried squid as a second starter as he couldn't decide, and this was tender and soft, the coating having pea-sized lumps of very chunky breadcrumb giving the dish a lovely extra crunch.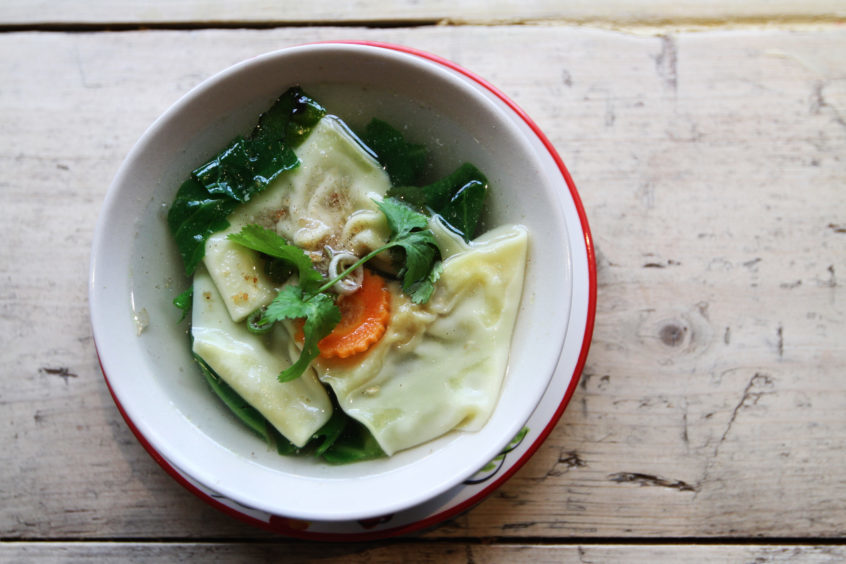 I chose dumpling soup as my first course,which came in a small steaming bowl.  It looked simple and clean and inviting.  The clear broth was light and delicate but the heat of the white pepper packed a fantastic delayed punch; the leaves of dark spring greens shredded into the soup provided a lovely bitter bite.  The dumplings looked a little like dainty tortellini shells with almost paper-thin dough surrounding  generous balls of elegantly seasoned minced prawn and chicken.  I was absolutely delighted with my starter and could totally picture it being ladled out to hungry locals on a Thai street.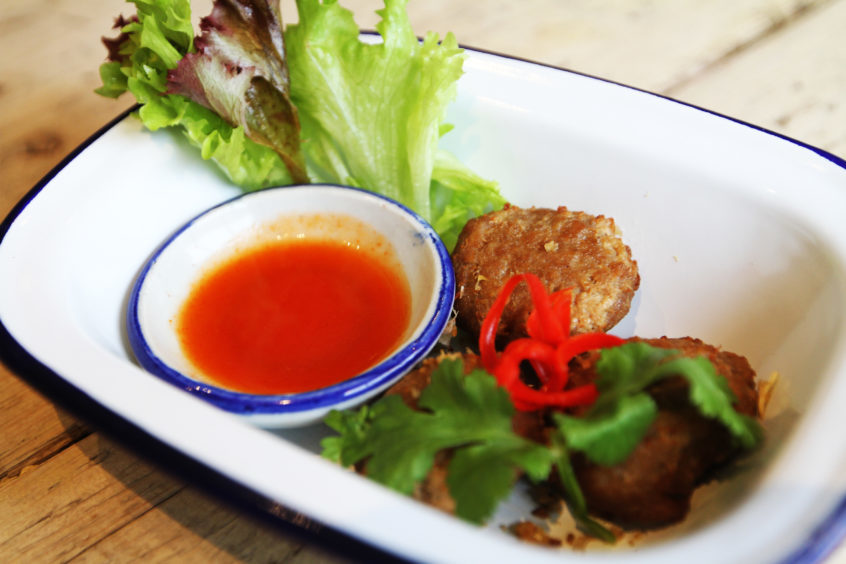 I next chose Roasted Duck Chu Chee, mainly because the description was rather vague. My little enamel plate arrived with a duck breast, marinaded, roasted and smothered in a curry sauce.  The duck was tender and perfectly cooked, although I really don't like the fatty skin unless it is crispy so discarded that bit.  The sauce had a deep, rich slightly fruity flavour and complimented the duck fabulously.  There was broccoli and red pepper to add bit of texture and overall I was absolutely thrilled with my choice.
I had also chosen the Som Tum salad as a side dish which was a really crunchy dish of shredded carrots and swede that had been dressed in a citrusy chilli dressing and topped with crushed peanuts.  It was not gloopy or heavy but deliciously fresh.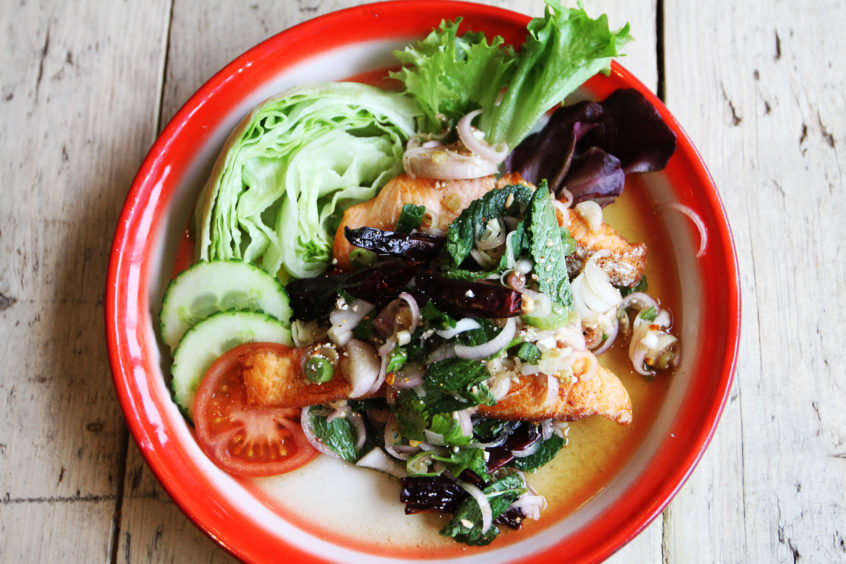 Mr Kerry's main course was the Plah Salmon salad.  The salmon had been fried and the natural oils glistened on the crispy fish.  The dressing was again very light due to the fresh mint and lime leaves used.  When we had first ordered, we were convinced we would be presented with far too much food, but actually the portions are modest and so there is space to try a variety of dishes.
Mr Kerry had also ordered the sweet and sour pickled vegetables, which was rather like a Thai coleslaw and was utterly delicious in it's crunchy tanginess.
The menu at Tanon is varied and composed of ramen soup dishes and stir fried noodles,  curries and bento boxes.  There are some trusty favourites and dishes that don't usually appear on menus here.   The mantra seems to be simple, fresh, expertly cooked food served in a casual dining atmosphere.  As there aren't many tables, it is a dining room on the quieter end of the spectrum and so perfect for a cosy night with a friend or loved one.  I'm sure many of the dishes are indeed served on the streets of Thailand but until I am lucky enough to go, I will be very happy to settle in to a cute dining room in St Andrews to keep working my way through the menu.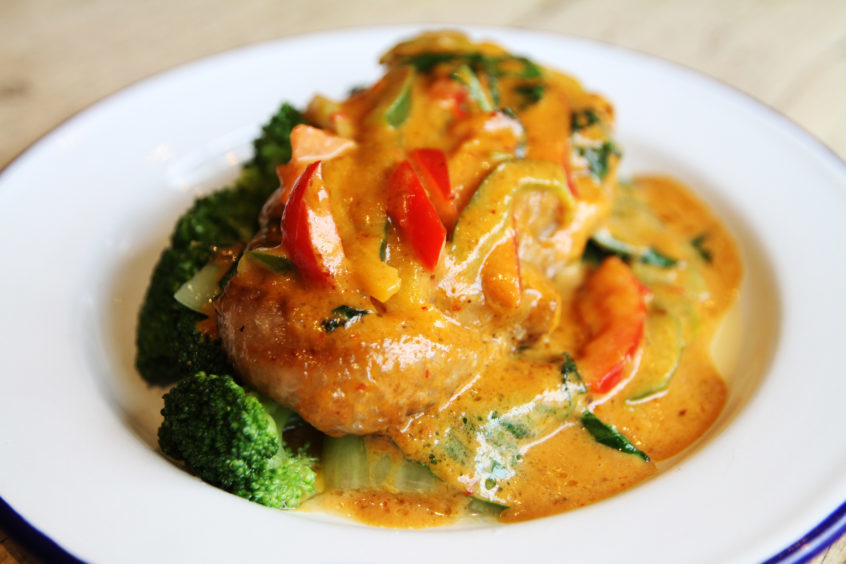 Info
Price: Starters: £3.00 – £6.50; main courses: £7.95 – £13.95
Value: 8/10
Menu:  9/10
Atmosphere: 8/10
Service: 8/10
Food: 9/10
Total: 42/50
Info: Tanon
Address: 56 – 58 Market Street, St Andrews, KY16 9NT
Tel: 01334 477088
Web: www.facebook.com/tanonthai/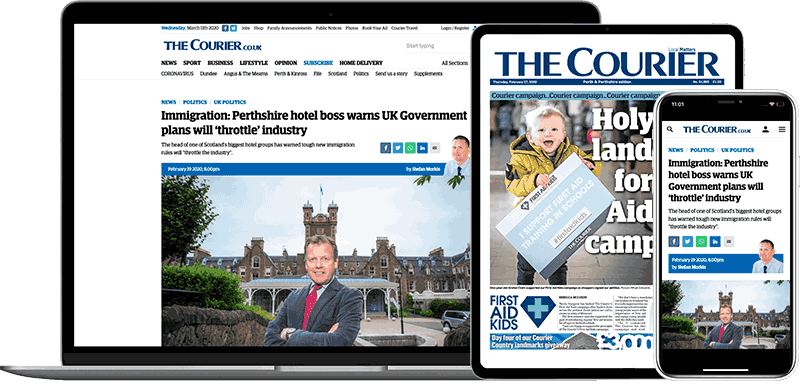 Help support quality local journalism … become a digital subscriber to The Courier
For as little as £5.99 a month you can access all of our content, including Premium articles.
Subscribe