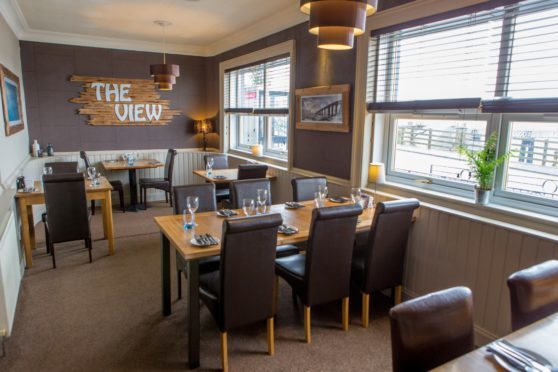 To be in the food industry means long, unsociable hours, not a lot of time off and having to deal with the pesky general public.  It seems such a romantic ideal to run a pub or restaurant with one's partner as then time at work is also time together.  Could I work with Mr Kerry as well as live with him?  Absolutely not; but for some couples it is the perfect set up.
It seems to be working well for husband and wife team Steve and Karen Robertson as their restaurant, The View in Wormit, is still going strong since they moved back to Fife after running The Glasshouse in Speyside. It is a little off the beaten track and not a place many people will stumble across so it is a good job they have built up such a good reputation and loyal customer base over the years.
Nestled up on the bank of the river in Fife, customers can sit by the picture windows and drink in the remarkable, ever-changing view across the Tay towards the railway bridge. Sunsets, stormy skies, glistening water and sailing boats; every hour is different and so even regular customers are presented with a different vista at each visit.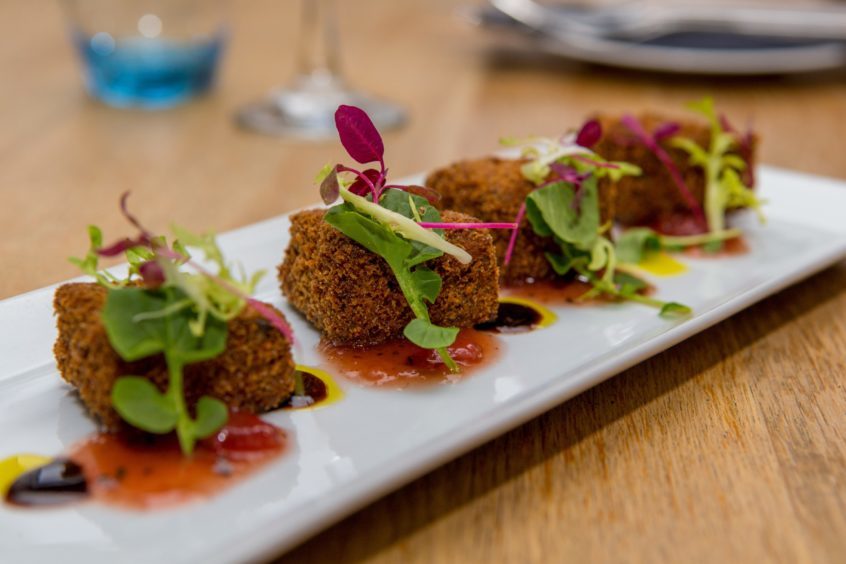 We were seated in a booth next to the tartan version of The Bucket Trail's Oor Wullie and enjoyed a drink as we perused the lunch menu. We were eating on a Sunday lunchtime and so the main lunch menu was on offer as well as the open sandwich selections. The main menu also made it clear that separate cards were available with gluten free and vegetarian options. One of each course was already offered as veggie but it was nice to see that this could be expanded upon on request.
I chose the hot smoked salmon flan as my starter which was warm and delicously wobbly in appearance as the decadently creamy egg custard filling was just set and ready to be crushed with a fork. The pastry was crumbly and the fish had a really smoky but not too salty flavour. Although attractively served, the starter was rustic, home-made and delicious.
Mr Kerry chose the haggis fritters as his opener which had a crispy coating and a sweet redcurrant and thyme sauce to balance the intense savoury flavours of the haggis. These were a firm favourite with my man and I can imagine regular customers returning to them time and again.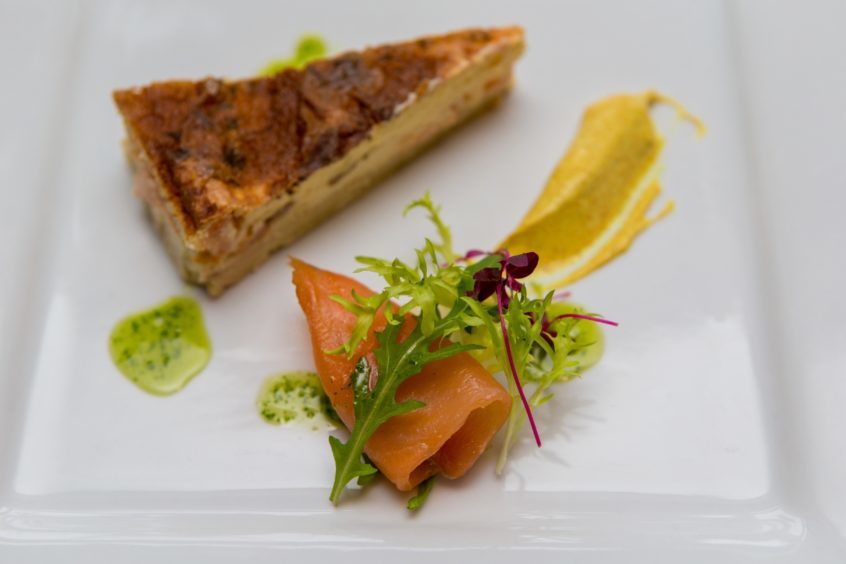 I rarely choose chicken breast as a main course as it can be rather dull but the description of the peppercorn jus on this menu drew me in on this occasion. I was really pleased with my choice as the gravy was a delicious alternative to a heavy, creamy peppercorn sauce and was much lighter, spiked with the little green jewels. Rich creaminess was not absent however, as the plump, moist, crispy-skinned chicken was served with a wonderfully soft, garlic infused dauphinoise. Sticky roasted carrots and crunchy courgette fritters completed an all round winning dish.
The blade of beef goulash was Mr Kerry's main course which just melted away with only the lightest touch of the cutlery. The paprika-infused juices complemented the beef well and celeriac provided a nice change from more traditional mashed potato or rice to accompany the stew.
I use the word "rustic" with care as although the food was uncomplicated, generously portioned and in the style of home cooking, it was also prepared with talent and presented with care. The dauphinoise was perfectly in its place, the carrots were uniformed shapes and the mash had been moulded before serving. The plates were a clean white and each little detail took it a step further than rustic.
Although we were full to the point of bursting and ordering dessert would have been wasteful as it would have been left uneaten, we did take a long time looking at the ice cream menu. The list included seven flavours of ice cream and six sorbets all home made. My tastebuds were longing to try either the cinnamon or cardamom versions and our waitress informed us that the Prosecco sorbet really does taste of the good stuff. What a treat to have the choice of so many imaginative flavours to finish off a meal, and all this in addition to some pretty tempting desserts.
I did find the fact that the radio was playing slightly distracting as my attention was often drawn to the DJ's chat rather than Mr Kerry's but it was a minor issue and one that didn't really detract from the otherwise relaxed and calm atmosphere with the incredible Tay as the backdrop.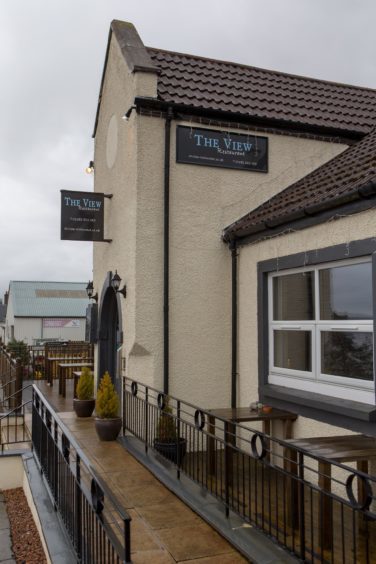 The ethos at The View is simple, uncomplicated food sourced locally and this is evident right the way through the dining experience. Cards are left on each table informing customers of their suppliers which is a lovely touch, and the staff clearly care about the service they are providing, being both knowledgeable about their offerings and taking time to engage with each table. Despite changes in menu over the years – for a spell it offered small Scottish tapas-style plates instead of main courses – The View has stood the test of time and owners Steve and Karen have clearly found the winning formula. It is a lovely, reliable place to spend time and I'll be back for that cinnamon ice cream soon.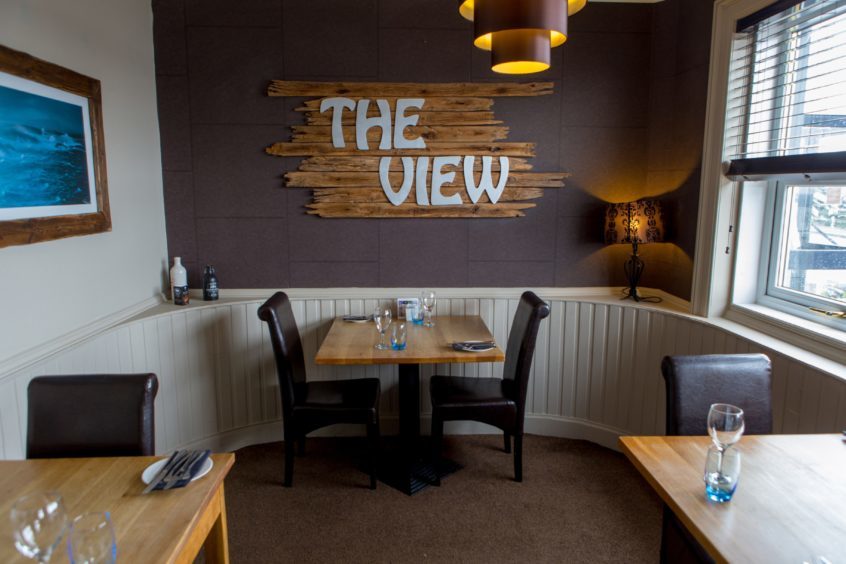 Info
Price: Open sandwiches: £8 – £10;  main menu – main courses £15, 2 courses £22, 3 courses £27
Value: 8/10
Menu:  8/10
Atmosphere: 7/10
Service: 8/10
Food: 9/10
Total: 40/50
Info: The View
Address: Naughton Road, Wormit, Newport on Tay, Fife, DD6 8NE
Tel: 01382 542287
Web: www.view-restaurant.co.uk