A small pub on the High Street of Arbroath is not the first place I would look for a little slice of Greece. Yet there is was – beyond the facade of The Fisherman's Inn was a little room which held so many secrets and surprises, it left me lost for words. Well, almost.
The facade of Andreou's is standard high street boozer with not a lot of character and not particularly welcoming. If I had walked past this place without having heard about it, I very much doubt I would have ventured inside.
Once we crossed the threshold however, we were greeted with warmth, a beaming smile and the inescapable aromas of a hot grill. The music was Greek interspersed with nice calm contemporary stuff and overall, the atmosphere was charming.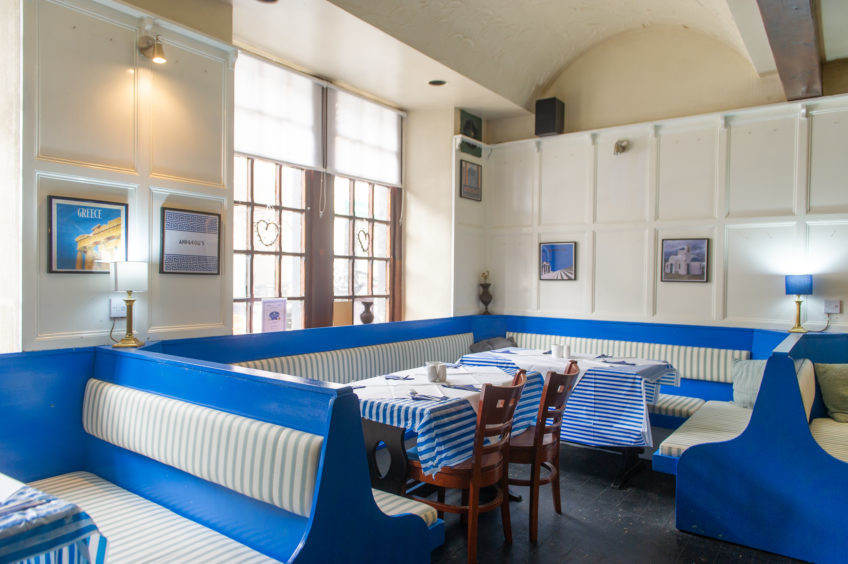 On closer inspection, the blue and white striped tablecloths were disposable. I am not raising this as a food snob as most of the fabulous restaurants in Europe use the paper overlays but these were throwaway non-recyclable plastic, which seems a shame, although they did add a pop of colour to the room.
Mr Kerry started proceedings with a large Mythos beer which we haven't had since we holidayed in Greece and he instantly remembered how much he liked it. It's lovely to have complementing drinks as we felt like we could have the full-on Greek experience.
The chef is of Greek and Cypriot heritage and since moving from cheffing in Carnoustie, has ventured out alone cooking the food he grew up with, secret family recipes included. Andreou's opened in January this year and it feels like they have really found their feet and worked out what their customers want.
The menu is simple and rustic and, with the addition of weekly specials, is a good all-rounder. All too often, chefs try to make menus too large with too much choice. In this case, there are many variations of the specialities of the house and it works. There are gluten free, vegetarian and vegan options available with ingredients such as halloumi, beetroot and falafel as well as different meats and fish.
We shared some calamari to start and were presented with the thickest rings of squid I have ever seen. This was fairly risky because if there had been even a hint of chewiness, these would have been inedible. However, they sliced through like butter and the coating was nicely pale, light and crispy.
After having seen a plate being delivered to another table, I ordered the chicken souvlaki. I was so pleased I did. The two heavily marinaded skewers were served on top of a lovely thin, folded pitta so that the flavours from the kebabs could soak slightly into the bread without a hint of grease. The meat was tender and juicy and the peppers and onions soft and turning deliciously charred around the edges.
The accompanying tzatziki was thick in texture, yet fresh and light in flavour, and a heavenly addition to the dish. Even the small salad garnish had flavours of the Mediterranean – maybe it was the olive oil or a dash of oregano, or maybe I was just feeling the holiday vibe.
There had been a choice of seasoning for the hand-cut chips and I went for salt and pepper. These crispy, skin-on rustic and very home made delights came served in a basket which I loved. They were crunchy around the edges, soft in the middle and tasted like the chips my stepdad would slave over on special occasions at home. Really, really good.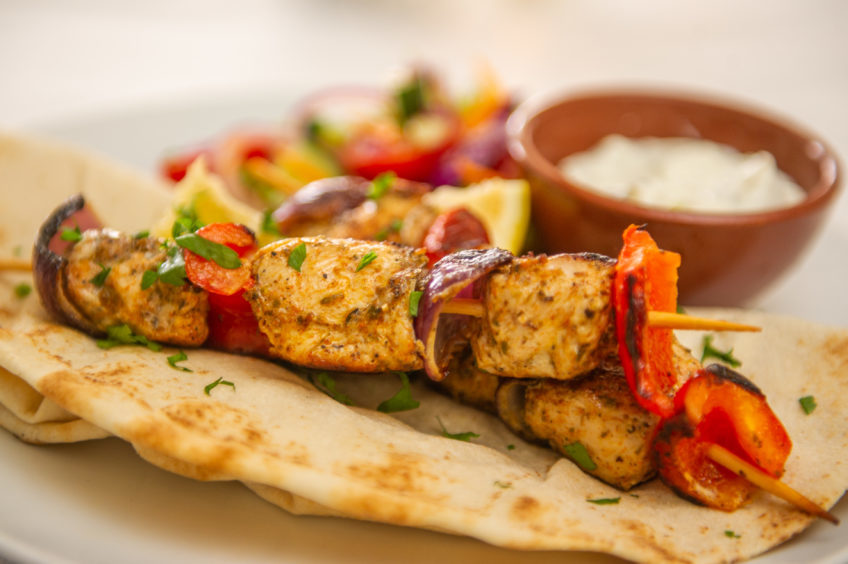 Mr Kerry went for the special of the week – the whole baked sea bass with Greek roasted potatoes. The fish that arrived was a good, fat, beefy size with bright white flesh. The cooking had been timed to perfection as it retained its meatiness but fell away from the bone with ease. The lemon and thyme stuffed inside added a lovely earthy yet fresh flavour while the generous pile of potatoes took on a sweetness that partnered it fabulously.
This dish was £12 and I can't think of anywhere else such a large, fresh, whole fish would be served for even close to that value. And where better to serve it than amongst the fishing boats and quality mongers of Arbroath.
The main courses had beaten us and we couldn't possibly have squeezed in much dessert. But we couldn't leave without trying some of the homemade baklava, made with a secret family recipe. I love this oozy, sticky, nutty treat and the flavours of this version tasted like Christmas with spikes of cloves and lots of cinnamon. The pastry wasn't as flaky or as nut-spiked as I have had before but the soft, dark filling was certainly incredibly addictive.
Andreou's takes time on social media to ask their customers what they would like to see on the menu and they clearly listen. The atmosphere is rustic and relaxed, the service is charming, energetic and warm and the food is simple, good quality and expertly cooked. Both lunchtimes and evenings get really busy so booking a table is definitely recommended.
What a fabulous position to be in for a brave chef taking a risk and cooking what he loves.
Info
Price: Starters: £4 – £5; Main courses: £9.50 – £12
Value: 9/10
Menu:  8/10
Atmosphere: 7/10
Service: 9/10
Food: 9/10
Total: 42/50
Info: Andreou's
Address: 57 High Street, Arbroath, DD11 1AN
Tel: 01241 230240
Web:  www.facebook.com/andreousbistro/