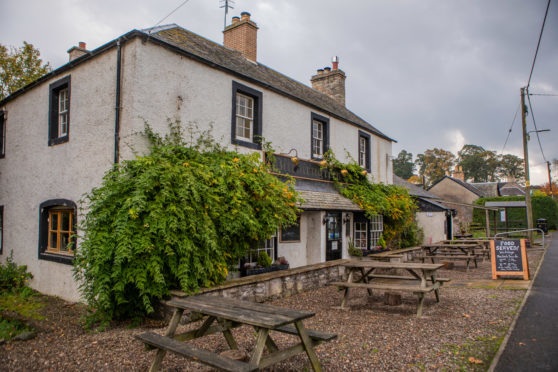 My little family were out and about in Perthshire and looking for somewhere to grab Sunday lunch.  We didn't want anything fancy, just some winter warmers on a blustery day.  We had heard good things about The Pitcairngreen Inn and so called to book a table as we were on our way.
It's a good job we had called in advance as by the time we left the pub in the early afternoon, all of the other tables were occupied.
The website shows the quaint village inn in all its glory with lovely colourful flowers and foliage outside.  On a driech October day it obviously didn't look the same but was still very traditional and pretty.  We walked into the bar and at this point, I admit that my heart did sink a bit.  As we were the first customers to arrive, the room was quiet and bright and not the quaint room I had been hoping for.  It's amazing though how, once a few people filtered in, the atmosphere changed to cosy very quickly.
The bar was well stocked and the addition of nice lighting made the room a lot more cheery.  The smiles from the staff though shone through the most and the welcome from them was natural, enthusiastic and chatty.
We were shown to a table through in the next snug type room which I was pleased about and we settled in watching the rain fall on the other side of the cute bay window.
As well as the lunch menu, there was a selection of specials on the blackboard and overall, the mood of the food was traditional pub grub which was exactly what we had hoped for.  A selection of sandwiches was on offer as well as classics such as prawn cocktail, scampi and gammon.  There were also lighter options including a halloumi and broccoli salad.  I started with a pint of local beer which was out of the ordinary for me but it was crisp and clear and lovely.
Serving local produce is important to The Picairngreen Inn and even the kids menu is lovely with different options for vegetables and potatoes.
My starter of creamy mushrooms on garlic bread was so comforting.  The portion was substantial, the mushrooms were well cooked and doused in an intensely rich cream sauce which only just allowed the garlic of the bread to shine through.  It was simple and great and one of those dishes that I can't skip past on a menu as a good one is a real guilty pleasure.
Mr Kerry chose the special soup which on our visit was sweet potato, red pepper and coconut.  It was served with a huge amount of fresh doorstop bread and butter for dunking which we absolutely made the most of.  The flavour combination worked well and each individual element could be tasted.  The soup was clearly fresh and home made and the large, steaming bowl was soon empty.
Steak and ale pie was next up for me and I so wish I could recreate it at home as it was especially good.  The beef just fell apart but had managed to stay together during cooking to remain in large chunks.  The gravy was so rich and thick and spiked with herbs and the sweet carrots were soft and tender, the edges starting to melt away into the gravy.  The individual pie dish was topped with a round of buttery puff pastry and this was a really great, rustic, home made pie full of flavour.
Mr Kerry had ordered fish and chips but was insanely jealous of my pie.  The portion size was generous with a huge pile of skin-on, home made chips.  They weren't crispy but they were still very tasty.  The batter on the fish was rather thick but I guess this comes down to personal preference.  Some like a bit of stodge in the middle and some don't.  Mr Kerry likes his light and airy but he said the fish was cooked well and was fresh and nice and crispy on the outside.  Peas and the house tartare sauce finished off a very decent dish.
The service really made our trip as each member clearly enjoys what they do and is proud of the produce they serve. The pub welcomes dogs and children, a big tick for our family and it was a really relaxed place to spend a couple of hours. If we lived in the village, I have no doubt that we would be real regulars, often propping up the bar and settling in for some proper, home cooked food.
The inn has a family feel and head chef Callum and manager Sam also offer function rooms for up to 60 guests. Although cosy in the winter, I'm looking forward to going back in the summer to sit amongst the flowers in the garden with a cold beer and some scampi.
Info
Price: Starters: £3.50 – £7; main courses: £7 – £10.50;
Value: 9/10
Menu:  7/10
Atmosphere: 7/10
Service: 9/10
Food: 8/10
Total: 40/50
Info: The Pitcairngreen Inn
Address: Pitcairngreen, Perth, PH1 3LP
Tel: 01738 583022
Web: www.pitcairngreeninn.co.uk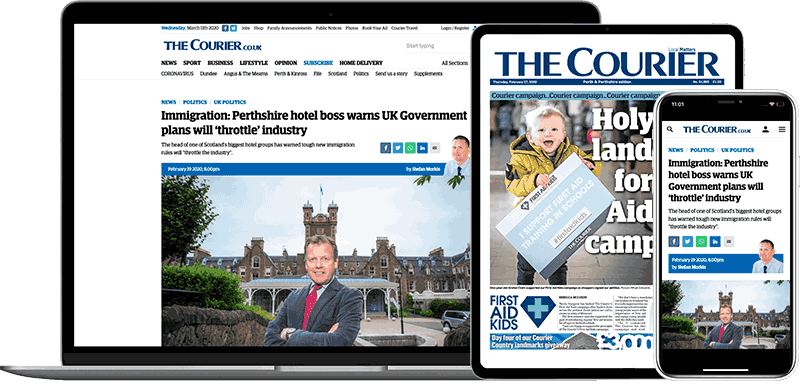 Help support quality local journalism … become a digital subscriber to The Courier
For as little as £5.99 a month you can access all of our content, including Premium articles.
Subscribe